I recently completed an international move – via truck, water and gondola! – and understand how important it is to receive your items on time and in good condition, and to get timely updates on your shipment. Antiques Diva Shipping Services provides white glove art and antiques transport and shipping services to customers across Europe and around the globe, including antiques dealers, interior designers, builders and private clients. 
International Shipping: How long does a sea shipment normally take?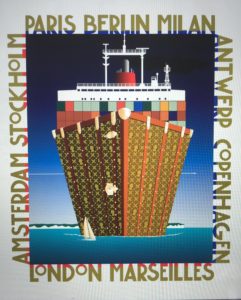 The Antiques Diva® & Co has licensed with a premier international shipping company with 50 years expertise in shipping services: AD&CO Logistics is the Art and Antiques Division of ALC. Your shipping concierge will personally manage all facets of your shipment including collecting your goods from the dealers, tracking your inventory and payments, cross-referencing your tags, packing, complete all export/import paperwork and monitor your shipment's progress from the time they receive your goods until they are delivered to you; and keep you advised of the status of your shipment.
The transit time of your container/goods will be communicated to you by your AD&CO Logistics Concierge. Times vary depending on port destination, weather, etc. One very important point to remember is that the actual time it takes to RECEIVE your items at your specific destination is, of course, longer than simply the amount of time it takes for your goods to cross the ocean. Between the time you actually purchase the items from the vendor s until they are with you at your destination, the following steps must occur:
You must wire funds to AD&CO Logistics so they can pay the various vendors.

They collect all your items and bring them back to our warehouse.


They complete all the required paperwork (with customs, insurance broker, etc).

They pack and crate your items, load them onto a container and take it to the port.

Your container is "at sea" with a major shipping line for several weeks, depending on the final destination:

To the east coast of the USA, the ship will be at sea between 2 to 3 weeks. 

To the Gulf of Mexico, the ship will be at sea approximately 3 weeks. 

To the west coast of the USA, the ship will be at sea approximately 5 weeks.

All the above, of course, is subject to weather.

Then your shipment has to clear US customs and be delivered by ground transport to your final location. 
The international fine art and antiques shipping services provide the options of:
full 20 or 40ft containers or partial containers (LCL: Less Container Loads)
door-to-door shipping
port-only shipping
independent or shared location shipping
The Antiques Diva & Co offers very competitive international shipping rates and the shortest possible handling and shipping time to deliver your goods from the antiques dealer to your door.
Do you have more questions about shipping antiques overseas?
See: Frequently Asked Questions About Shipping Containers of Antiques from Europe
Toma – The Antiques Diva