Dear  Diva Readers,
top: 5px; float: left; color: white; background: #781300; border: 1px solid darkkhaki; font-size: 80px; line-height: 70px; padding-top: 1px; padding-right: 5px; font-family: times;">Yesterday we were in one of my favorite villages in the world with a group from Texas, helping Red Shed Tours as their on-the-ground step-on guides for their Tuscan Group Tour… and I couldn't help but to share with you our insider Antiques Diva tips from San Gimignano on how to make your own Tuscan Tour!
Our Tuscan Antiques Diva Guide Susan Pennington writes in today sharing with you all the Diva Details for an afternoon in the "Manhattan of Tuscany"!  Okay – this place is a far cry from NYC – but believe it or not it was once shadowed by over 70 towers surrounding the village!
Susan explains….
San Gimignano was built by powerful sparring families vying for importance and status, built during the medieval period and massive economic boom for the city, which sat on the pilgrim's trail from Rome to Canterbury.  It was also famed for its spices, in particular saffron.  Today only 9 of those towers still stand but it is still as impressive as it was 900 years ago!
If you've got an afternoon on your own in San Gimignano you'll have a ball!  From Porta S. Giovanni runs the main street.  Initially overwhelming, the town is actually a great place to shop for ceramics, baskets and leather ware, the prices are surprisingly competitive with other towns and considerably cheaper than Siena.  There are lots of art galleries,  contemporary jewelers, ceramic shops as well as all sorts of wonderful things made from olive wood…perfect Tuscan  things to take home.
But make sure you make it all the way up to the duomo.  Not least for the mouth watering 'gelateria' in the corner of the square.  From the duomo take Via S. Matteo which leads down to the gate.
About two thirds of the way down is 'Le Antich Essenze' at n° 61. Here they make and sell their own hand-made soaps; totally natural with locally grown herbs, fruits and flowers, wheat, sage, olive oil and lavender.
Almost opposite at n° 70 is 'Ieri & Oggi', run by two sisters, Silvia & Roberta.  They have beautiful linens, towels and fabrics, many of which are hand worked by themselves with croqueted borders and embroidered designs in typical Tuscan style.  A little further down on the right is a small alley (via San Martino), almost  immediately on the right as you enter is a tiny little studio 'Barceloneta'  where Lucia decorates furniture.  As you might imagine from the name of the shop, she's Spanish, not Italian, but has great style and that's what counts!
Just a little further down Via San Matteo at n° 81 is Mario Curini, a cavernous antiques shop with all sorts of things from repurposed pieces to delicate blown glass,  medieval chests to wrought iron torchieres.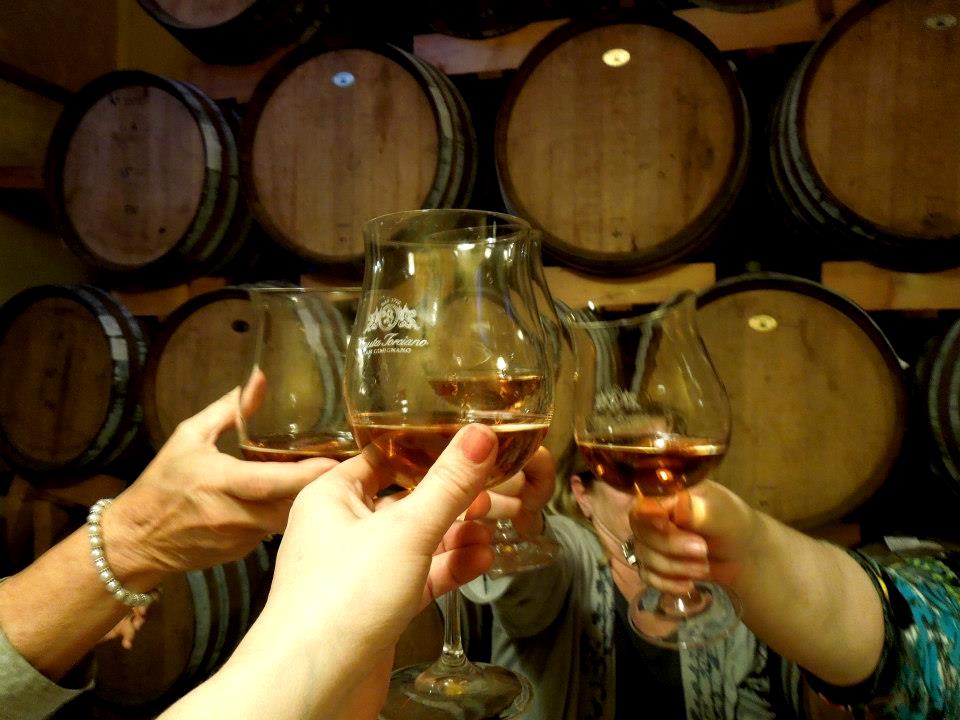 Thankfully here not everything closes at lunch time but you might like a little snack attack.    Here are a few of our favorite Antiques Diva dines:
Trattoria Chiribiri.  Pass thru' the main archway S. Giovanni, go up the steps immediately to the left just thru' the main arch.  Piazza della Madonna, 1  A tiny place but with big food!
'Ristorante Dorando  just off the main square in vicolo dell' Oro, 2 is set in an old cellar and quite charming.  Tel: 0577 941 862 closed Monday
Le Terrazze  just beside the hotel 'La Cisterna' in the square by the same name is a little more formal, set on the first floor it commands magnificent views over the surrounding countryside… the food is good too!
There are also lots of bars where you can find a great sandwich and 'Enoteca's' which offer not just wine for tasting and purchasing but also light traditional fare such as wild boar salami, 'pecorino' sheep cheese, cold cuts and conserved vegetables, such as grilled bell peppers, olives and porcini mushrooms.
While in San Gimignano make sure to also stock up on your Tuscan food-finds!  There are so many pastas, dried herbs, sausages and wines for sale at the various gourmet shops in town that this an ideal place to stock your cupboard.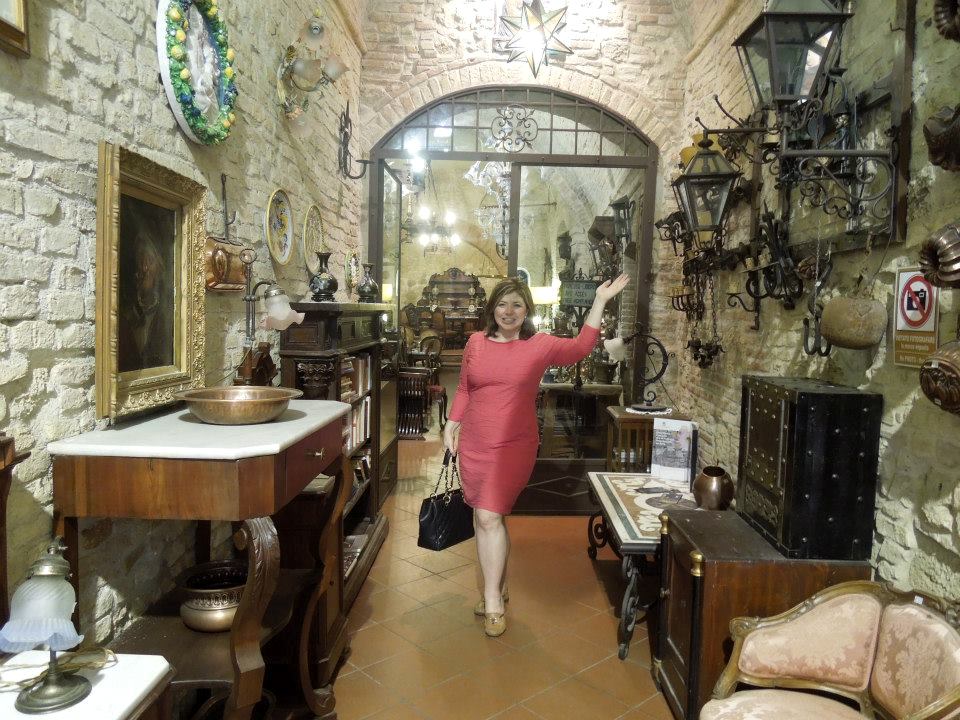 Buon Appetito!
The Antiques Diva & Your Tuscan Antiques Diva Susan