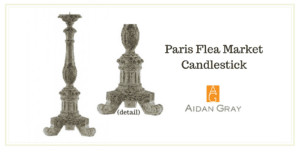 In September, The Antiques Diva & Co held our first giveaway, Tell Me About Your 1st Time at The Paris Flea Market. Our 1st Place Winner is Daphne Dunn, who won an Aidan Gray Paris Flea Market Candlestick.
I read Daphne's story as quickly as I could to reach the climax: a Louis Seize salon chair! I also have a chair fetish, I love that it came home to London with Daphne on the Eurostar. One of my first Paris flea market purchases was a tea cart – with one sadly injured wheel – that I brought home on the metró, then had to carry up 6 flights of stairs to our apartment. AND IT WAS WORTH IT!
Meet Daphne Dunn, 1st Place Winner
KISMET: My 1ST TIME AT THE PARIS FLEA MARKET
Ahhhhhhhhhhhhhhhhhh! My first time will forever be etched in my romantic dreams. I couldn't sleep the night before as the anticipation was so intense. I wondered if it was going to be as good as I hoped, as good as I expected and as good as I wanted it to be. My expectations were high and the promises I had heard made me think it would be memorable. But I was not prepared for the overwhelming excitement and heady endless choices that awaited me, feeling the thrill down to the bottom of my toes. Les Puces de Clignancourt was everything I had hoped for and more, much much more. So with the clock ticking as my train back to reality was looming ever closer, I made the most of my affair with Les Puces…flirting and carousing, teasing and almost submitting, but then…… in the pale October sun right there in front of me – KISMET. I spotted the delight of my eye, the one I had been looking for all my life. My negotiation skills were undeniable that day, the day I met my destiny with Louis, charming, romantic Louis. I couldn't leave him even if I thought perhaps he wouldn't fit into my life back home. I stubbornly refused to take no for an answer. So I cajoled him into accompanying me on the Eurostar back to London. He even had his own seat on the train and attracted much attention. He still thrills me to this day and on his seat I feel forever young. A perfect gilded Louis Seize salon chair who gives me endless pleasure. We have just celebrated our 20th anniversary and the feelings are as high and mutual as on our first meeting that fateful autumn day at Clignancourt.
Kismet is the perfect word to describe what happens when our eye spots the perfect antique that our soul has been searching for. In fact, I call our role antiques matchmakers: We bring together antiques and the people who want to buy them!
Thank you, Daphne, for sharing your first time at the Paris Flea Market… I know more visits to les Puces are in your future!
Congratulations to our winning entries! And thank you so much to everyone who entered our giveaway!
Toma Clark Haines – The Antiques Diva®