Dear Diva Readers,
top: 5px; float: left; color: white; background: #781300; border: 1px solid darkkhaki; font-size: 80px; line-height: 70px; padding-top: 1px; padding-right: 5px; font-family: times;">A highlight of our recent trip touring through Scotland was a visit to Lady Kentmores Antiques.  This shop – located at 35 Main Street in Callander, Scotland – is as wonderfully quirky and fun, fantastic and eclectic as the shop owner, George Johnson, himself. Simply put, I loved it! Consider this eccentric shop a "Don't Miss Stop" on a Scotland Tour with something for virtually everyone.
Trade readers take note: shop owner George is clearly onto something… in a day and age where shop owners are complaining about the lack of foot traffic in their store, Lady Kentmores was positively heaving with customers searching out a random variety of paraphernalia from sensational sixty's ephemera for mere pence to a thousand quid antique silver brooch. If Lady Kentmores were a martini, it would be equal parts vintage, antique, vaudeville with a dash of freak show – shaken, not stirred.
Look at the loot we bought at Lady Kentmores!!  Don't you just love the Victorian horse slippers I bought as a Christmas present for my rancher father? My niece scored both a dagger and Venetian mask and my husband the gin decanter! Still regretting I didn't nab that purse!!
The Antiques Diva®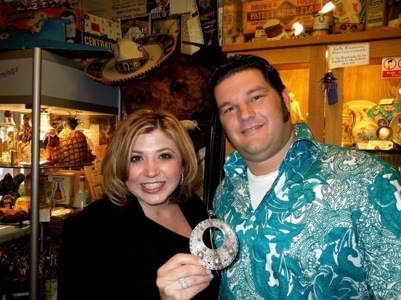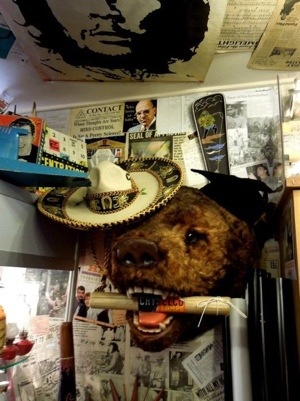 tons/follow-me-on-pinterest-button.png" alt="Follow Me on Pinterest" width="210″ height="28″ />
tons.sociableblog.com/images/FB5.png" alt="" width="210″ height="40″ border="0″ />
tons.sociableblog.com/images/FMT6.png" alt="" width="210″ height="40″ border="0″ />