Dear Diva Readers,
top: 5px; float: left; color: white; background: #781300; border: 1px solid darkkhaki; font-size: 100px; line-height: 90px; padding-top: 1px; padding-right: 5px; font-family: times;">Whether you're looking for a last minute Christmas present for a friend (or yourself) I've got the best gift idea for the flea market lover in your life!  One of my favorite books is The Find: The Housing Works Book of Decorating with Thrift Shop Treasures, Flea Market Objects, and Vintage Detail.  Ever since I bumped into Stan Williams on Twitter a year ago, I've been absolutely smitten with him and am a huge fan of his blog The Elegant Thrifter.  His book gives practical advice for bargain hunters browsing in the Salvation Army but is also utterly applicable for serious antique shoppers who are wanting to score sensational items worldwide at Europe's best brocantes, vide greniers and depot ventes!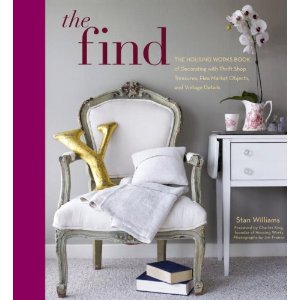 Stan Williams shows not just what to look for when shopping the flea markets, thrift shops, and garage sales, but he also helps you to see beyond the nicks, wobbles, colors and intended purpose to see that you can integrate these diamonds in the rough into your home decor.  One of his utterly charming ideas is to ensconce a vintage leather trunk in a Lucite box, making it a charming coffee table.  Another easy diva-worthy idea takes pages from old books and wallpapers them on foyer halls.  Stan William's book is full of great photos showing unexpected ways that secondhand and vintage items can make statements in your home.
The perfect present for the "antiquing diva" in your life!
Happy Holidays,
The Antiques Diva®

P.S.  Buy the book on Stan's blog and he'll autograph it for you!