Dear Diva Readers,
top: 5px; float: left; color: white; background: #781300; border: 1px solid darkkhaki; font-size: 60px; line-height: 50px; padding-top: 1px; padding-right: 5px; font-family: times;">When I say, "Antiquing in France," what images come into your mind? Waking in the wee hours of the morning and driving through the countryside to get first dibs on flea market finds? Perusing brocantes as far as the eye can see, bargaining in French with vendors who sip coffee as they arrange their wares? Popping into a boulangerie for a pick-me-up of croissant then dashing across the street to a warehouse filled with antiques of all ages and styles? What if I told you there is a place where you can do all these things and more… in the same day? The Mecca. The Mother Land. The village of L'Isle Sur la Sorgue in Provence – which happens to house the second largest permeant flea market in France (after the Paris Flea Market).
The town centers around the Sorgue River in Provence between Avignon and Apt. Cutting through the town the river has always been an important part of L'Isle Sur la Sorgue. In the 12th century, it provided the main product of the area— fish but by the 18th century, large water wheels were added to the canals, generating power for the silk and paper industries. Today, the town is knows for antiques shops and markets, with the river flowing down two main channels in the town, creating an enchanting atmosphere as many shops and cafes are perched directly on the water.
When we take clients to L'Isle Sur la Sorgue, we always go on market day. Arriving in the morning, you witness the flea market setting up along the river for several kilometers. Here is where you can find a wide variety of items all at different price points. If you're looking for smaller antiques, this is where you should really hunt. The dealers comb the countryside in search of estate sales and house clearings, and often spend a lot of time restoring pieces they purchase. It is often worth the time to engage these dealers in conversation, as many of them have warehouses and workshops nearby and may invite you to come to their homes later. If you're in the market for a specific piece, they may be able to source it for you.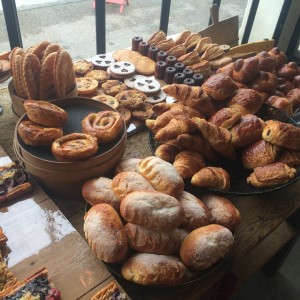 After perusing the market, we head across the street and begin shopping the long line of antique stores. Many two-story buildings line both sides of the main street in town and house every type of style you could imagine. From Roman antiquities to 18th century furniture, to art deco and beyond—it's all there! When it's time to refuel, the bakeries are to die for, and you can even purchase some sweet treats specific to Provence like callison or glace fruit.
A favorite area of town is tucked behind a row of buildings, only accessible through a gate and a small passage—if you didn't know it was there, you'd probably pass right by! These hidden corners are our specialty on tours. Once through the passage, you come upon several buildings and stalls that sell French garden antiques. Statues, zinc, watering cans, iron gates, and planters wait to be discovered and it always seems clients gasp when they come around the corner for the first time!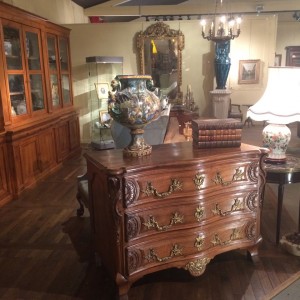 While this may sound like a nice relaxing day, don't be fooled! There are over 300 antique outlets and flea markets in the old mills of this village, so be sure to rest up and wear comfortable walking shoes! If you're looking for something specific or a certain style of antique, it's important to tell your Diva Guide. She knows many of the vendors and can help navigate the weaving streets and buildings, getting you right where you need to be to find that perfect piece you're looking for.
If you would like information on booking an Antiques Diva Provence Tour, email us at info@antiquesdiva.com. We'd love to take you to this special village and even to the countryside beyond!
Au revoir,
The Antiques Diva®