Dear Diva Readers,
top: 5px; float: left; color: white; background: #781300; border: 1px solid darkkhaki; font-size: 60px; line-height: 50px; padding-top: 1px; padding-right: 5px; font-family: times;">While spring is just now arriving, it's time to start thinking about June here at The Antiques Diva & Co! June is fair month for arts and antiques in London where all month long beautiful art and antiques are celebrated. With so much going on, we always turn to our UK Diva Agent's website Antiques News & Fairs which tells a bit about each fair and provides the necessary information for attending. It's great to combine these fairs with going on the road and hitting the small shops and large warehouses, which is why every June is jammed packed with Antique Buying Tours in England! We've got access to trade days, preview parties in the city, and then can take you to our secret sources in the countryside as well… call it a Town & Country Tour! Just to whet your appetite, below are a few of our favorite antiques fairs happening in London this June. Mark your calendars darlings.
ton.com/international-fairs/21/fair_pages/art-antiques-london" target="_blank">Art Antiques London
The Albert Memorial and Kensington Gardens once again provide the stunning backdrop to one of London's most exciting and glamorous art and antique fairs. From June 12 to 18, the lovely bespoke pavilion opposite the Royal Albert Hall and close to the site of the Great Exhibition of 1851 Art Antiques London plays host to leading international dealers and discerning visitors from all over the world, who can buy with confidence at this strictly vetted sumptuous summer showcase for the arts.
If quality art and antiques are what you're looking for, this fair definitely delivers! And who wouldn't want to shop for special pieces on the grounds of Kensington Gardens? Very Diva-worthy!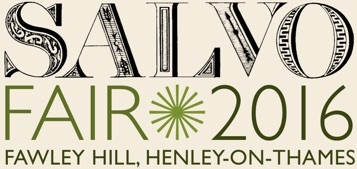 Salvo Fair
Salvo Fair, Britain's largest Architectural Salvage Fair, brings together dealers from the UK, Europe, and beyond. It takes place Saturday and Sunday June 18-19 with a trade day on Friday June 17 at Fawley Hill, Henley-on-Thames, Oxfordshire. This will be the fifteenth year for the fair, which attracts some of the best interior designers, architects, builders, developers, and dealers to shop for architectural salvage. This legendary fair is also frequented by celebrities and billionaires, looking for the perfect pieces of antique garden art, sculpture, and reclaimed materials.
Just a taste of what one can expect to find at Salvo Fair includes: Fireplaces, chimneypieces, doors, windows, radiators, statuary, seats, urns, troughs, tubs, garden, sundials, birdbaths, pergola, rose arches, railway sleepers, furniture, bathrooms, baths, basins, taps, toilets, tiles, brassware, knobs, handles, knockers, hinges, balls, finials, chairs, pews, altars, lecterns, stained glass, staircases, spirals, flooring, parquet, woodblock, floorboards, bricks, pavers, flagstones, york stone coping, pediments, balustrade, timber, oak pine, marble, trusses, beams, columns, pilasters, portico, cornice, dado, skirting, roof tiles, slates, ironwork, gates, railings, lighting, lamposts, kitchens, kitchenalia, sinks, post boxes, telephone boxes, cartwheels, shopfittings, butchers block, and shingles.
The Art & Antiques Fair, Olympia- Summer Session
The Art & Antiques Fair, Olympia celebrates it's 44th edition with a showcase of 160 of the world's leading specialist dealers. This fair is always a treat as first time buyers rub shoulders with seasoned collectors and connoisseurs. While this fair is considered one of the most prestigious fixtures in London's summer season, it also has strong international ties, particularly with America. A social as well as cultural experience, Olympia attracts a strong US VIP following, with guests in recent years including Oprah Winfrey, Dustin Hoffmann and Kanye West.
Taking place June 27 to July 3 at Hammersmith Road, W14 8UX, London, this fair is loved by collectors, interior designers and those looking for exceptional pieces for stylish interiors. The Fair offers the finest array of objects drawn from antiquity to the present day. Every item for sale is checked by a team of experts to ensure quality and authenticity before the Fair opens to the public – enabling you to buy with confidence. Buyers looking for one-of-a-kind and high quality pieces—this is the fair for you!
Masterpiece
From June 30 to July 6, the renowned English antiques fair Masterpiece in London will occupy the South Grounds of The Royal Hospital Chelsea. Offering museum quality pieces, this fair is one of the best in Europe, often compared to a smaller TEFAF http://www.tefaf.com
Because the fair is not segregated, it makes for an exciting experience to shop the fair – Russian jewels are in stalls next to English Folk Art opposite a stall filled with Neo-Classical busts. Each turn of the neck gives an experience to another land, another time. A bonus is that we've got VIP tickets to the preview party!
All this talk has me excited for the London antique season! If any of these fairs perk your interest, email us at info@antiquesdiva.com. Now is the time to book an Antiques Diva UK Tour for June— the perfect time to hit the popular world-renown fairs and also to comb the countryside for treasures from our secret sources! Keep up to date to see fair details and other events on the calendar at Antiques News & Fairs website  and we'll look forward to seeing you in London in June!
Cheers,
The Antiques Diva®