Dear Diva Readers,
top: 5px; float: left; color: white; background: #781300; border: 1px solid darkkhaki; font-size: 80px; line-height: 70px; padding-top: 1px; padding-right: 5px; font-family: times;">One of my favorite places to hide away on a rainy afternoon in Paris is Laduree. This summer my niece Kyrra is visiting me in Europe from the USA. One afternoon, after attending a fashion show at Galleries Lafayette, she and I were meandering Rive Droit and as a cloud was threatening the sky she turned to me and asked, "Can we taste macarons? I always see pictures of them on Pinterest – I want to know what they taste like!"
I think perhaps this girl is my child for she is so much like me I sometimes laugh outloud in recognition of myself! I grabbed her arm, and we strode through the streets to the nearest Laduree.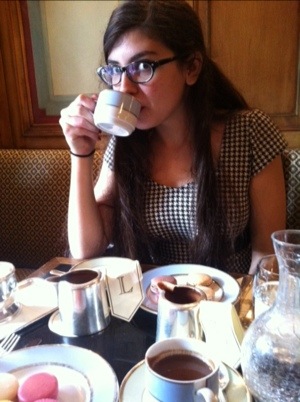 While I typically tend to haunt the establishment on Rue Jacob and love the interior best of all at the one on the Champs Élysées, we found ourselves at their shop on Madeline, one of the quieter, more intimate locations. The ladies at the table next to us had the bench next to them piled high with Chanel bags from the shop across the road and I tried to sneak peeks into their black and white sacks, hoping for a glimpse of their treasures.
Kyrra and I discussed the menu, going into excruciating details over the intricacies of each flavor and finally chose our assortment. When the delicate morsels were brought to our table I favored the lemon and strawberry bonbon while Kyrra loved the vanilla. We each savored a rich hot chocolate so thick and creamy our spoons could stand up in the middle of our cups, held in place by the gooey melted chocolate alone.
As we sat smiling and people watching and chatting about Paris I was so happy to be able to share my special place with my niece! As Kyrra took the last morsel into her mouth, pinching away a crumb, I informed her that they actually were not that difficult to make and that she could easily make them when she returned home to America. She was delighted in discovering that she could bring the taste of Paris anywhere she wanted – after all, as Hemingway said, "Paris is a moveable feast!"
To make Kyrra's favorite flavor try Daniel Boulud's recipe for Vanilla Macarons Recipe as seen in Elle Decor.
Vanilla Macarons Ingredients:
• 1¾ cups almond flour
• 3 cups powdered sugar
• 7 egg whites, divided
• ⅓ cup water
• 1 cup sugar
• 1 vanilla bean, split and seeds scraped
Directions:
Preheat oven to 275°F. Spray a baking sheet with nonstick cooking spray and line with a piece of parchment paper. Sift the almond flour and powdered sugar into a medium bowl and set aside. Using a standing mixer fitted with a whisk, begin to whip three egg whites to a medium peak. Meanwhile, combine water and sugar in a small heavy-bottomed saucepan over high heat. Simmer while monitoring with a candy thermometer; be careful not to overbeat egg whites. Remove syrup from heat when temperature reaches 240°F. Continuing to whip the egg whites on medium speed, pour the syrup down the side of the bowl to incorporate slowly. Increase speed and whip until whites form glossy, very stiff peaks. Using a spatula, stir the remaining egg whites and the vanilla seeds into the flour mix, making a smooth paste. With the spatula, fold one third of whipped egg whites into the batter; then gently fold in the rest. Stir until the batter falls in a ribbon when you lift the spatula. Using a soupspoon and your finger, place round dollops onto the baking sheet, about an inch apart. The batter should be stiff enough that the macarons hold their shape. (Cover batter with plastic film when not scooping.) Lightly tap the sheet to settle the batter. Let the cookies sit at room temperature until a light crust forms, about 15 minutes. Sprinkle with your choice of toppings (see below). Bake for 5 minutes, then rotate the pan 180° and bake for another 5 minutes. Remove the cookies and let them cool. Repeat the process until all the batter is used. The cookies can be stored in an airtight container for two days, or frozen. Makes 70 cookies or 30 sandwich cookies.
Suggested Toppings:
• Cocoa powder
• Candied orange zest
• Chopped pistachios or other nuts
Suggested Fillings:
• Fresh strawberry slices
• Fresh raspberries
• Nutella
• Fruit jam
• Orange marmalade
• Ganache (recipe follows)
Ganache Ingredients:
• 14 oz. dark chocolate, chopped
• 1½ cups heavy cream
Directions:
Place chocolate in a heatproof bowl. In a small heavy-bottomed saucepan, bring the cream to a simmer. Pour the cream over the chocolate and stir until the chocolate is completely dissolved. Refrigerate, covered, until ready to use. Assemble the cookies by placing filling of your choice on the flat side, then topping with another cookie to make a sandwich; or serve open-faced.
Bon Appetite!
The Antiques Diva®
tons/follow-me-on-pinterest-button.png" alt="Follow Me on Pinterest" width="210″ height="28″ />
tons.sociableblog.com/images/FB5.png" alt="" width="210″ height="40″ border="0″ />
tons.sociableblog.com/images/FMT6.png" alt="" width="210″ height="40″ border="0″ />