Dear Diva Readers,
top: 5px; float: left; color: white; background: #781300; border: 1px solid darkkhaki; font-size: 50px; line-height: 30px; padding-top: 1px; padding-right: 5px; font-family: times;">As The Antiques Diva®, owner of Europe's largest antiques touring and buying services company, my job is to help clients – antique dealers, interior designers and mere shopping mortals – source antiques abroad.  Last week we attended Maison Objet – the most important international industry event for interior design, held in Paris – to spot the design trends for 2014, helping keep us – and you – au courant in the world of interiors.
BOLD POPS of COLOR reigned at Maison Objet with a clear move away from the use of neutrals.  We were seeing Greens, Fushias, Oranges, Yellows, Chartruses, but also Navy and Earthy Browns or Ocean-inspired Blues.  Pantones color of the year, Radiant Orchid, was also well-represented.
Accents were embellished with Gold and, again this year as with last year, all-Black rooms with Gold embellishments  stole the show, being the most dramatic and eye catching décor on display.  But everything that glitters is not gold.  If Gold was King, Copper was Queen and being used in abundance on all surfaces.  Bling was big overall!  Oversized or beautifully sculpted hardware on case goods shone bright like a diamond, reminding me that drawer pulls and hinges really are jewelry for the home.  Speaking of bright shiny objects – mirrors and glass (especially black glass) that reflected the rooms in which they were placed were de rigeur.  Crystal graced both the chandeliers and the table tops.  Lighting fixtures were oversized and extravagant.  If bigger is better, HUGE was HOT!
We saw a lot of use of mixed medias whether in lighting fixtures or home furnishings.  Fabric wasn't just showing up in the linens, walls and on traditionally upholstered goods but also in unexpected places, embellishing chest of drawers exterior and interiors or wrapped around the arms of chandeliers. The mixed medias verged near the theatrical with sequins and hand-embroidered embellishments showing up in unexpected places.
Overall and across the board, the look was eclectic and lent itself towards opulence.  We are still seeing lots of mid-century modern inspired interiors but more and more it was being mixed with Napoleon III.  There also was a flash back to the future with traditional craftsmanship and decorative items showing up in vendors all across the fair.  Hand-painted porcelain has gained a new appreciation and blue and white is back – though in my mind it never went out.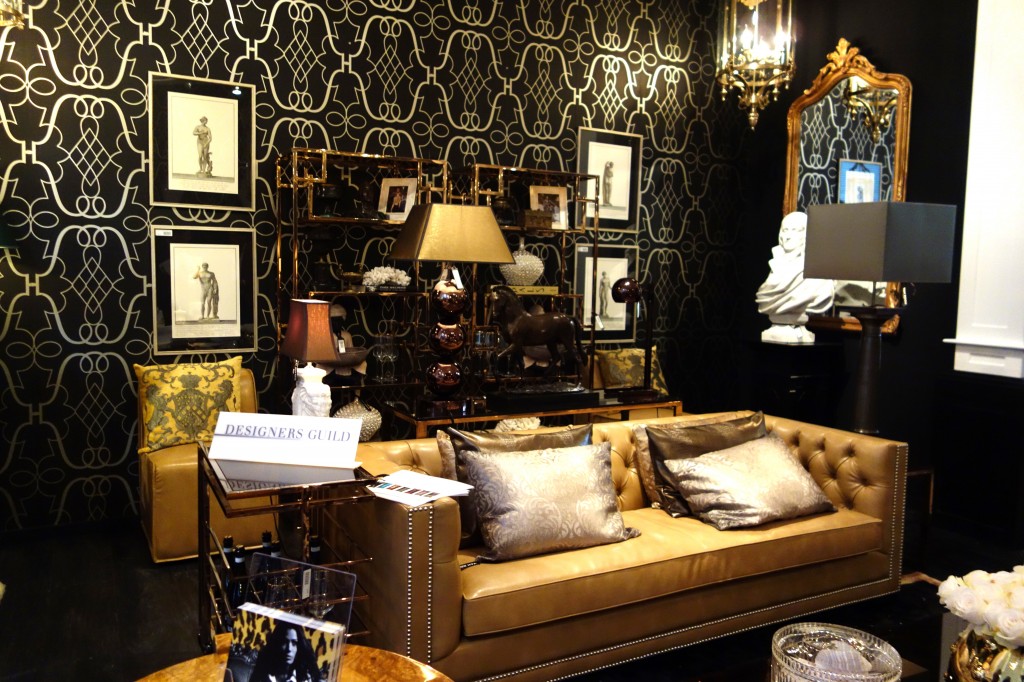 Maison Objet January 2014 had a dialogue with the 18th Century – with traditional Louis' pieces in warm woods and sexy lines reinvented, utilizing modern fabrics. The Grand Tour was also reflected in the way interiors were styled – curiosity cabinets were everywhere as were taxidermy and objects from nature.  And I hate to say it but the Laura Ashley look with florals circa 1980 was making its way back into home décor but this time the florals were more embellished, more modern, with larger, cleaner patterns.
Perhaps the biggest surprise of the show to me was the emphasis on Surrealism  – an entire section of the show was a voyage through space style, circa 1960.  Irregular shapes or geometric shapes repeated themselves throughout the show.  And while resin furniture has made definite inroads in this millennium, there is definitely an emphasis on natural fibers – rattan, leathers, silks.
See you at the next show!
The Antiques Diva
(Seen below with part of the Antiques Diva team from Paris and Italy)