Dear Diva Readers,
top: 5px; float: left; color: white; background: #781300; border: 1px solid darkkhaki; font-size: 60px; line-height: 50px; padding-top: 1px; padding-right: 5px; font-family: times;">If I've said it once, I've said it a thousand times: Antiques make a modern setting even better! My own home in Berlin is a very modern loft space, clean and contemporary with a minimalist edge, and yet almost everything in it is antique or vintage!  Bring on the Rococo Baby! The outcome is (if I do say so myself!) super stylish and highly functional for the way we live. When I came across interior designer Windsor Smith's book "Homefront: Design for Modern Living," I knew she was a soul sister, a kindred spirit! Reading in her intro about her travels overseas, shopping the same paths I shop from Provence down to Spain and back up to Paris, I knew we'd been educated by the same École Française. 
One only has to flip through a few pages of this book to see that Windsor (by the way, doesn't she have a great name?) knows how to create a comfortable room that's also hip, relevant and achingly stylish. And if you dissect the details—which is something I think all of us design-lovers do—you will see that in almost every room she's decorated, she's used vintage or antique pieces. Imagine that—design for modern living—using antiques! She even says, "It's important for every space to have a piece with a provenance, even a breakfast room needs to have some history in it." Every home I've ever had has had an antique in the loo for this exact reason – this lady is speaking my language!
What I love about Windsor's style is that she's not afraid to be playful.  She takes serious pieces and makes them approachable, friendly.   In fact, one of the rooms in her book is painted a moody black along with black flooring and a crisp white fireplace—and a vibrant blue ping-pong table in the center of the room! How fun is that?! But perhaps what really strikes me is her ability to combine modern style with antique pieces. For instance she's paired antique dining chairs with a country table in a beautiful modern kitchen. This juxtaposition works beautifully as it really does reflect the way we live today—mixing pieces from all time periods.
Sometimes antiques conjure up feelings of formality and rigidness. You think of your mother saying, "Don't touch that! Use a coaster! Take your shoes off!" But the reality is that antique pieces have been built with quality materials and were made to be durable. They've stood the test of time this long, which means they are ideal for people who actually want to LIVE in their homes! Windsor's interiors illustrate this point perfectly. Whether it's an 18th century commode she's used in an entryway or a pair of mid century chairs in a living room, none of her spaces feel stuffy, overly formal or unapproachable.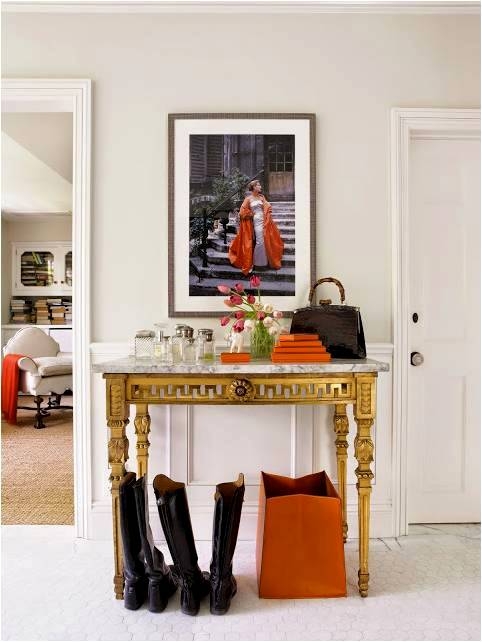 She breaks down her process into five chapters, one of which is all about mixing the past and present. She says. "Giving the old a new perspective is critical to good design, but so is imparting a sense of history to the new. If I'm in a room where everything is raw, featureless, and brand new, I feel either uncomfortable or disappointed, as if I've arrived too late to the party. I want a story, to be surrounded by things that hold a vibration and note of history." I couldn't agree more! If you haven't already bought your copy of "Homefront" honey don't delay.  Order that book right now.  It's getting premier placement front and center on my coffee table!   With 250 pages of inspiring photos and informative text, you certainly won't be disappointed!
Bravo Windsor! And please tell me our paths will cross in Paris and we can become best friends…. would love to know you darling.
The Antiques Diva®