Today is my actual move day as I depart Berlin for my new home in Venice. Mimi's post takes me back to my first magical years living as an expat in Paris, visiting the marchés de Noël in Paris and the French countryside. I won't be celebrating Christmas in Paris this year; thank you Mimi for my souvenirs de Noël à Paris…  
Three French Guilds
The Golden Age of French Furniture 
It's beginning to look a lot like Christmas! Merry medieval towns all over France are twinkling with magic. The little wooden stalls resembling mountain chalets that make up the marchés de Noël (Christmas markets) are open, and Père Noël's lutins (elves) are hard at work sewing doll clothes, crafting toy sailboats, and carving wooden dollhouse furniture —  all by hand.
Santa and his elves aren't the only artisans who have been handcrafting fine furniture for centuries. Some of the most beautiful furniture ever made was created in Paris during the eighteenth century. It was a joint effort between numerous carpenters, carvers, and cabinetmakers, with a little help from some sculptors, painters, gilders, and upholsterers — all members of an elite Parisian trade guild system that was established during medieval times. Just like Santa's elves learn woodworking, candy making, and toy making skills in order to join him in his workshop, eighteenth-century French craftsmen meticulously trained under master furniture makers on their way to becoming members of the Corporation des Menuisiers.
The Corporation des Menuisiers (which became known as the Corporation des Menuisiers-Ébénistes in 1743) was divided into two trades; one for those who made boiserie (paneling for buildings) and another for the actual furniture makers. The furniture makers were then split between the menuisiers, responsible for the making of solid wood furniture such as chairs, beds, and console tables, and the ébénistes (cabinetmakers), makers of veneered case pieces such as desks, cabinets, and commodes.
The skills needed to be accepted into the guild took enormous time and effort, and years of training. Families with enough means would ask a maître-menuisier (master carpenter) to take their child on as an apprentice around the age of twelve to fourteen. The master would be paid to feed, clothe, and house him throughout the rigorous training process, which lasted six to nine years.
Life as an apprentice was not easy. For the first three years, the apprentice worked six days a week, from sunup to sundown in the workshop of the master, often sleeping there. Only the truly committed managed to gain enough expertise and knowledge to reach the next rank of the guild — compagnon or journeyman. Although considered official members of the guild, journeymen had limited access to the guild's resources. Those who trained in Paris as apprentices continued working under their master for another three years, while those who trained outside of Paris were obligated to train an additional six years.
To earn the title of master, each journeyman had to prove his competency by creating a chef-d'oeuvre, or masterpiece, that would be submitted to the guild for approval. If successful, the journeyman would receive the rank of master. He was then eligible to become a full-fledge guild member and free to open his own atelier — as long as his guild fees were paid and a vacancy was available.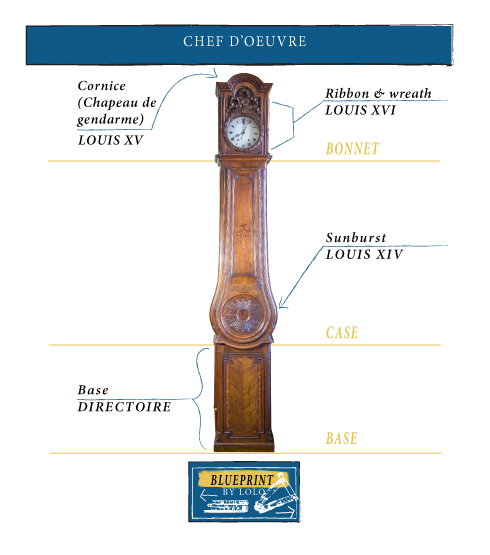 Paying guild fees was not always an easy feat, however. The various guilds didn't function like today's American trade unions. Fair wages were a concern, but making sure that each specialist maintained the highest level of artistic and technical standards was priority numéro un. While these humble craftsmen worked tirelessly honing their skills, they received no salary, yet were forced to pay fees at every stage during training. The fee to become a master was high, and often took years to pay, delaying official guild registration. Many were so broke by the time they earned the title of master that they had to borrow money just to pay their guild fees. For this reason, they decided against setting up shop in Paris, preferring to go to the less expensive provincial regions like the Loire Valley or cities like Lyon or la Rochelle. The provincial furniture they crafted was scaled down for more modest interiors, but the craftsmen were just as skilled as those that gave it a go in Paris.
The menuisiers who set up shop in Paris could be found in or near the rue de Cléry and were usually French-born, often descendants of well-known French carpenters or chairmakers. The ébénistes who decided to open their own ateliers often came from Germany and Flanders and worked in the faubourg Saint-Antoine, which was flanked by the River Seine on one side. This was a perfect place for woodworkers to operate from since much of the timber that was shipped to Paris arrived there. The fact that most of the ébénistes were foreigners only intensified the rivalry between the two furniture making groups.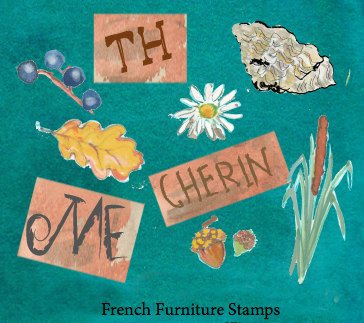 Beginning in 1743, the guild required that every piece of furniture that was for sale be stamped with the maker's name – ensuring that foreign craftsmen weren't excluded and allowing for at least one of the creators of any given piece of eighteenth-century Parisian furniture to be identified. An additional stamp, JME, for jurande des menuisiers-ébénistes, would be added after a committee of elected guild members, who inspected the workshops four times a year, had approved the quality. This rule was strictly followed in Paris until 1791, when the guilds were abolished, putting an end to the most artistic and opulent period of French furniture making. The strict rules and guidelines that had governed the training of craftsmen for centuries were over.
The superb furniture handcrafted by eighteenth-century masters filled everything from royal residences to Parisian pieds-à-terre, from country châteaux to hunting lodges. Hundreds of hours went into the making of each piece of furniture. The various trade guilds or corporations were very strict about each member's role. Unlike most furniture made today, furniture makers and various other craftsmen and artisans from several different guilds were needed to make a single piece of furniture during the Golden Age of French Furniture.
toBuild.png" alt="" width="490″ height="555″ />For example, to make a chair, a menuisier (carpenter or joiner) would create the frame and would eventually be the one to stamp his name or mark to the chair. If any ornate carving was needed, it was done by a sculpteur (sculptor). If bronze mounts were part of the design, they were provided by a member of the guild of fondeurs-ciseleurs (smelters). Lastly, the opulent fabric was applied by a tapissier (upholsterer). Each of these experts was a loyal member of a different guild that trained long and hard in his own particular specialty… And these are the guilds that made the chair that sits in the palace that Louis built.
Joyeuses Fêtes!
Mimi