Dear Diva Readers,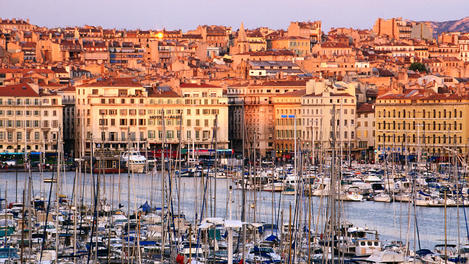 This year is an exciting year for the South of France….  Marseilles has been chosen as the European Culture Capital for 2013!  I've interviewed Antiques Diva Tour Provence Guide Melanie, asking her why Diva Clients traveling to France should visit Marseilles.
Antiques Diva:
Why choose Marseilles ?
Provence Tour Guide:  Melanie
Tourists often think of Marseilles as being the second largest city of France but it is really made up of several villages.  It doesn't look or feel like you are in a big city . You can easily walk and enjoy la dolce vita in Marseilles!  It's a small big town!
Antiques Diva:
Tell me about the vibe in Marseilles.
Provence Tour Guide: Melanie
You're right Diva, it has a certain vibe…. Marseilles is the gate between Europe and the " Orient".  For centuries  it has been a multicultural city.  As an Antique Shopping Tour Guide in Provence you know I love antiques and that isn't just limited to art and furniture, it's architecture as well.  Marseilles is a real life antique city where you can plan a perfect day….
Antiques Diva:
And what is that perfect day?

Provence Tour Guide: Melanie
Start the day by visiting Roman ruins then take a boat to visit the castle of Monte Christo in the Alexandre Dumas' story and finish your day by admiring the architecture of the Famous Le Corbusier.
to.jpg">
to" src="https://antiquesdiva.com/wp-content/uploads/2013/02/monte-christo.jpg" alt="" width="500″ height="333″ />
Antiques Diva:  
Before you were an antiques dealer and Antiques Diva Provence Tour Guide you were an art auctioneer… does Marsailles have art?
Provence Tour Guide: Melanie
Does Marseilles have Art!?!? Is the Pope Catholic??  Marseilles is one of the keys of the birth of Modern paintings (Impressionism, Cubism, Fauvism) with its harbour of L'estaque : Cézanne and Braque came there but also Dufy, Renoir, Derain and much more!

Antiques Diva:
How would you finish a perfect day in Marseilles?
Provence Tour Guide: Melanie
After a long day, it's obligatory to sit in one of the cafés on the beachfront  to enjoy the sunset, drinking a "pastis" – a local drink – and then eat one of the many famous Provencal dishes such as " Bouillabaisse" ( fish soup).
Antiques Diva:   
Anything else you want to add?
Provence Tour Guide: Melanie
Don't forget that not only has Marseilles been chosen as this year's European Capital of Culture, but Marseilles has also been chosen as the 2nd best place to go in 2013 ( just right after Rio) by the to-go.html . Travel + Leisure http://www.travelandleisure.com/articles/worlds-sexiest-affordable-destinations-2009/3″ target="_blank">New York Times – even calling Marseilles one of the world's sexiest, most affordable destinations!
You will love Marseilles for its history, for its beauty, for its culinary culture, for its pluriculturalism… All this and we haven't even talked antiques.  You'll have to have me show you my favorite antique trade warehouses another time.   Marseilles is the perfect place to enjoy your stay in Provence and its wines and its country side.
To inquire about our Provence Antique Shopping Tours Email to:info@antiquesdiva.com">info@antiquesdiva.com