Dear Diva Readers,
top: 5px; float: left; color: white; background: #781300; border: 1px solid darkkhaki; font-size: 60px; line-height: 50px; padding-top: 1px; padding-right: 5px; font-family: times;">Last April 2013 I attended tour-new-orleans-day-one" target="_blank">#BlogTourNola in New Orleans as part an amazing program created by Veronika Miller of Modenus.  She selects 10-15 bloggers to take with her several times a year to write about sponsors in a variety of great cities around the world – New York, Paris, Milan, LA, etc.  You probably read about tour-milan-with-antiques-diva-style" target="_blank">me being one of those sponsors just 2 months ago in Milan when a group of design bloggers came overseas to write about the #BlogTourMilan event.  As part of participating in the all-expenses-paid blog tour the bloggers are required to write about a certain number of the sponsors.
I'm usually very good at fulfilling my commitments. I'm nothing if not loyal.  However, life got in the way after I attended #BlogTourNola and I didn't get all the sponsors written about at the time.  I was in the middle of a move, I was in the middle of taxes, and oh by the way, my company was growing by leaps and bounds and I was struggling to manage it all.   Yes, I'm making excuses.   And I have been for over a year.  But since then I've felt quite guilty that I never wrote about one of our fabulous sponsors – totousa.com/Welcome.aspx" target="_blank">Toto.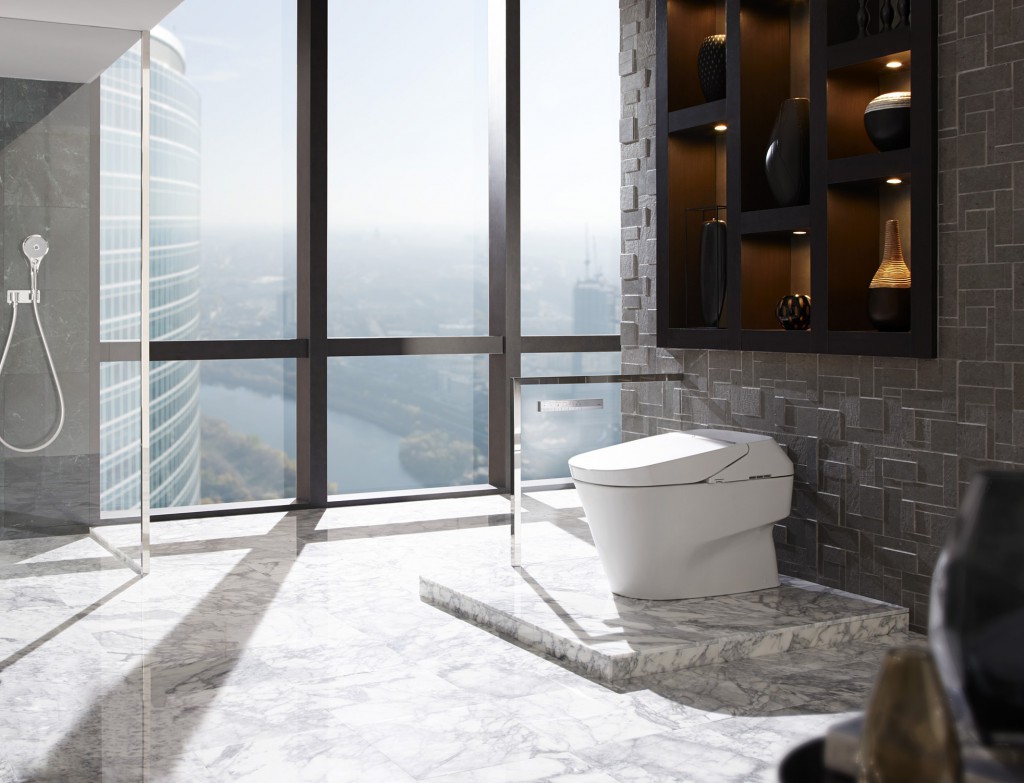 to Toilet, High-End bathroom fixtures, BlogTourNOLA, " width="600″ height="459″ />
In fact, Toto has been haunting me.  I was staying at my friend's apartment in Chicago and went to flush the loo… and who did I see? Toto Toilets!  I was in the Grand Hyatt Hotel in Atlanta speaking at the Design Bloggers Conferrence and again? Who did I see?  Toto Toilets! In fact, at least once a month – always in a high-end luxury accommodation – I would bump into my friend Toto in the restroom.  They were everywhere.  And Toto doesn't just do toilets.  In fact, they also do bathroom fixture (gorgeous sleek towel racks and paper holders) as well as bath tubs and faucets, even showers.  Toto is the world's largest plumbing products manufacturer with a complete line of commercial and decorative plumbing fixtures and fittings, faucets, accessories, shower and flush valves, as well as lavatories, toilets, Air Baths and urinals. For over 90 years, they have been producing their products.  I was certain I'd never have a moment's peace in the bathroom again unless I cleared my conscious – so wanted to write today to tell you about this top brand.  I really like luxury living – whether in hotels on the road or at home – and  I knew without catching up on my BlogTourNOLA obligations I'd never flush peacefully again – because I'm telling you I can't turn around without bumping into a bathroom product by Toto.  They're everywhere because quite simply – they're the best.
Ta Ta for Now,
The Antiques Diva®
(Seen below on BlogTourNOLA with blogger Linda Merrill of Surroundings)