Dear Diva Readers,
top: 5px; float: left; color: white; background: #781300; border: 1px solid darkkhaki; font-size: 60px; line-height: 50px; padding-top: 1px; padding-right: 5px; font-family: times;">W hen it comes to antiquing in London Kings Road is a guaranteed to result in a successful afternoon shopping. Whenever I 'm in the area I have one place I have to go – and that's Megan's Cafe. It's an institution in Fulham (their other cafe is in St. John's Wood High Street in Chelsea). Coming here guarantees I get a healthy incredibly delicious lunch while out antiquing – and better yet – almost guarantees I'll run into some of my antiques industry friends! Given it's location opposite Guinevere's this cafe frequented by some of the antiques industry's most well known dealers and shoppers alike. Whether you're there for brunch—try their freshly squeezed juices paired with a free-range eggs Benedict— lunch, afternoon tea— the fresh baked cakes are to die for— , or dinner, you're sure to enjoy a gorgeous meal prepared with fresh and often organic ingredients.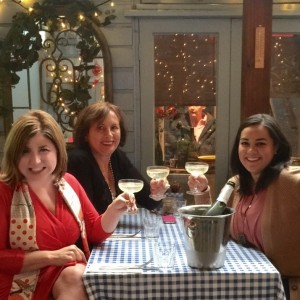 I've spent many afternoons at Megan's with clients and colleagues, discussing our recent finds and upcoming projects over a bottle— or two— of champagne. A favorite place to sit is the beautiful courtyard, with quaint tables pulled together – you're in the heart of London, but somehow the ambiance feels quintessentially French country to me. There's nothing like savoring excellent food while being surrounded by flowers. I often wish I could take a piece of Megan's home with me!
That's why I'm so excited that the cafe has come out with a book called, "Friends Around the Table," chock full of mouth watering recipes.
Whether you're entertaining a group of friends or simply cooking for two, this cook book has something for everyone. Eating should be a communal activity, and as someone who loves to cook and entertain, I can't wait to try some of these recipes, such as the grilled squid, chorizo and asparagus salad! Doesn't that sound like the perfect lunch for me to make friends for lunching on terrace? (winters only just beginning but I'm already fantasizing about summer again). And as I have to accept that the weather is going to get cold… perhaps I should look for a heartier winter dish to fix friends and family? What about the pot-cooked beef fillet with pea puree and hasselback potatoes…yummy! Delicious. I"m an arm-chair recipe reader and Meghans cookbook has already transported me to a dozen tables in my mind!
I'd love to hear what some of your favorite restaurants are in London – or elsewhere – and if you have any preferred recipes from them! Head over to The Antiques Diva & Co Facebook page and share them with me on the wall.
Until next time, bon appetit!
The Antiques Diva®