Dear Diva Readers,
top: 5px; float: left; color: white; background: #781300; border: 1px solid darkkhaki; font-size: 60px; line-height: 50px; padding-top: 1px; padding-right: 5px; font-family: times;">There are certain antique pieces that are synonymous with their country of origin and the Mora clock is one such piece, bringing to mind timeless (pun intended) Swedish design. Swedish Mora clocks are long case clocks which were made in the town of Mora in the Dalarna province. They were first produced in the late 18th century by farm families of this region. The people needed supplemental income, so each family began specializing in manufacturing a specific part or parts of the clock. Once a clock was finished, the buyer would typically commission a case to be made for it, according to his own specifications, and that is why there are so many subtle differences in each Mora clock. The clocks operate on an eight day movement and strike the hours on two bells which are mounted above the clock mechanism or on a spiral wire gong.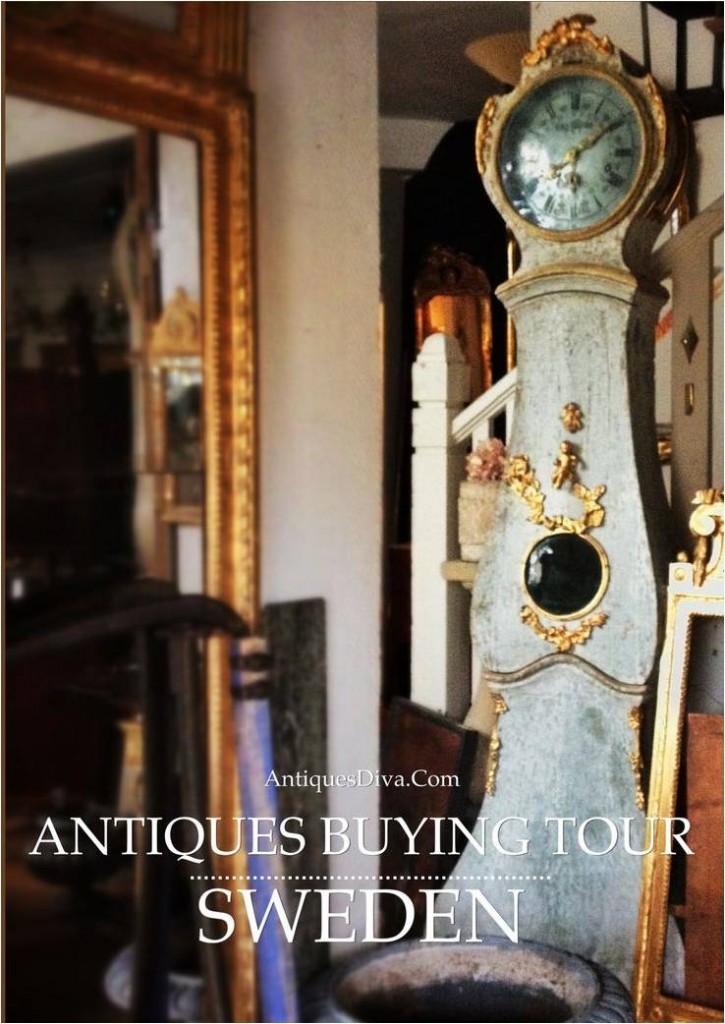 By the late 19th century. competition arose. German and American manufacturers could make Mora style clocks much more inexpensively, thus driving the cost down and eventually putting many local craftsmen out of business. The Mora style of clock is still being made and reinterpreted today –  it's such a classic style that even IKEA makes their own version!  In my own home I have an Empire Mora clock and we've had a slew of clients purchase Gustavian pieces.
When looking for an antique version, be sure you know the difference between original and decorative. An original antique Mora clock will still have the original works and pendulum along with it's original case. My own has the original glass which gives a beautiful wavy glint to the glass.  Sometimes the works have been replaced with a battery operated version, thus rendering the antique case simply decorative—which is fine as long as the price reflects that! It's important to trust the dealer you're purchasing from, as an expert eye can often tell whether a clock has been repaired, repainted or if it is a reproduction. All of these factors affect the value and the price!
Whether you are looking to add a Mora clock to a traditional interior or to a modern space, their classic shape and clean lines can fit in anywhere. They're like that well-rounded person who has friends of all ages and from many different circles— they just know how to fit in everywhere! Perhaps that's why they've been in fashion for so long and have been reinterpreted in so many different countries around the world.
If you would like information on taking an Antiques Diva Swedish Buying Tour to source your own Mora clock, email us at to:info@antiquesdiva.com">info@antiquesdiva.com. We'd love to help you source Swedish antiques!
Be Chic. Be Timeless.
The Antiques Diva®