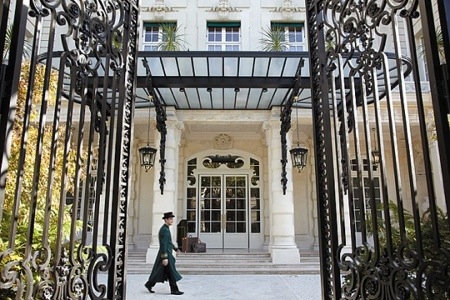 Dear Diva Readers,
top: 5px; float: left; color: white; background: #781300; border: 1px solid darkkhaki; font-size: 80px; line-height: 70px; padding-top: 1px; padding-right: 5px; font-family: times;">It's a tough job… but somebody has to do it! It's my obligation to know what's chic in Paris and I'm aghast to confess I missed the Grand Opening event of the new Shangri La in Paris last year. My job leading antique tours meant I was booked elsewhere, perhaps a custom tour in Madrid or maybe it was London… I forget now, but the point is the Shangri La is the hottest thing to hit Paris since Coco stepped out in a little black dress and I hadn't yet been to it! Needless to say I had to remedy the situation. You know I love the Ritz in Paris, considering it the ultimate Parisian institution and I've got some shocking news – the Ritz is closing its doors for a year long renovation. Rumor has it that the competition with the Shangri La meant this Grand Madame of Parisian culture needed a facelift for she was looking a little tired and dare I say it, old… out of date. Et voila, with the Ritz closing its doors temporarily it was more important than ever that I get up to speed, so I called Allison, one part of the French blog team La Momand said, "Let's rendez vous chez Shangri La." Allison was there before I could say "Bonjour Cherie"!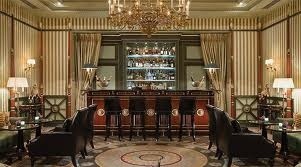 We were suitably impressed, deeming it worthy of an afternoon tea or coup de champagne, loving the ladies loo, and Le Bar, but preferring the quiet intimacy of the empire salon tucked away in a back corner of the establishment. I ordered champagne with strawberry purée, La Mom chose a champagne martini with Campari and martini bianco and my niece Kyrra opted for raspberry juice. When my husband arrived a couple of hours later we ordered a second round, rose wine for Allison & me and a Horse's Neck for Monsieur!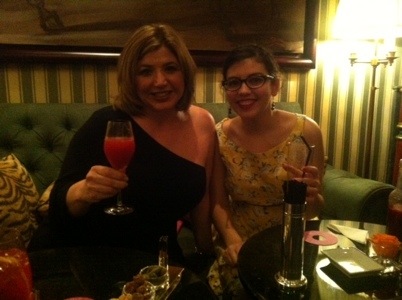 While we didn't take the time to see some hotel rooms we felt well-assured this was a place fit for a diva! In fact it was built in 1896 as the home of Prince Roland Bonaparte and this chic hotel in the 16eme arrondissement has The Antiques Diva ® seal of approval.
Cheers!
The Antiques Diva ®
tons/follow-me-on-pinterest-button.png" alt="Follow Me on Pinterest" width="210″ height="28″ />
tons.sociableblog.com/images/FB5.png" alt="" width="210″ height="40″ border="0″ />
tons.sociableblog.com/images/FMT6.png" alt="" width="210″ height="40″ border="0″ />