Dear Diva Readers,
Antiques Diva® Belgium & Holland Tour Guide Lucretia Hunsucker is our Roving Reporter today, sharing her discoveries this week at PAN Amsterdam!
**********************************************
One of the delights of the winter in the Netherlands is the antiques fair PAN, held every November in Amsterdam RAI. For the lucky ones with an eye for beauty and deep pockets, it's an Eldorado.
It's as if you visit the Rijksmuseum and everything would be for sale. Saturday was the opening, a society event where the rich and famous have the privilege of first choice out of an endless array of antiques from the Egyptian era to the very hip, with everything in between. Collectors can go straight to their field of interest to add an item to their collection, generalists can just browse, till lightning strikes and they fall in love with an object. The dealers are keen on telling you all you would like to know about their treasures, don't be shy to ask, they are very friendly! Never think you ask a stupid question. Thus I was surprised to hear from Dolf van Omme, who had both a small early painting and a pencil drawing by Mondrian for sale, that the drawing was more expensive than the painting, because it was rarer.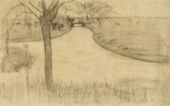 Another eye opener for me: 17th century art is more affordable now than more recent artworks. Also in antiques there's the law of supply and demand, and of what's trendy at the moment in Interior Decoration. But fashion changes all the time, don't let it dictate what you should personally like or eventually buy.
Just imagine I win the lottery tomorrow, what would I spend it on? Probably my first choice would be something of silver, because I trust the intrinsic value of the material (the price of silver is rising constantly, as is gold), but also because it seems so indestructible. No chance of breaking it in a moment of clumsiness, which means you can use the silverware to give an extra shine to your little parties at home. You don't even have to be a great cook to impress your guests! A simple soup would look scrumptious when served in that beautiful 18th century tureen in Louis XVI style, , which I saw in the stand of Jacob Roosjen, formerly the silver expert at Sotheby's Amsterdam. Your bread rolls would taste divine in the solid silver (never a plated object to be found in the PAN) basket in a delightful rococo style, from 1774, made in the residence of the court The Hague.
If you're even lazier and give only cocktail parties, what a smashing eye catcher would the huge wine cooler be, nearly 6 kg in silver, 61 cm wide, big enough to keep 6 bottles of champagne or white wine cold! It is the biggest wine cooler in this Louis XV style on the market, the dealer told me, and the Rijksmuseum has a very similar one.
Now these silver objects don't come cheap, you could buy a small apartment in the centre of Amsterdam for the price of that wine cooler, but if my pockets were still not empty, I would certainly buy some 18th century furniture, so refined and elegant in its lines and decor. This French commode in Louis XVI style, of course " d'epoque" (which means no reproduction of the 19th century), would come in very handy in my living room, and I wouldn't say no to the painting of that pretty lady by Largillierre to complete the look, thanks to antique dealer Mischo van Kollenburg. I would also take that marquetterie secretaire I saw at Theo Daatselaar, fit evenly for writing romantic letters with a feather or sending a message from your laptop.
For my bedroom I would go for the Empire style, of about 1800, also one of my favorites.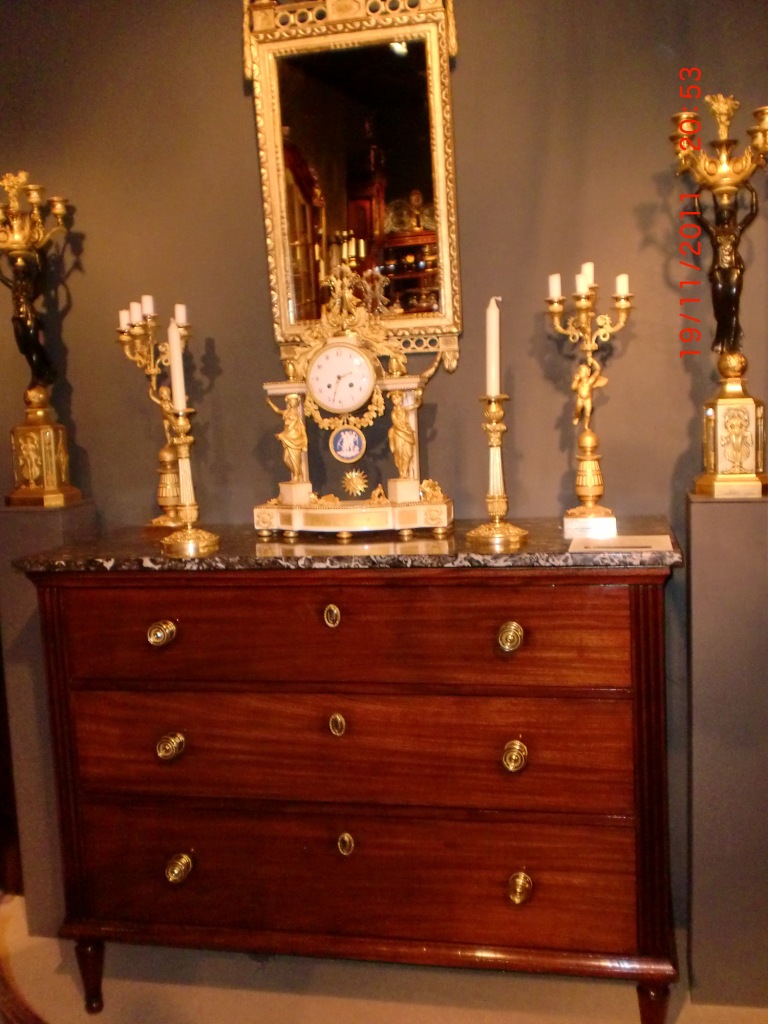 I love the warm shine of mahogany with the typical gilded brass decorations you always see in this furniture of Napoleon's days. A good mirror is a girl's best friend, can't live without them. My choice would be the enormous French "psyche", as it is called, from Limburg Antiquairs. It is more than life-size, must have been made for a giant. They also offered this empire commode, made for the Palace Het Loo in Apeldoorn, what a pretty ensemble that would make!
Enough dreaming, alas! For those of you readers who have euros to spend before they evaporate, I would say: go!  The fair is still open all week until Sunday the 27th of November.
Happy Antiquing,
Antiques Diva Tour Guide Lucretia
(seen below in Amsterdam on an Antiques Diva Tour)