Dear Diva Readers,
top: 5px; float: left; color: white; background: #781300; border: 1px solid darkkhaki; font-size: 40px; line-height: 30px; padding-top: 1px; padding-right: 5px; font-family: times;">Jennifer Boles is constantly bringing us inspiration through her blog, The Peak of Chic, but she's now made it possible for us to own a tangible piece of her perspective on design with her book, In With The Old: Classic Décor from A to Z.
to_PHOTO-CREDIT-TO-ERICA-GEORGE-DINES.jpg">
to_PHOTO-CREDIT-TO-ERICA-GEORGE-DINES" src="https://antiquesdiva.com/wp-content/uploads/2014/04/Jennifer-Boles-Author-Photo_PHOTO-CREDIT-TO-ERICA-GEORGE-DINES.jpg" width="348″ height="498″ />
The book is set up almost like a chic decorating encyclopedia, detailing 100 entries focused on Jennifer's favorite decorating elements – like coquillage, leopard prints, and tented rooms – all laid out in alphabetical order.  Accompanying each entry are gorgeous photographs and original illustrations that surely inspire any design enthusiast.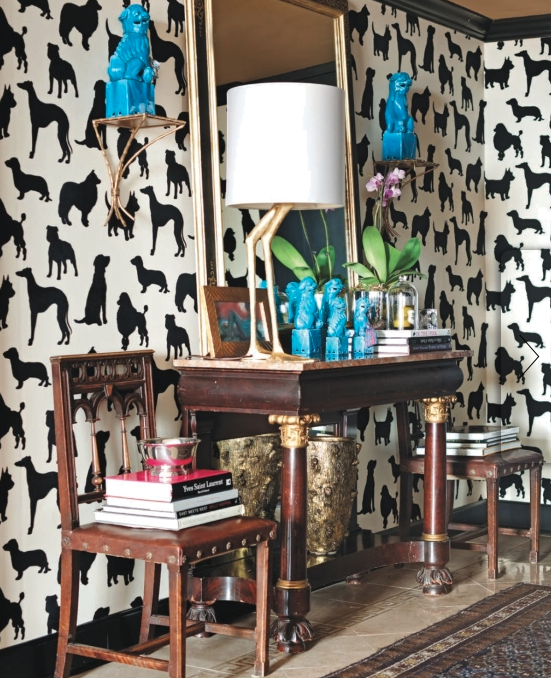 This book can be thought of as a collection of the important elements in 20th Century design.  Taking cues from major taste-makers of the era, Jennifer has corralled a plethora of styles, products, and ideas into one place, offering up not only interesting information on the history of certain trends, but also giving useful decorating advice and helpful tips on how to implement them into modern living.
In With The Old is sure to be an essential reference for anyone wanting to learn about the elements of chic interiors and stylish living.  You may even come across an idea that sparks an entirely new scheme for your home or next decorating project.
I was delighted to meet Jennifer in real life recently at the Design Bloggers Conference and she enchanted me with her wit and charm!  Consider her book a Must Read Diva Resource!
The Antiques Diva®