Dear Diva Readers,
top: 5px; float: left; color: white; background: #781300; border: 1px solid darkkhaki; font-size: 60px; line-height: 50px; padding-top: 1px; padding-right: 5px; font-family: times;">The Christmas season is upon us! Chances are you've already started your holiday shopping and decorating and are looking forward to partaking in annual traditions in the coming days. Since our tours are offered in several countries throughout Europe, we are always learning about different cultural traditions and today i want to share a bit about Christmas in Italy. Anyone who has shopped the Tuscan countryside has surely seen nativity scenes for sale, whether they are antique or new. But the tradition of setting up a nativity goes back quite some time.
In Italian, the nativity scene is called the presepe or presepio, meaning literally "in front of the crib." For centuries this scene has appeared in churches, piazzas, and in homes beginning on December 8 of each year as that is the day for the Feast of the Immaculate Conception. Presepi remain up until the Epiphany on January 6, as this is the Feast associated with the Three Magi's visit to the nativity.
It is thought that the tradition of the presepe originated in 1223 AD in the town of Greccio when St. Francis had a theatrical mass performed, using a live ox and ass, along with a straw-filled crib to bring the story of Jesus' birth to life. The mass was not held inside the four walls of a church, but was set up outdoors in a wooded grove to make the scene appear more real. Centuries later during the Counter-Reformation of the 1500's, people began to set up presepi in their private homes as well. It wasn't until the 18th century however that presepi became extremely popular and were a standard fixture of the Christmas season, as they are today.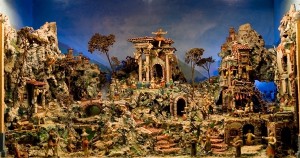 Presepi can include just a few familiar figures such as Mary, Joseph, baby Jesus, and the Magi or can be made up of hundreds of figurines, which can occupy entire floors of grand palazzi. A visit to the city of Naples can reveal some of the most elaborate presepi collections as it is known for having workshops that create the nativity sets which have been in operation for centuries. Families all over Italy often set up presepi in their home using figurines that have been passed down for generations. Building the presepe is often quite the feat as it may include a water feature—symbolic of baptism—and a cave or stable where the birth is thought to have taken place. But for many Italians, the presepe is a symbol of their culture, and building it each year connects them to their family's past and their faith.
As we celebrate this season, I'd love to hear what some of your traditions are. Share them with me in the comments below or on The Antiques Diva & Co Facebook page!
Happy Holidays,
The Antiques Diva®