Today I'm flying home from a multi-day speaking engagement at the fabulous antiques show, the 2017 Art & Antiques Show London Calling, sponsored by The Women's Board of Wolfson Children's Hospital in Jacksonville, FL. I was honored to be invited to speak – but in all honesty had never heard of this show, just closing its 41st year. Frankly, I was gobsmacked by the quality of the antiques and vendors represented at this show! Whether you're an antiques dealer seeking new places to display – or an avid antiquer traveling to the best fairs – I highly recommend you put next year's event on your 2018 calendar! I started my talk by speaking about my design icon, Louis XVI, who totally revamped design for centuries to come – his Grand Tour inspired my own Grand Tour – and my own upcoming Antiques Diva Furniture Collection for Aidan Gray (#WatchThisSpace). I believe that for design professionals the most important tool you can have in your portfolio is your passport. 
I'm flying home to Berlin to pack up my belongings with feelings of nostalgia; while I'm excited to begin my new life in Venice, I'll miss the many friends and colleagues I've met and grown to care for during my years in Berlin. We've shared a lot… one memory in particular was a good old-fashioned barn raising – #DivaStyle!
(Featured photo credit Susanne Ollman)
Mirrors on the Ceiling – Oh My! 
One of the things I will miss most about my Berlin is my apartment. For the last several years, I've lived in a 3 level loft that in a word – was über cool! After a Thanksgiving night fire burned my 1st Berlin apartment in Mitte, I relocated to another section of town and a totally different style of apartment: Berlin's Old Malthouse (Die Alte Mälzerei), an urban renewal project that took the Schultheiß-Brauerei (Schultheiss Brewery) and revamped this industrial historic monument into sensational living spaces – I had over 2000 square feet on 3 levels with a fabulous terrace! The dining room happened to be the inside of the oven where the malt was brewed – a round room, with an igloo-shaped exterior and no windows, but openings on both sides that gave the room a cave-like feel. Dinner by candlelight whatever the time of day!
Because of my business as The Antiques Diva, many of my friends are also in the design or lifestyle industries – stylists, photographers, caterers, antique dealers, artists, designers and the like. When I entertain at home, presentation counts: not just to me, but to my guests. The people I entertain seriously like #FoodPorn. Whether we're at a resto or a private home, with every course out come the iPhones as everyone tries to get the perfect shot to post on Instagram. (I recall one afternoon at Tamara Matthews Stephenson's with designers standing on chairs in her Hampton's kitchen trying to get the perfect shot before she served the meal!)
One evening as we chatted late into the night in my dining room with my good friends Christian Lemke and Justina Walczak of Revamp Home Staging and Design in Berlin, we had a scathingly brilliant idea:
A mirror fixed to the brick ceiling of my dining room would provide fabulous light reflections and some serious #FoodPorn photos!
The challenge was on! Now to find a mirror to fit the narrow round spot on the ceiling and attach it to the ceiling – without spending a lot of money! With the interior design skills of Christian and Justyna, that was a breeze as they had a mirror cut to size.
Naturally, I called on my Oklahoma roots and put together an old-fashion barn-raising, er… mirror raising!
Christian – the engineer-minded in the group – built a frame to attach to the ceiling and hold the mirror.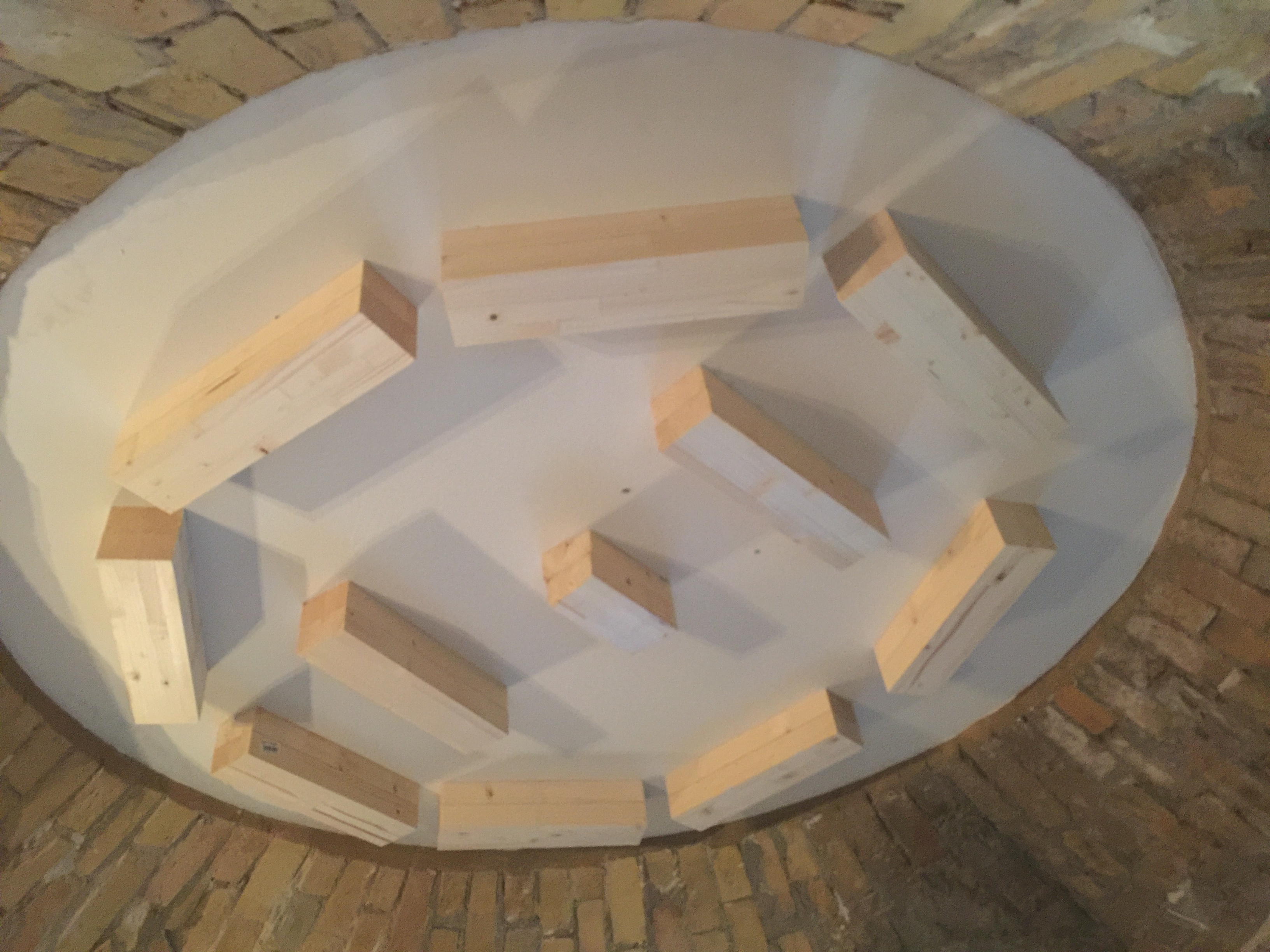 Once we got the mirror up there and correctly positioned…
We had to devise a way to KEEP it up there 24 hours – long enough for the adhesive to set.
As the adhesive dried, I fed the team dinner – served outside on the terrace because we were afraid to eat under the newly installed mirror! Fortunately, it was a beautiful evening for dining al fresco, as my terrace doesn't have a ceiling!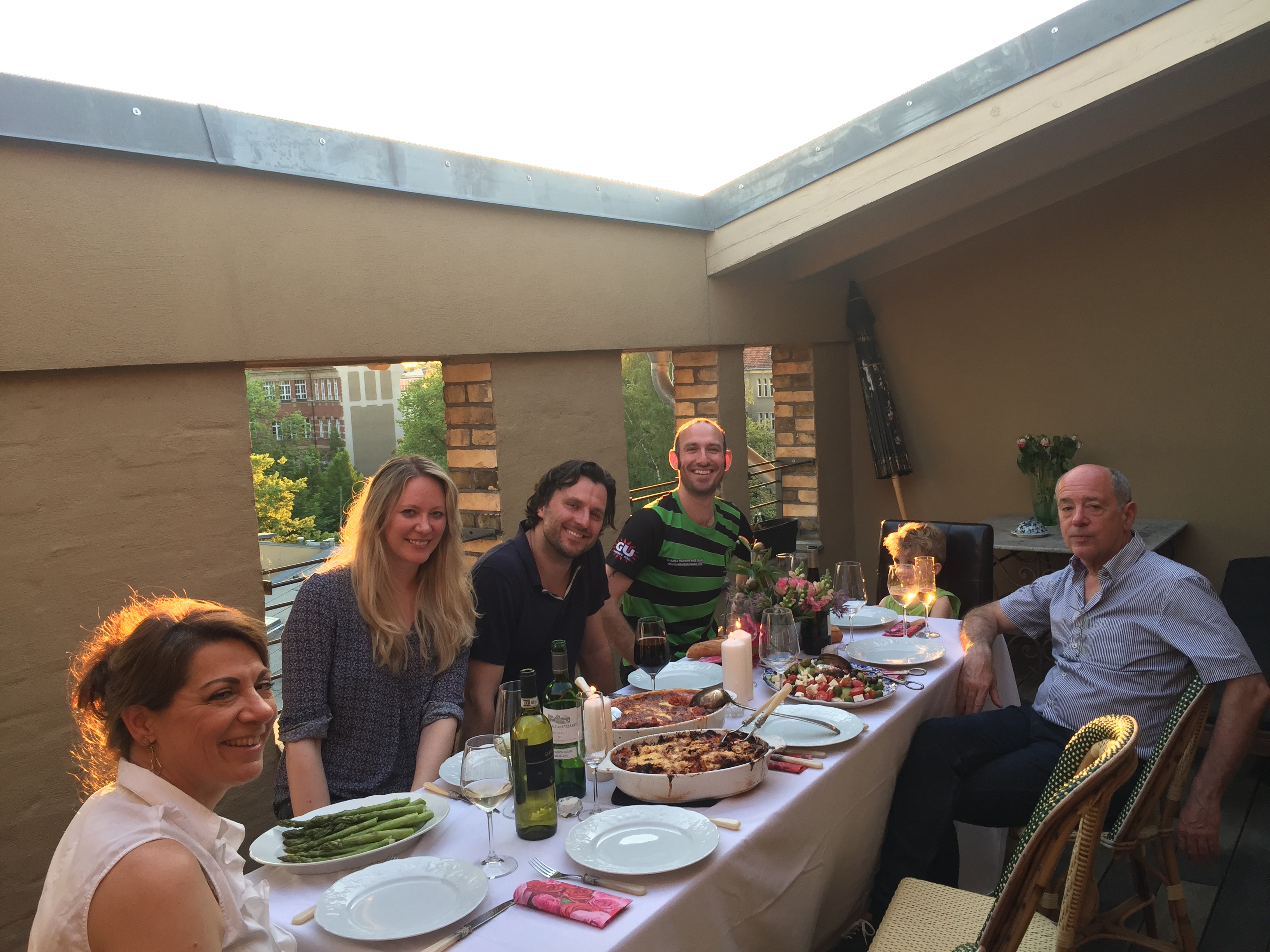 Dinner served family style, because my friends have become my family.
I love the name of Christian and Justyna's business – ReVamp Design. Isn't that really what we do with our lives during pivotal moments – such as I'm undergoing at the moment with my upcoming move to Italy? I'll be bringing my antiques to Venice – but also… there will be a guest bedroom for dear friends such as Christian and Justyna to come visit! Cherished antiques and friends are vital to a happy home, and a happy life.
Are you searching for design inspiration?

Join us for an Antiques Diva tour to Europe, Asia or America
Toma – The Antiques Diva