Dear Diva Readers,
top: 5px; float: left; color: white; background: #781300; border: 1px solid darkkhaki; font-size: 60px; line-height: 50px; padding-top: 1px; padding-right: 5px; font-family: times;">M ost of our clients want to maximize their time in Europe, which is why they call us to custom plan an antiquing route, introduce them to our sources, translate and negotiate in order to save them time. However many clients decide to add on days to their trip with pre or post tour to enjoy a mini-vacation. Think about it—if you were flying all the way to Europe, wouldn't you want to see the sights and soak in the atmosphere? Our Diva Guides are always happy to recommend places for clients to experience while in whatever region they happen to be antiquing. Our Diva Guide Tara in Bordeaux recently recommended the medieval town of Saint-Emilion and since I've been to this charming place, I wanted to share a bit about it here on the blog.
Saint-Emilion is in the heart of the Bordeaux wine region and is known also for its gorgeous architecture, making it the perfect place to enjoy the European (and Diva) lifestyle. It was named after Emilion, a hermit who is said to have performed miracles in this area and eventually converted it to a religious epicenter. From the 9th to the 19th century, the soil was mined and extracted, thus creating the the look of the town we see today. The underground galleries beneath the villages in this region still exist today and contribute to the vineyards' successes.
tom made tours Saint-Emilion" width="300″ height="188″ />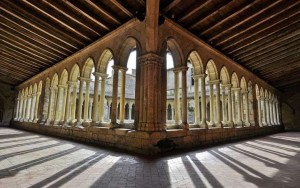 Saint-Emilion's soil is a mix of sand, clay, and limestone, which, when combined with the micro-climate which exists here, makes it the ideal place to grow grapes for merlot, which is often blended with cabernet franc, cabernet sauvignon or malbec. This results in a wide range of aromas and flavors for which Saint-Emilion is known for worldwide. In fact, wine has been important in this region as far back as 1199 AD when John, King of England delegated his economic, political, and legal powers to the noblemen of the region to let them rule. This wine-brotherhood still promotes Saint-Emilio wine around the world and organizes the Spring Feast every year.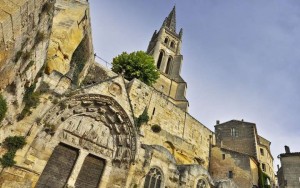 One of my favorite places to stay is the gorgeous chateau in the heart of the town called Hostellerie de Plaisance. With it's terraced gardens that overlooks the bell tower of the monolithic church – it's fit for a diva! The buildings are carved in the rock and you almost feel enveloped by the massive stones. The views, the architecture, the wine—it's like a dream world!
If you find yourself in the Bordeaux region, we highly recommend stopping off at Saint-Emilion for a glass—or two—of wine as you take in the beautiful scenery and savor the European way of life.
Au revoir,
The Antiques Diva®
Images from: http://www.bordeaux-tourism.co.uk/Discover-Bordeaux/Bordeaux-and-surroundings/Our-surroundings/The-Saint-Emilion-s-village-a-World-Heritage-Site