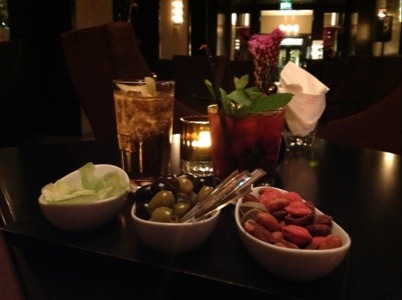 Dear Diva Readers,
top: 5px; float: left; color: white; background: #781300; border: 1px solid darkkhaki; font-size: 80px; line-height: 70px; padding-top: 1px; padding-right: 5px; font-family: times;">"Fancy meeting you here!" I exclaimed as I kissed my husband hello last night as he walked out of Berlin Tegel airport and into my arms. At last, we were in the same place at the same time! He was returning home from a business trip to his company chateau in France while I'd just whizzed in from taking a "to the trade" buyer to Belgium on an antiques shopping tour. I'm home for exactly 6 days before leaving again for Italy – this time helping an interior designer shop for antiques to furnish a 200 year old 6000 square foot Tuscan villa – and I wanted to make the most of every minute with my darling husband! After all, between his crazy travel schedule and mine meeting at our home town in Berlin has become a rarity!
As he loosened his tie throwing his briefcase in the backseat, I put my Audi in drive and said, "Not yet – I'm kidnapping you! We've got a date at the Hotel de Rome!" In confusion he lifted his brows looking back at the airport. "Not Rome as in Italy, Silly Boy" I chidded, "Rocco Forte's 5 star extravaganza in Berlin at the Babelplatz!"
I hadn't taken a room, but rather thought a cocktail date to catch up on life, love and other mysteries was in order. I love the romance of yesteryear sitting in a moody lounge with a pianist tickling the ivories as I sip slowly at a drink in a dark corner. My husband ordered the Horse Neck, me the Talihito… An American expat lounge singer strolled onto the small stage and began to croon lyrics lost in love in the 80's and as my husband and I held hands and whispered sweet nothings I sighed, "There's nothing like being in the same place at the same time…"
Next time you're in Berlin I'd recommend popping over to the Bebel Bar at the Hotel de Rome! For more ideas on where to go for drinks in Berlin see Paul Sullivan of Slow Travel Berlin guide in the Guardian to the top-10-cocktail-bars-berlin" target="_blank">Best Cocktails in Berlin.
Until next time, cheers!
The Antiques Diva®
tons/follow-me-on-pinterest-button.png" alt="Follow Me on Pinterest" width="210″ height="28″ />
tons.sociableblog.com/images/FB5.png" border="0″ alt="" width="210″ height="40″ />
tons.sociableblog.com/facebook-badges.html">