Dear Diva Readers,
top: 5px; float: left; color: white; background: #781300; border: 1px solid darkkhaki; font-size: 60px; line-height: 50px; padding-top: 1px; padding-right: 5px; font-family: times;">W hen antiquing throughout Europe, one often comes across curious pieces of furniture. While many pieces are beautiful to look at, they frequently have interesting characteristics that one can discover with further inspection. One such item is the Savonarola chair. You've probably seen this type of chair before, known for its unique X-frame. Having been around for centuries, this style of chair was made for a specific purpose and its construction, consisting of multiple slats in the legs which cross each other and rise to form the arms is quite interesting. It is this crossing of the legs that creates the X shape.
Developed in the late 15th century in Italy, the Savonarola chair was originally created to be foldable, and thus a more portable, version of the ancient Roman curule chair. The Savonarola however had more angular legs and the addition of a low back and though the basic construction of the chair was simple, there are many variations in armrest, backrest, and feet, as well as the type of wood used. The woodward was often covered with silk or velvet and the seat would have had a cushion. Typically the Savonarola chair had a wavy-shaped X, similar to the Dante chair, another X shaped style of seating.
Of course as time went on, the style and features of the chair were adapted and in the 19th century during the Renaissance Revival, versions of the chair featured iron pins for folding, higher backs, and more ornate details such as carving and inlay. The more ornate and larger they became, the more difficult they were to transport, thus altering their original purpose. These Renaissance Revival remakes began to look more like thrones!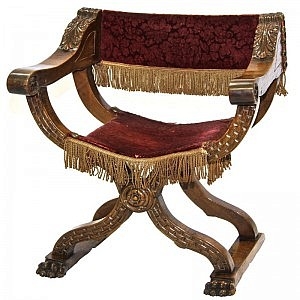 The Savonarola didn't get its name until the 19th century when homage was paid to a famous Renaissance Dominican friar, Girolamo Savonarola, who led Florence during the late 15th century. This moralistic religious leader is best known for his Bonfire of the Vanities, and it is quite possible that Friar Savonarola did possess a chair like this, since monks typically used folding chairs in their small rooms.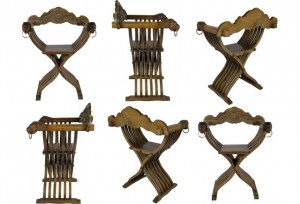 Today this style of chair still holds much of its aesthetic value. While we have much more portable folding chairs made of plastic, the Savonarola chair remains a favorite decorative piece for interior designers and those with a love of Renaissance style. In Italy you can often find these lovely examples of ingenuity from a bygone age at antique warehouses, second hand stores, and even house clearings.
If you would like more information on taking an Antiques Diva Tour in Italy or any of our other tour countries—France, England, Belgium, Sweden, Denmark, The Netherlands, Germany— email us at info@antiquesdiva.com.
The Antiques Diva®