Dear Diva Readers,
While I'm away on tours in Provence and Belgium with trade clients from the USA, our "Dolce Diva The Italian Antiques Diva Personal Shopping Consultant"  Susan P is guest blogging today!  She writes, sharing details of a special crystal source in Tuscany… So Ciao Bella from me and Buongiorno from Susan.
La Dolce Diva Susan writes:
"I don't even know how I found Vilca's Crystal it was so long ago that I first stumbled upon it tucked away in a location virtually impossible to find.  I suspect when I first stumbled upon it, it was by accident on one of my lone ventures foraging for one thing and finding something else. Over the years, Vilca has grown and  evolved, grown and changed together.  Today we have both moved on, they to bigger premises, introducing new technology, now shipping the world over and supplying some of the most prestigious stores in London, Paris and New York.
Vilca is  located down a back alley on the outskirts of Colle Val d'Elsa, know as the city of crystal.  Glass is relatively new (that is by Italian standards) to the city being brought to the town in the 19th century.  To make their crystal, Vilca uses ash but also ground yellow marble from the local quarries to make the crystal.  
Even though we lead Antique Tours in Italy I like to include a stop to Vilca on certain tours as it's a rare opportunity to visit a true artisanal Italian glass factory to have items custom made for our clients.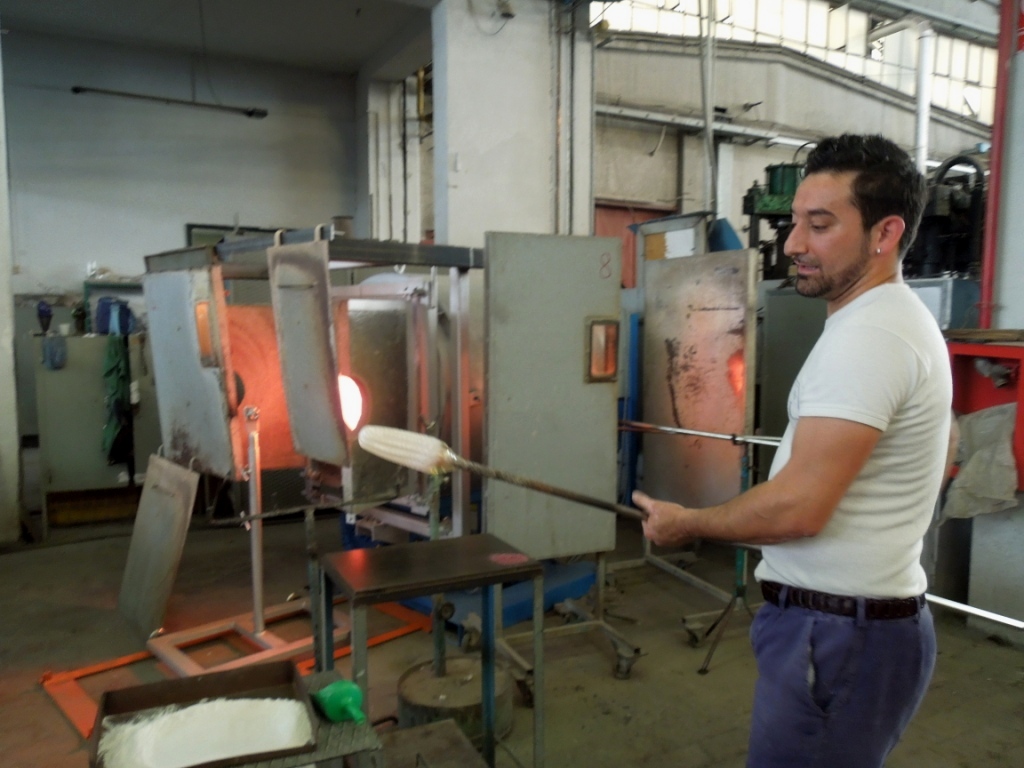 Each time I have visited Vilca whether with a client, or on my own, the reception is  warm and sympathetic from Patrizia and her cousin Gianpiero, who are third generation in the business.  I  marveled at being allowed into the laboratory, carefully picking my way through shards of glass and avoiding impromptu blasts of fire, but what struck me most was seeing a glob of glowing red glass being transformed into some exquisite sculptural piece; a bird on a branch, a dolphin leaping out from the ocean, a shell, a frond, a feather, a leaf, it was breathtaking, as well as more functional but no less beautiful pieces such as wineglasses, bowls and vases, many of which are signed by well know designers.
I frequently send friends, family, house guests and clients… at their own peril.   No one ever returned empty handed, they too were mesmerized by these artisans, their skill, their creatively.  The pecking order is tight and each has his own task, slowly rising rank after rigorous training,  but each has  their sense of pride and joy in what they do, which in most of the world is a dying art, something rare to find today.
Last week we had a wonderful group of ladies with us for an Antiques Diva Extravaganza.  While they wanted vintage and antiques on the tour, they were also interested in home décor items, and local crafts and artisanal goods.  Needless to say, where better place to take them than our dear friends at Vilca?  An hour later, after a guided tour of the works… serenaded by a Neapolitan glass blower,  much oooing and ahhhing in the showroom, we left  with considerably lighter wallets.  Clients bought gorgeous wine glasses to adorn dining tables,  brandy warmers and cognac snifters to appease husbands and of course a few 'trinkets' for themselves as well!
To visit Vilca, click here.
We hope to see you at Vilca on your next trip to Tuscany!
The Antiques Diva & Co