I have a special holiday gift for you! My dear friend (interior designer, style-setter and owner of Nest by Tamara and root cellar design and a US Diva Guide) Tamara Matthews-Stephenson is sharing her Top 7 Holiday Host Tips for a Fabulous Soiree. Tamara is often invited to speak at design industry events to share her expertise on the subjects of interior design, entertaining and the international design markets. Her Nest by Tamara blog was voted #1 design blog in Modenus' TOP 100 DESIGN BLOGS. 
A few weeks back I shared holiday decorating tips over on Trim Queen's illustrious blog.  It seems "top of mind" this time of year because when we do take the leap to invite guests into our home and host a dinner party, we want it to be special and memorable. Unlike typical decorating concerns when incorporating antiques, furnishings, textiles, art in our homes, (we certainly want them to stand the test of time and through various seasons), when it comes to decorating a party table, we are free to channel our inner diva, and take it over the top (in a good way).
The Holidays are a perfect time of year to bring drama and whimsy to our homes and put everyone in a festive mood. Heck, even if we wind up ordering take-out and serving it on pretty platters, guests will be wow'd if we create a beautifully arranged table and decor. Today I am happy to share my Top Seven Holiday Host Tips to help you create a successful and beautiful soiree. I host often, both in my home and for charitable organizations, and over time I have learned some interesting time-saver and stylish tips. My friends have come to call me the "Tabletop Queen" because of my unique knack for entertaining. Now that I have added fabric and wallpaper designer to my resume as co-owner of root cellar designs, I have another vantage point in interior design. Textiles are a key way to bring beauty into your home and table.
You may know by following her on social media, that Toma (the Diva herself) is making the big move this month and relocating from Berlin to Venice, Italy. I can only imagine the Italian-style dinner parties she will plan in her new home. Hopefully we will all sip champagne together someplace exotic alongside Toma on her travels soon — perhaps at her infamous breakfast at the Paris Flea Market this coming January? Until then, I am happy to share my entertaining tips here today on the Antiques Diva blog.
Happy Holidays, 
and Happy Nesting
XO Tamara  
Tamara's Top 7 Holiday Host Tips for a Fabulous Soiree 
1. Break Out Grandmother's Fine Crystal and Silver
Yes, I know they are in the back of the linen closet packed away for that special occasion. Well, that special occasion is here! Today, it is perfectly acceptable to mix and match your everyday wares with your finest china and silver. The way we entertain today in a more casual setting, the antique tabletop items we own or inherited when juxtaposed with our modern, everyday items bring a fresh and appeal to your home and table.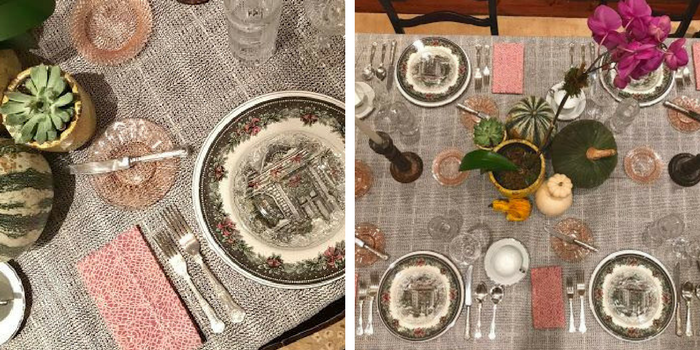 This Thanksgiving I mixed in my mother's Depression Glass with my reproduction Spode Holiday Plates.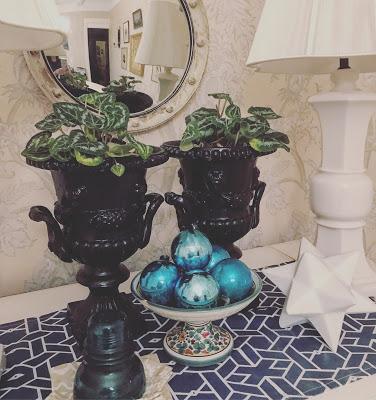 2. Go Over The Top With Color
Whether it's all one colorway in various hues, or a medley of vibrant colors, go bold. I like to take it away from the traditional red and green combination, and introduce pops of color like Tiffany blue, greens, ochre, silver and metals.  When we at root cellar design custom design table linens, we keep in mind that there are a plethora of white linens on the market, but very few colorful designs. So, naturally, we go bold and bright and festive. Although our fabric is sold by the yard to the design trade in designer showrooms, this season we started offering our table linens from our fabric collections on a custom basis!
We custom-colored our blue willow pattern in our "holiday orange" color and mixed it with antique blue willow plates in traditional blue and white.Then we added unexpected pattern and design with these pinwheels used as name card holders.
3. Combine Patterns and Textures, Old and New
I use the "something old, something new rule" from weddings to set a holiday dinner party bringing my antique accessories (obelisks, stars and gems) onto my table for a point of interest.
Just like traditional decorating, setting a table is about adding layers and textures– from natural rattan to silver to mercury glass.
4. Add Unexpected Details to Your Table
We custom designed our tortoiseshell pattern in a subtle grey and grown and here one of our clients set their
holiday table with them, then added pine cones, driftwood and other natural materials.
5. Use Placecards– It Feels Special
Here we put them next to the plates in tiny bird's nests.
For our table at last year's Lenox Hill Gala we wrapped chocolates for guests.
6. Leave a Little Gift for Your guests on the Table, or Send Them Home with a Goodie Bag
Either a small wrapped gift at the table or a small holiday gift to take home (maybe some homemade Christmas cookies), and it is such a special touch.
7. Offer a Specialty Cocktail
It feels special, and, it frees up your time. Make a big batch of champagne cocktail (just add the champagne at the last minute) or in this case a Lemonade Vodka Sparkling cocktail, and set up your bar cart with all the accoutrements. Now, you've created a self-serve holiday bar where guests can refresh their drinks as needed. Note–give your cocktail a name, guests will love it!
Sources:  
custom designed paper butterflies
root cellar designs' fabric and wallpaper