The Antiques Diva Art and Antiques Shipping Services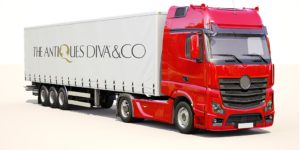 The Antiques Diva® & Co is pleased to offer art and antiques shipping services from Europe to destinations around the globe. AD&CO has partnered with a premier international shipping company with 50 years expertise in shipping services: AD&CO Logistics is the Art and Antiques Division of ALC*. Your shipping concierge will personally manage all facets of your shipment including collecting your goods from the dealers, tracking your inventory and payments, cross-referencing your tags, packing, complete all export/import paperwork and monitor your shipment's progress from the time we receive your goods until they are delivered to you; and keep you advised of the status of your shipment.
Our international shipping services provide the options of:
∗ full 20 or 40ft containers or partial containers (LCL: Less Container Loads)
∗ door-to-door shipping
∗ port-only shipping
∗ independent or shared location shipping
While we offer in-house shipping services we are always happy to recommend
and work with 3rd party shippers.
Antiques Diva White Glove Shipping Services
AD&CO Logistics provides white glove art and antiques transport and shipping services to customers across Europe and around the globe, including antiques dealers, interior designers, builders and private clients.
Our bespoke shipping services will provide you with tags, labels and instructions to identify and inventory your purchases at the dealer or on your buying tour, and our shipping concierge is always available to respond to our customers before, during and after your shipment.
Request a Quote
ad_co@alconsult.be


FAX: +32 (0)3 283 73 49        

MOBILE: +32 (0)478 01 01 01 
Our shipping services include:
√ Organizing the invoicing and payments of the goods purchased on an AD&CO Tour for our tour clients; or collecting the goods if you are not part of an Antiques Diva Buying Tour
√ Collecting all the goods from the different vendors and transporting to our warehouse in Antwerp
√ Our packing service including wrapping your goods in protective materials, crating, loading on pallets for transport, and using the most advanced art and antiques packaging and crating industry practices.
√ Prior to shipping we store your goods in our secure cold storage warehouse in Antwerp
√ Shipments are organised in 20ft, 40ft or LCL ( Less Container Loads)
√ We manage the loading of your container in our warehouse
√ We organise all customs and VAT paperwork concerning the export and import documentation necessary for your goods
√ If required, we provide fumigation of your container
√ We provide insurance for the shipped goods
The Antiques Diva & Co offers very competitive rates and the shortest possible handling and shipping time to deliver your goods from the antiques dealer to your door.
AD&CO Logistics is owned and operated by Antwerp Logistic Consult NV (ALC). The quote for the shipment of your goods will be submitted to you by ALC on the basis of which a forwarding contract will be concluded with ALC. The Antiques Diva® & Co will be happy to assist you in case of any questions you have about the shipment but will not be in any contractual relationship to you as customer in this respect. The Antiques Diva & Co therefore assumes no responsibility for, and cannot be held liable for the performance of the shipment.