Dear Diva Readers,
The Antiques Diva® team is ALL over the place this month.  Gail, our UK Diva, joined Susan, our Italian Diva and me in Parma, Italy this past week for Mercanteinfiera meanwhile Lucretia, our Belgian and Dutch Diva was in London shopping the Autumn Decorative Fair at Battersea Park!
Lucretia writes reporting from the London Decorative Fair:
"By a stroke of luck, I happened to be in London during the Autumn Decorative Fair in Battersea Park, 1-6 October 2013. Curious and in possession of a free ticket, I had to go check it out.  Afterall, it's important for me as the Dutch & Belgian Diva Guide to understand what's happening around the world in the antique scene.   Interior decoration is kind of a passion for me. Where else than in cosmopolitan London can one get a better update on the latest trends?
The fair is relatively small and cozy, with 143 exhibitors each with a compact stand, allowing you to see the whole inventory without getting bored or exhausted. The atmosphere is relaxed, the vendors congenial, the prices affordable and negotiable.
There were a few dealers with traditional antiques, but the majority showed a mix of old furniture — mostly stripped down to the bare wood, sometimes whitewashed or with the original paint — and 20th century pieces. What really surprised me was the predominance of glass and metal furniture from the sixties and seventies. Coffee tables, nests of 3 tables, console tables, dinner tables, they have to be transparent, light, made of chrome or brass or painted black metal, with a glass top. Exactly the style we bought for our first home when we married in 1981 (you begin to feel really old when the fashion of your twenties makes a come-back)! Instead of storing it in the garage, I should bring it back to the living room and get rid of my mahogany!
The overall style was not moody like The Antiques Diva discovered at Maison Objet but rather delicate, with walls painted light grey or taupe, lots of mirrors, crystal chandeliers to catch the light. Symmetry is still going strong, you often see two identical console tables with huge mirrors next to each other, perfect doubles. Cheerfully bright upholstery (think pink, purple, turquoise) on vintage chairs and sofas was also a noticeable trend. On the other hand, the industrial design with its large proportions and rude surfaces is also still present, although not my personal favorite.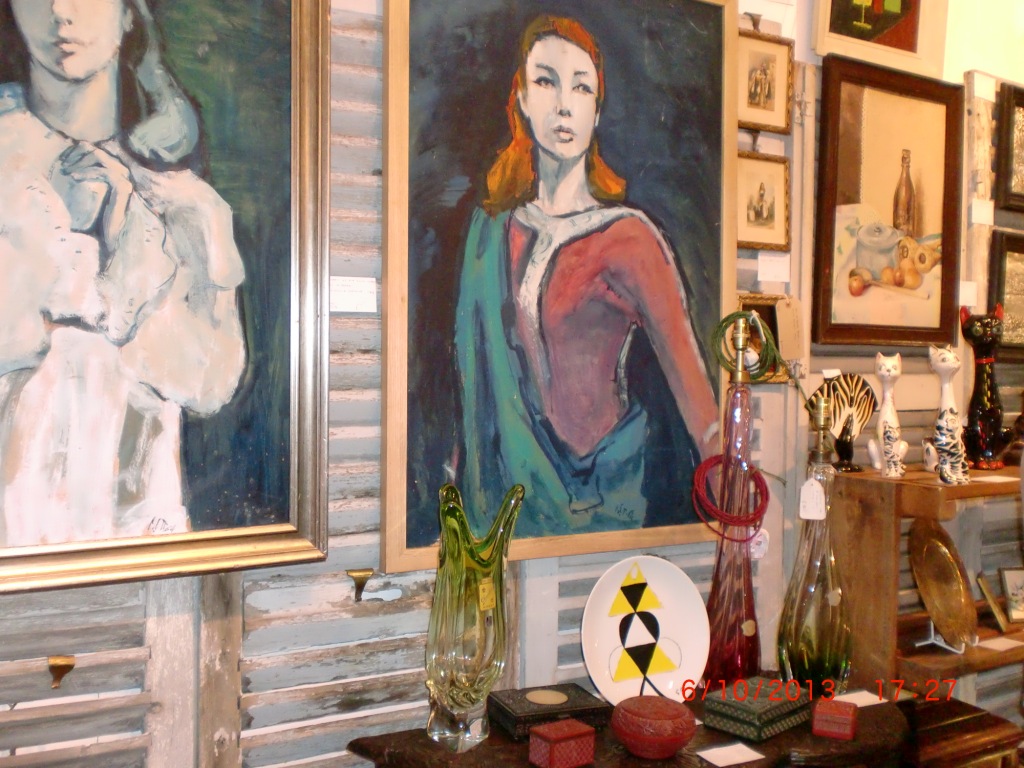 These antique and vintage dealers have to be inventive and original decorators nowadays, composing their stands using unusual objects in order to catch the attention of the visitors. Some did a great job, and they make a visit to the Decorative Fair in Battersea Park an uplifting experience!"
Your Belgian-Dutch Diva – Lucretia reporting Live from London!
PS – All this and don't forget you can have a chance to meet our Swedish Divo in England this weekend at Esher Hall.