Summer is simply the best time to visit Sweden – the daylight never seems to end, stunningly beautiful hills and orchards and shimmering lakes, enjoying a crayfish boil and icy vodka at an outdoor café… and antiquing! Sweden is HOT for sourcing antiques this summer… and Sweden is on sale at The Antiques Diva® & Co! 
The summer season is the low season for Swedish antique dealers – and those crafty Swedes use this season to stock up on new inventory. Which means for foreign buyers coming abroad to source antiques in Sweden they get 1st dibs on seeing new inventory their competitors (who are also shopping in Sweden) have not yet seen! Swedish Antiques Diva Guide Daniel can't wait to introduce you antiquing in Sweden! 
BUY 1 / GET 1 SWEDEN SUMMER ANTIQUE BUYING TOUR 
• Book a 1 Day Sweden Antiques Buying Tour, Get a 2nd day FREE
• Tour Dates: June – July  2018

Get a two-day custom, private antique buying tour in Sweden for the price of one day! Learn more here.
(The event was streamed on Facebook LIVE by Aspire magazine, watch here.)
When I spoke to a room of design professionals on How to Source Antiques like the Pros with interior designers Robert Passal and Garrow Kedigian at an event at the D&D Building hosted by The Robert Allen Duralee Group, the audience asked the panel, What are the most popular European antique sourcing destinations? My answer: 
Why Sweden is HOT for Sourcing Antiques 
Today in interior design, its all about the mix: what I call global chic. People don't want one specific style in their home, they want their home to reflect their travels and their interests. They like to mix it up: a high-end piece with a provenance next to a modern trendy piece, an Asian antique juxtaposed against a modern abstract painting, a mid-century home with a European sensibility. Swedish antiques marry perfectly with pieces in different styles, and different price points. With their clean lines and typically soft, muted paint colors, Swedish antiques blend beautifully with pieces in many other styles.
Compared to other French or English antiques, Sweden antiques are rare because they did not make as many. And because provenance plays a big part when it comes to pricing – it's a tricky field to enter. There is – or rather SHOULD BE – a significant price difference between 18th C and 19th C pieces of the same style. And as it's a case of "Buyer Beware" it's important to educate yourself so you know what you're buying to guarantee you're paying the right price.
International buyers sourcing in Sweden aren't just competing with an international market when it comes to sourcing – Swedish antiques are popular in Sweden with the Swedes too: and because Swedes appreciate quality, they are willing to pay the price for authentic Swedish antiques. When sourcing Swedish antiques, knowledge is power!
Shopping at the antique warehouses in Sweden is an education. From painted Gustavian pieces to Rococo, Baroque, or Empire pieces we'll educate you on what differentiates these periods. Opening the by-appointment-only-door is like treasure hunting: Everywhere you turn you will see something unexpected.
When you're antiquing in Sweden, walking in with AD&CO is instant validation. Not only do we have access to private antique warehouses that aren't online, dealers know The Antiques Diva means business. When our clients come in the door they are typically there to buy. And not just buy one piece – but container loads. This means that when you come with us sourcing antiques in Europe, you as our Antiques Diva client you have NOT ONLY your own buying power – but the reputation and the buying power of all our clients behind us! That power and those relationships help us negotiate on your behalf.
The key thing is this – our Antiques Diva Guides are local experts and personally know most of the dealers. We have the dealers' private phone numbers and when our clients have questions or needs we can call up the dealer direct and talk to them on your behalf.
Daniel Larsson is our native-born Swedish Divo Guide. Daniel takes pride in helping clients find the right piece at their desired price point. Daniel has an international mindset and has traveled to the US, England, India, Norway, Spain and Holland; and runs D.LARSSON Interiör & Antikhandel which deals in fine Swedish antiques ranging from 18th to late 19th century, specializing in high-quality Rococo and Gustavian painted furniture, Swedish country and decorative items.
One of things Daniel warns clients is, "When walking into a Swedish antique warehouse you can have no expectations – you must be open to what's in stock at that time."
When Daniel takes clients antiquing in Sweden he provides an education in antiques:
• You need to understand the story behind the pieces, the romance, and connect each piece to its period.
• More than that you need to understand what lies underneath the pieces – understand restoration, what creates value in the pieces and what doesn't.
• He teaches you about famous artisans in Stockholm and the countryside, explaining about various furniture makers, mirror makers and clockmakers.
• He teaches the differences between Swedish and other pieces – Sweden had periods that ended and unlike France where the periods often overlap in Sweden they never continued making them, so more limited editions because periods were finite.
The Golden Age of Swedish Antiques 
I always say that taking an Antiques Diva Sweden Tour is like taking a Master Class on Swedish Antiques! Last summer at the Dallas Market Center Daniel and I presented a Swedish Antiques Master– see our slideshow below to learn about the three important Swedish furniture periods.
It can be overwhelming to see 10,000 top quality pieces and you need to develop your eye to see why each piece is special. Our Diva Guide is there to help you help you find the pieces you're shopping for, translate, negotiate prices and arrange to have it shipped home.
3 Key 1st Impression Take-Aways When Buying Antiques in Sweden 
At first look, the presentation can seem unorganized and random: then our Diva Guide helps you zoom in, find what you're attracted to and you understand the differences in an antiques warehouse and an antique store.
Inventory isn't random. Antique dealers often specialize in a particular style – one of our vendors happens to be a museum curator who also sells antiques.
Dealers enjoy talking about their pieces and sharing their knowledge. But its also important to understand the difference between style and period, and original and rebuilt, because there are disreputable dealers in all fields.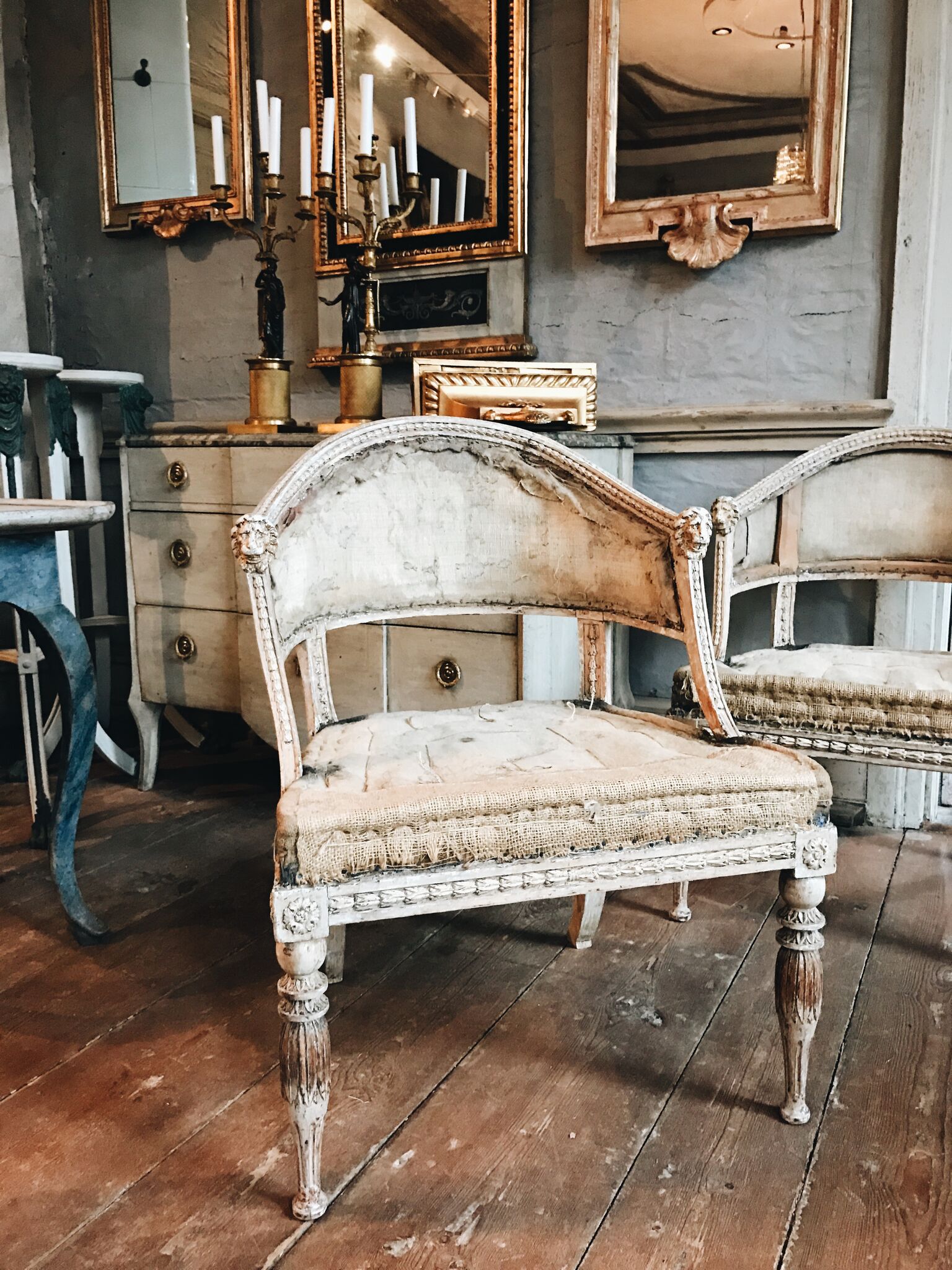 Antiques Dealer (and US Antique Diva Guide) Margaret Schwartz of Modern Antiquarian took a recent antique buying trip to Sweden with Daniel:
Swedish antiques are very much in demand. We had someone come in recently and practically buy out the Swedish inventory we had at The Antique & Artisan Gallery in Stamford, CT. Swedish furniture is timeless elegance at it's best. Swedish looks good in every style interior and as a major benefit, they tend to hold their value in the marketplace if you ever tire of them and decide to sell. Not that you would tire of them! If you are looking to buy Swedish antiques I wouldn't wait too long because we the price is very much on the rise, as is the demand. More buyers mean higher prices and less availability of period and quality pieces. There is a lot of reproduction and component pieces our there so do your reading, know what you're looking for, and ask the questions. We dealers love to talk about all our inventory so don't be shy in asking (appropriate) questions.
to">
Act Fast: our Sweden 2-for-1 tour promotion is only available until July! We'd love to take you on an antique buying tour to Sweden, and introduce you to our expert dealers and secret sources!
Toma – The Antiques Diva