tour" target="_blank">BlogTourNYC sponsor tofsports.com" target="_blank">Spirit of Sports  blends the same elegance and sophistication in their collection of sports-related fine art, sculpture, gifts, and home accessories as this Chanel football does, helping fans to create chic interiors that reflect their passion for style + sports.   In the days of yore, living with sport art conjured the classic man cave – a room, in my book, to be avoided at all costs!  Picture paneled walls with posters of the big game and souvenir plastic cups stacked on top of a 1970's beer fridge.  But NO MORE – gone are days of a large frayed and stained couch parked inches from the latest 60″ flatscreen with a trio of remotes on the nearby 3-legged coffee table – and in its place is sports décor fit for a diva (or divo)! 
Chic Rooms by Spirit of Sports
tour">
tour_nyc_250.png" alt="BlogTour 2012" width="250" height="228" />
Spirit of Sports is surfing the television waves and is popping up everywhere with recent guest appearances on the today.msnbc.msn.com/today/46428111#46428111″ target="_blank">Today Show and on the  Nate Berkus show – both of which illustrate that combining sports and art is a positively perfect way for people to have a genuine emotional connection with the rooms in which they live.  tofsports.com" target="_blank">Spirt of Sports owner John Pagnucco believes sports activities speak to the heart of what people value – hard work, passion, commitment to a goal, competition, and the ecstatic feeling of pride and accomplishment people get when it all comes together and they – or their team – win.  Marvin Russell,  author of Linebacker in the Boardroom, agrees.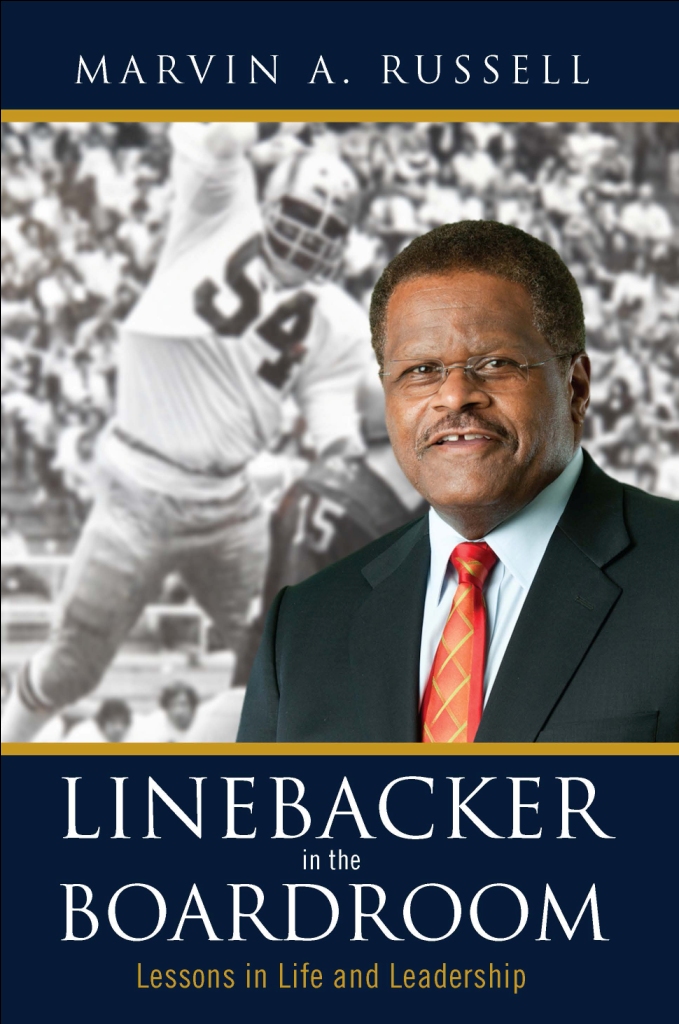 Marvin's book Linebacker in the Boardroom takes his experiences playing Notre Dame football combined with 30 years experience as a senior executive in major international corporations, volunteer community organizations, and as owner and managing partner of a leadership consulting practice to help the reader find their own leadership path through his life lessons and learning tools.  In his own homes he has combined his love for travel and antiques with his passion for sports and the outdoors and the combined result exemplifies the "Spirit of Sports" mentality. 
Marv Russell hiking in the Alps
From my many visits to Marvin's miscellaneous homes I've witnessed first-hand that living with mantiques and sports memorabilia can be elegant, sophisticated and easily incorporated into any décor.  My friend MR grew up playing sports, played football at the University of Notre Dame and has spent a lifetime collecting pieces from his sports history… memorabilia – new and old – that inspires his sense of sportsmanship and competition.
Over the years I've visited MR in the many different cities around the world his career has taken him, and seen how his sports pieces evolve as his surroundings change.
towe2r.jpg">
towe2r" src="https://antiquesdiva.com/wp-content/uploads/2012/03/hotel-plaza-athenee_unique-view-on-the-eiffel-towe2r.jpg" alt="" width="560″ height="700″ />
View from Paris Plaza Athenee
In his Paris apartment MR's desk lamp was fashioned from his old college helmet sitting on a carved walnut base and crowned with a silk shade. In his front entry was a chic French brass umbrella stand always filled with canes he collected from travels around the world, and used to support his football-damaged knees after many surgeries. Casually thrown in the umbrella stand were a couple antique golf clubs he picked up while in Scotland.  His office bookshelves were filled with text books, management and business books and journals, the latest novels, and bookends comprised of vintage cameras, old bowling pins, footballs, his father's old fishing reels and chess sets. On his desk a Waterford crystal golf club head held down a stack of papers and a glass frog held a collection of vintage fountain pens.
His cottage in the Poconos was decorated with toile de jouily, vintage French sports posters, and antique ice skates and wooden skis from his wife Catherine's family in Germany.   The house in Copenhagen on the Baltic Sea showcased an original watercolor of the multi-colored fishing boats in Malta.
MR's penthouse apartment in NYC offered a 360 degree view of Manhattan and every room a pair of binoculars or a telescope to enjoy the views of the rivers and the skyline. Out on the terrace a roll-away putting green for days too short to escape the city and hit the links.
View from Marvin's Penthouse in NYC
The house in St Louis – with room to spare compared to city life – had a collection of golf balls from courses he's played around the world, and a backyard big enough to play boules, a game he'd learned in the parks of Paris.
The Chicago pied-a-terre focal point was a large fireplace surrounded by bookshelves filled with graceful female dancers – Lladro and Dali; bronze, aluminum and porcelain – reflecting MRs admiration for the gracefulness and strength of ballet.
Marvin's book is not a sports book, nor just a book about leadership, nor only about his time playing Notre Dame football.  Linebacker in the Boardroom discusses the demand for excellence and accountability in all things we do… a concept the company Spirit of Sports embraces.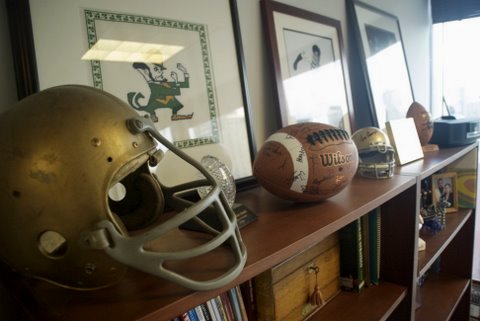 Just like Marvin Russell, Spirit of Sports founder to-the-world" target="_blank">John Pagnucco is a man of impressive energy and vision.  In talking about his tofsports.com" target="_blank">online shop, he explains, "There are very few recognizable personalities on the site, and no team colors. We wanted to do something different."   Just like Marvin Russell's home décor, Spirit of Sports provides people an opportunity to look inward in themselves into the sports that are important to them, and their family, giving them a reason to think about sports that they did, or do play or enjoy and develop their designs around meaningful art that matters.
Score!
The Antiques Diva®