Spring High Point Market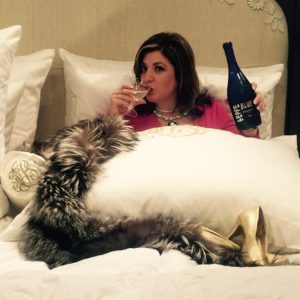 And it's a wrap. Another High Point Market came and went in a flurry of silver fox fur, fantasy designer inspiration tours, champagne soirees and late night foot baths soaking my aching toes. Yes. I might be the only person at Market who does it in stilettos, but how else will I earn the right to call myself the CEO in Stilettos?
The Antiques & Design Center at High Point Market stole Market as the MAIN attraction – literally anyone who was anyone in the design community was seen sourcing there. I took a huge group on my annual Early Bird Champagne Tour and was delighted that Ruthie Staalsen of DecRenew did an Instagram Takeover for IDS National and Instagram LIVED my tour allowing viewers not at Market to experience this #NoPassportRequired Antiques Diva® tour in America. So many of our fabulous clients are now selling at shops in America… that it occurs to me, maybe I should be doing more than just PR antiquing tours stateside #WatchThisSpace
Behind every diva… there is a secret. All those fabulous jewels you see me wear? Yep… IF they are not part of my new TCH
Collection that's in development – #WatchThisSpace – then they are often on loan…  I want to give special thanks to a fabulous dealer at Market. Donnie Grissom at the HPMKT ADC loans me gorgeous real jewels each day of Market so that I can not only call myself a Diva – but also give those gals on Dallas a run for their money. He knows my philosophy is that MORE is MORE. We start the morning with a blank canvas. Usually, a wrap dress and a fabulous pair of heels and then Donnie begins adding the accessories. Turquoise brings out my eyes, he informs me. That brooch strung on a necklace hits the perfect spot on the décolleté.  Never wear a big bold ring on the same hand as your bracelet. And when it's not my TCH COLLECTION or Donnie Grissom's jewels bedazzling me… it's often Nancy Price loaning me Aura. Having friends to help style me at Market makes all the difference in being camera ready!!!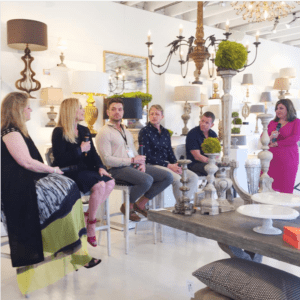 All modesty aside… We knocked it out of the park on our Global Sourcing Panel at Aidan Gray Home at High Point Market. But don't take my word for it…  watch for yourself. I handed my colleague my phone so they could Facebook Live it and as luck would have it, about the time my data-roaming reached freak out mode, Nick May of the Chaise Lounge podcast came along and began his Facebook Live of the event. CEO of Aidan Gray Randal Weeks, Wendy Estes of Layla Grayce, Susan Jamison of Bridget Beari Designs, and Michael Mitchell and Tyler Hill of Mitchell Hill discussed their experiences in sourcing antiques overseas, manufacturing furniture in Asia, and doing design projects without borders. We highlighted what the problems were – red flags to watch out – dove headfirst into the topic of international antiques and furniture shipping – as well as discussed the simple fact that Global Sourcing could change your business… and change your life!
One of my favorite showrooms at Market is always Currey & Co –  this market they
launched Bunny Williams lighting line.  Meeting Bunny was a dream come true… She's a Design Icon and one of the women I most respect in this industry. As I shook her hand I had a PINCH ME MOMENT as I said, "I'm Toma Clark Haines," and she said, "I know who you are. You're The Antiques Diva. You're Amazing. You're the lady who is making antiques mainstream."
More and more, Market is full of these Pinch Me Moments. When I was introduced as Brand Ambassador for Pandora de Balthazár last fall they launched a fragrance in my name "Toma".  To this day it is still one of the most amazing things that has ever happened to me. It was incredibly exciting when a former client on a tour recognized me hanging out in the booth and came to chat with me. When she saw that there was a fragrance in my name she said: "I must
buy it!" While Pandora has sold cases and cases wholesale for retail stores across America this was my first time I was there when a purchase of my signature fragrance was made! It tickled me pink.
Speaking of la vie en rose… this Market was chocked full of exciting opportunities. Imagine my surprise when James Swan of Million Dollar Decorating Podcast impromptu interviewed me while I was touring market as did DesignerInc. Mark Cutler whipped out the camera and gave me their 10 questions on design. You'll be surprised to learn what I wanted to be when I grew up… (okay… spoiler alert… a veterinarian) and, "What my least favorite thing is about working with designers?" For that, you'll have to stay tuned. I will be providing links for both as soon as available. Style Spotters Gary Inman and Courtney Allison featured us at Pandora de Balthazár on both their whistle-stop tours of Market Square.
In the midst of this… meetings with new and long term clients are the real reason I go to High Point Market. What many people don't understand is that we don't just do antique buying tours, we do design inspiration tours. Many of our clients are furniture manufacturers seeking to source samples for developing their next line. I fear I might be running out of ink in my Tiffany Blue ink pen signing confidentiality and NDA agreements after this market.
Net net… This High Point Market was a whirlwind. Thanks for the memories.
Until next Market,
Toma Clark Haines, The Antiques Diva®