For me, presentation is EVERYTHING. As a little girl growing up in Oklahoma, I never liked s'mores! I don't know why, but their sticky, chocolatey, gooeyness never appealed to me. As an adult, I began to appreciate the luxury of one simple romantic bite – especially when roasting marshmallows over a candle flame in a mountain chalet. I use a good Nestle dark chocolate (I prefer Nestle Dessert Corse – 65% Pure Cocoa Dark Chocolate,) and French marshmallows, also called guimauves, purchased in a Paris pâtisserie, sandwiched between Lu Petit Beurre biscuits. 
Today in part 2 of our tablescapes series, Mimi is making s'mores on a mohair rug – #DivaStyle. The Christmas s'mores bar Mimi Montgomery of Lolo French Antiques et More shares below is simply divine – both the recipes themselves and the stunning photographs. Perfect for holiday entertaining – or any time you want a simple, elegant dessert that is dramatic, fun and easy! 
Dreaming of a White Christmas S'mores Bar 
Last week, we were all merry and bright for our . This week, we're going dark(er) and decadent for a winter picnic like no other. For our second tablescape, Dreaming of a White Christmas S'mores Bar, we're taking the art of picnicking to a whole new level. Instead of roasting chestnuts on an open fire, we're toasting marshmallows on an open fire and making s'mores… on a mohair rug.
I don't know about your weather, but ours has been more than a bit frightful lately. The kind of weather that makes you want to stay inside and snuggle up by the fire. If you have a small home or studio apartment, I'm going to show you (with a little help from my friends at Barri Thompson Interiors) how to get creative and host a fun holiday soiree picnic-style around your coffee table. You'll definitely have your guests Dreaming of a White Christmas…
A Closer Look
A walk on the wild(er) side. The luxurious look and feel of the natural undyed, mid-century Turkish Angora woven blanket from that Barri chose to cover the homeowner's custom-made chunky white coffee table was just what we needed to spice up our picnic, along with a spiced rum cocktail, of course. I know most of you probably don't have a tiger-striped mohair rug laying around — but if you do… If you don't, you definitely want to add it to your list! IT'S. THAT. DAMN. FABULOUS!
Let Them Eat Cake
S'mores are the quintessential dessert — they require no baking! You're free to choose as few or as many ingredients as you like, leaving plenty of time to concentrate on the tablescape and signature cocktail. For this place setting, Barri mixed and matched selections from the homeowner's collection of modern tableware. She selected a white charger that really stood out against that fabulous mohair rug and anchored the black . The salad plate was adorned with fresh cut greenery, while the place card from Target was tied to the "bowl with one handle,"  which was filled with marshmallows, tiny chocolate bits, and pieces of butterscotch. The coating of powdered sugar we added to the marshmallows (to keep them from getting sticky) added a slight shine to them, and we placed a sparkly napkin ring in the center of them for an extra pop of shimmer and shine! Because more is more, and we love shiny finishes, we chose . Spiced Rum Old Fashioned cocktails were served in smoky gray rocks glasses from West Elm.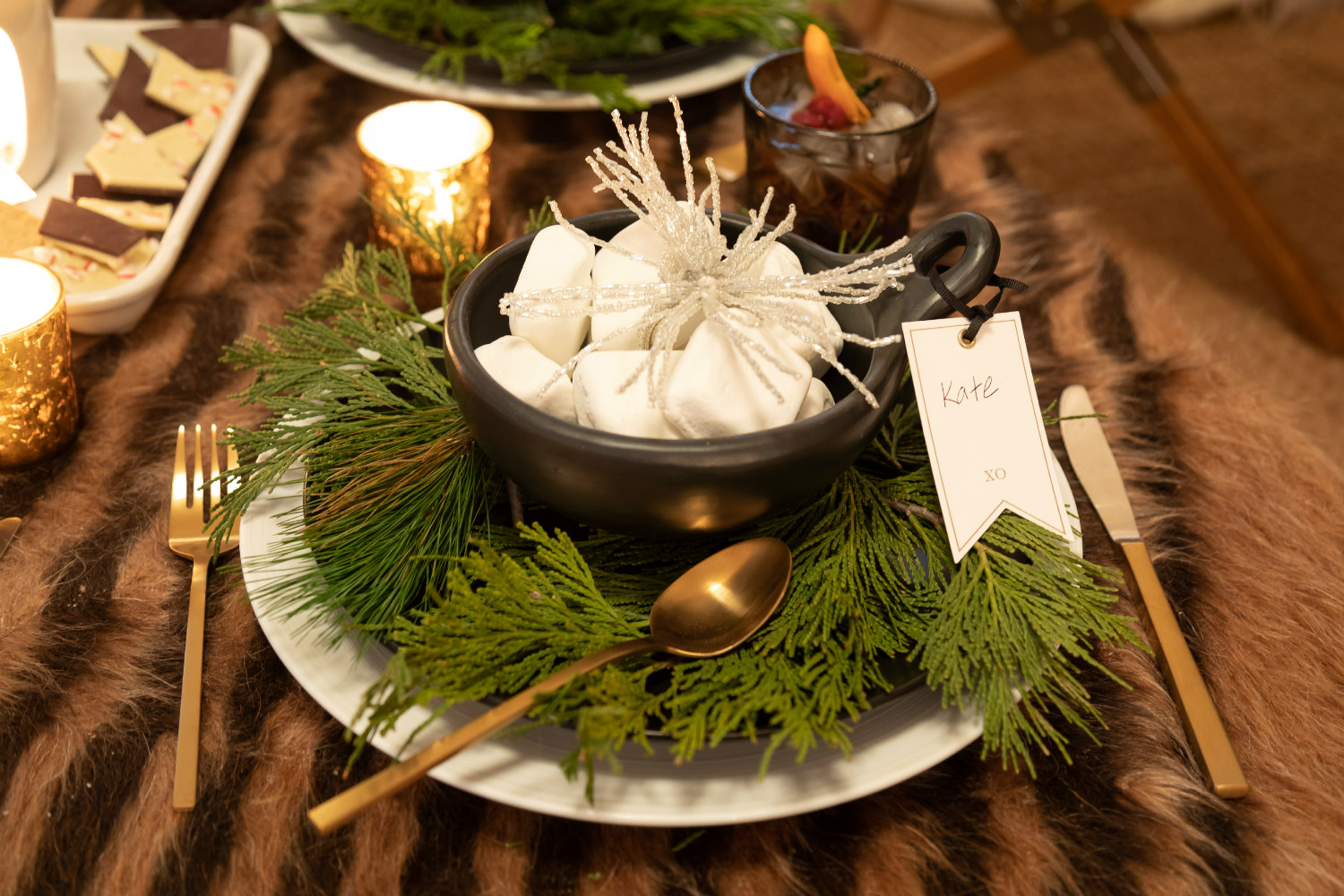 Since the S'mores Maker, filled with graham crackers, white chocolate peppermint bark, and marshmallows, had to be in the center of the table, Barri used gold mercury glass votives to magically light up the space. She randomly placed them on the table creating an oh-so romantic atmosphere. Votives give off a soft, beautiful glow, and because they shine the light upward, they make everyone look good. Voila! Who can complain about that? Just for kicks, she grabbed an antique wooden saddle stool that she saw sitting in a bookcase and placed a moss nest with a glitter ornament on it. She then added some vintage sleigh bells… for a very "beautiful sight!" Often, it's the simplest things that make the biggest impact.
Barri also threw around the room. Incredibly stylish and versatile, they made for perfect party seating and snuggling. The neutral colors of the pillows, as well as the with the taupe , added just the right amount of texture… and had us dreaming of this White Christmas for days!
The best thing about s'mores is there's no wrong way to make them. Here are a few of our favorite combinations that will have your guests asking for s'more.
Mimi's S'mores Recipes 
Classic S'mores Recipes 
Honey Maid Graham Cracker Squares
Hershey's Milk Chocolate Bars
Kraft's Jet-Puffed S'moreMallows
S'moreos
Honey Maid Graham Cracker Squares
Hershey's Milk Chocolate Bars
Kraft's Jet-Puffed S'moreMallows
Reese's S'mores 
Reese's Peanut Butter Cups
Kraft's Jet-Puffed S'moreMallows
Sweet and Salty S'mores
Hershey's Milk Chocolate Bars
Kraft's Jet-Puffed S'moremallows
Cookies and Creme S'mores
Honey Maid Graham Cracker Squares
Hershey's Cookies 'n' Crème Candy Bar
Kraft's Jet-Puffed S'moreMallows
What's your favorite? Let us know!
Our next tablescape is a Holly Jolly Dinner Party. Instead of toasting marshmallows on a mohair rug we'll be toasting "A day when cheer and gladness blend, When heart meets heart, And friend meets friend."
À Bientôt! 
Mimi