Dear Diva Readers,
top: 5px; float: left; color: white; background: #781300; border: 1px solid darkkhaki; font-size: 50px; line-height: 40px; padding-top: 1px; padding-right: 5px; font-family: times;">At the end of 2013 I had an incredible opportunity to speak in Chicago on an interior design panel at the Merchandise Mart.   Antiques dealer Betsy Nathan was one of the local Chicago design tour-de-forces who joined me on the panel and I have to confess… she utterly enchanted me with her Audrey Hepburn demeanor and brilliant eye for style.  On top of that, she was just plain fun.
Needless to say I knew I needed to make sure to tell you about this brilliant resource for buying Asian antiques in the USA.  She's become so popular as a dealer that in fact a large number of her sales are now being made back to China as Chinese clients have recognized she is the leading resource in her field and know hers is a name they can trust.
As owner of Pagoda Red, Betsy choreographs a collection of 18th and 19th century Chinese furniture and decorative arts for the home and garden in her Chicago shop.  Not only does she sell online at her own website and on 1st Dibs but she also has opened a showroom on the 1st Dibs floor of the New York Design Center, adding Asian flair to the predominantly mid-century modernist mix.
Her shop is a perfect mix of antique and modern.  She contrasts ancient Asian antiques with contemporary pieces by emerging and contemporary Chinese artists and designers.
On my recent visit here were a few of my favorite Pagoda Red pieces!  Though I fear if I'm honest – I wanted it all.  Every last piece in the store was down right divine! How does one limit their choices?
A gorgeous art work in that is hanging in their loo! (proof positive that what I always say is true – each room should have something special)
A clever Set of Six Blue and White Cola Bottles by the artist Taikkun Li. His work crosses the boundaries of design, sculpture, ceramics, film, and photography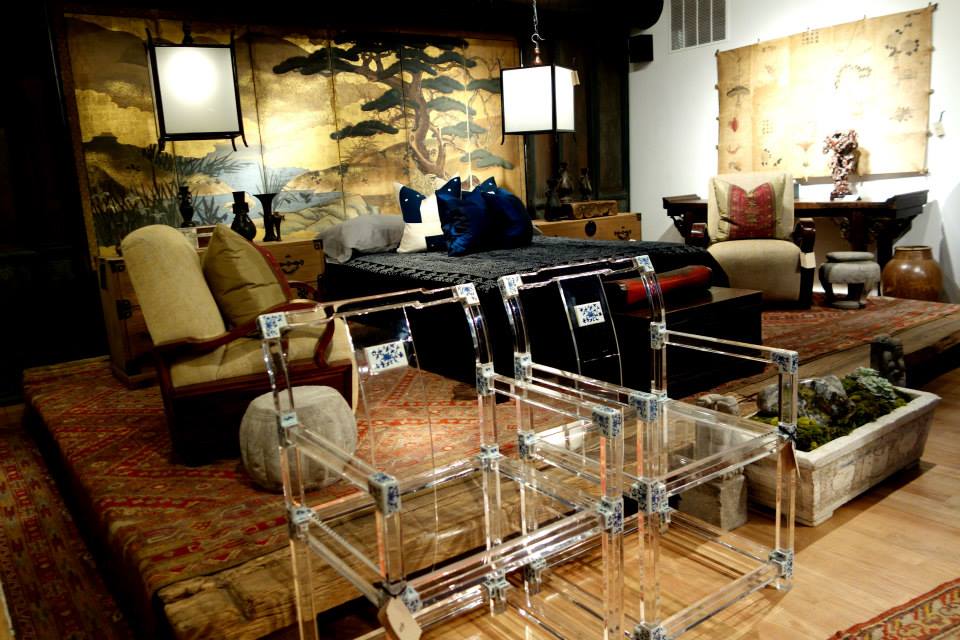 These wonderful antique-inspired Lucite chairs by July Zhou
This gorgeous screen behind the bed
All the Blue & White pieces
Happy Shopping!
The Antiques Diva®