Dear Diva Readers,
top: 5px; float: left; color: white; background: #781300; border: 1px solid darkkhaki; font-size: 50px; line-height: 40px; padding-top: 1px; padding-right: 5px; font-family: times;">Last week I wrote about the sensational speaking engagement I spoke at in town" target="_blank">Chicago at the Merchandise Mart on The Art of Antiquing with some great local talent including interior design principals Tom Konopiots and Michael Stornello of Vincere, LTD., interior designer Brion R. Judge of B.R Judge Design and Betsy Nathan, owner of Pagoda Red.   After the event I had the opportunity to go for cocktails at Ralph's with interior decorator Andrew Skipper and loved his feedback on the event so much that I asked if he'd write to share his experience attending our talk.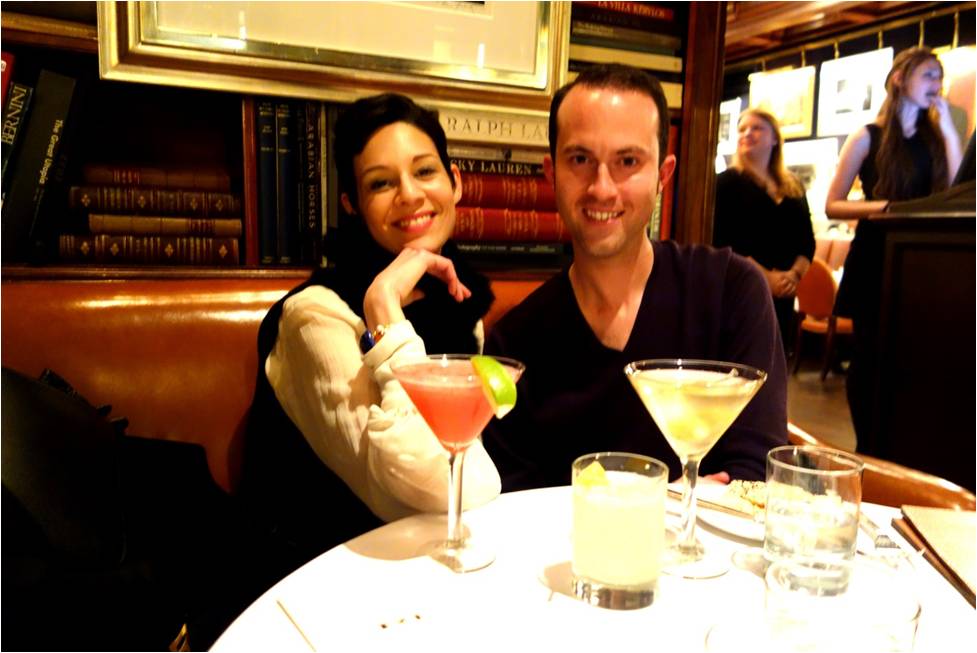 Caption:  Cocktails with Andrew Skipper and his friend, Robyn
Andrew Skipper writes:

"I've always been what you might call a "hunter and gatherer."  As a small child I would collect beautiful rocks and feathers that I'd find in the woods and place them in a wooden box on my dresser.  In junior high school I convinced my parents to take me to tag sales where I would use my lawn mowing money to buy Duncan Phyfe chairs and milk glass.  
Lucky for me, I've been able to carry on this hobby of treasure hunting in my career as an interior decorator.  I still use natural elements in my design work and I frequent tag sales while shopping for myself and clients.  One of my favorite things to do is to peruse through antique stores and flea markets, searching for one of a kind items.  
In the past few years I've been able to help clients establish fine art collections including museum-quality antique pieces from all over the world.  The internet is a convenient tool for doing this, but I've always longed to travel to Europe and experience the flea markets of France or the antique shops of Belgium. 
This desire led me to Chicago to hear a panel discussion on collecting and sourcing antiques in Europe and Asia.  Because I've never been on an international shopping spree, I was interested to hear what is involved in finding antiques and getting them back to the USA.  
I've been following Toma Clark Haines – The Antiques Diva –  on social media for some time and was quite interested in what she had to say on the subject.  If I went to Europe right now, I wouldn't know how to barter (or even if Ishould try) or how to get the pieces shipped out of the country.  
After hearing the panel talk, I am encouraged that even a young designer like me could utilize resources like The Antiques Diva tours to make connections with dealers and source antiques for clients.  There is just something about having someone by your side who knows the lay of the land that takes the intimidation out of a new experience and transforms it into a fun, exciting process.  
In a world of mass production and "made to throw away" furniture, it is lovely to know that there are people out there who want to help educate designers and clients alike on the value of living with finely crafted antiques.  Long live the heirloom!"
tor.jpg">
tor" alt="Antiques Diva" src="https://antiquesdiva.com/wp-content/uploads/2014/01/Andrew-Skipper-Interior-Decorator.jpg" width="341″ height="342″ />
Caption:  Andrew Skipper – Interior Decorator
I was beyond smitten with Andrew's feedback and with Andrew in general. In addition to doing interior decorating for residential and commercial clients, he is the lifestyle expert for NBC affiliate WNDU TV, giving decorating and entertaining tips. You have to check out some of his past segments.   He also writes a travel blog for the Elkhart County Convention and Visitor's Bureau.  If you're not already following him on Facebook – then you must add him to your Must Follow List!
Cheers!
The Antiques Diva®