Dear Diva Readers,
top: 5px; float: left; color: white; background: #781300; border: 1px solid darkkhaki; font-size: 60px; line-height: 50px; padding-top: 1px; padding-right: 5px; font-family: times;">While we are Europe's largest antiques touring company, The Antiques Diva & Co also offers Buying Services for clients who can't come abroad but still want to source antiques in Europe. With locally based guides in eight different countries, we have access to thousands of pieces and hundreds of sources throughout Europe. My email inbox is constantly filled with updates from my guides as they share fresh inventory they've found.
I recently received an email from our guide in Sweden, Daniel Larsson and had to share some of the fabulous pieces that are available through our Buying Services here on the blog! The fact that Daniel lives and works in Sweden means that he has the ability to source the best items Sweden has to offer. His experience in the antiques industry has given him the eye to discern whether pieces are period or reproduction and whether they are in original condition or if they have been restored. That means that if clients are looking for period pieces with original paint, Daniel can find them. Conversely, if clients want to spend less and are merely interested in the Swedish look, he can find 19th and 20th century pieces "in the style of" 18th century. The reason it's so important to have an expert like Daniel with a keen eye is that the earlier period pieces cost quite a bit more than the later ones. If you're not aware of the subtle differences, you may end up purchasing something at a high price, but with a lower value.
For those looking to source pieces that have all the style that is quintessentially Swedish, but at a much lower cost, here are some examples of pieces that are not period originals, but offer that Swedish look. Prices are listed in Swedish Kronor with estimated conversions to USD.
1. Gustavian style buffet / sideboard, ca 1890, H 101 W 150 D 50 cm, 18000:- Sek ($2209)
2. Pair of Gustavian style demi lunes, ca 1850, 8000:- Sek ($982)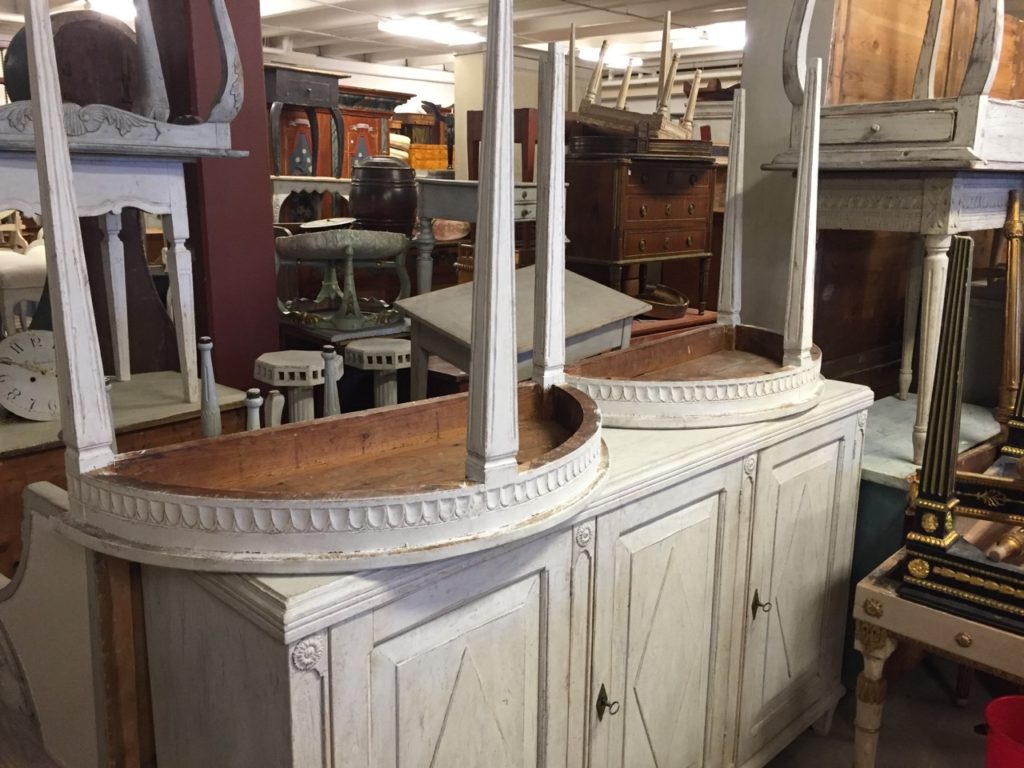 3. Large Gustavian style cabinet, ca 1850, H 224 W 202 D 41 cm, 28000:- Sek ($3436)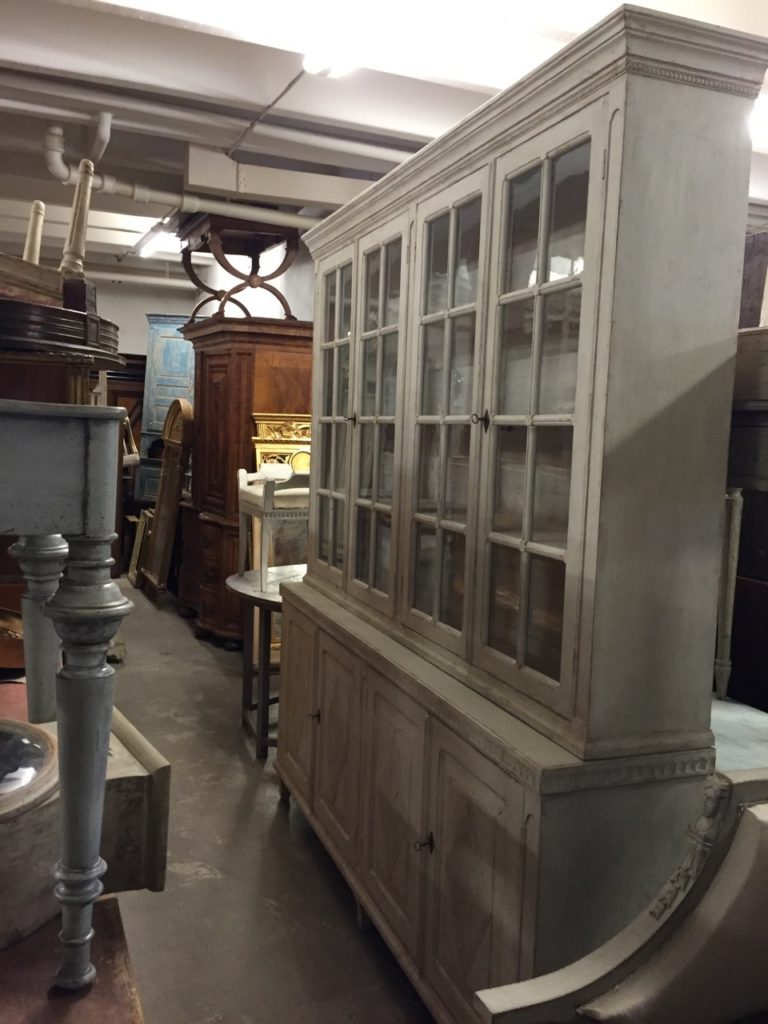 4. Pair of pedestals, ca 1860, H 90 W 37 cm, 7000:- Sek ($859)
5. Empire style sofa, Ca 1890, H 100 W 180 D 66 cm, 18000:- Sek ($2209)
6. Gustavian style dinning table, H 76 W 260 D 91 cm, 15000:- Sek ($1840)
If you are interested in our Antiques Diva Buying Services for any of our eight tour countries— France, Belgium, England, Italy, Germany, Holland, Denmark, and Sweden— email us at info@antiquesdiva.com. We'd love to help you source antiques abroad!
Cheers,
The Antiques Diva®