Dear Diva Readers,
top: 5px; float: left; color: white; background: #781300; border: 1px solid darkkhaki; font-size: 60px; line-height: 50px; padding-top: 1px; padding-right: 5px; font-family: times;">While we love taking clients on Antique Buying Tours in any of our 8 tour countries, we also offer to-the-trade/buying-services">Buying Services for clients that can't come abroad or simply want us to source specific pieces for them. We recently had a client email us asking for us to source an antique daybed. Since a picture is worth a thousand words, we were so happy they sent along a photo of what they were looking for. In no time, I had my Diva Guides scouting all over Europe and was able to come back to the client with several options. The client can then make an informed decision after seeing the various styles available at different price points. But all of this hunting for daybeds got me thinking, "Isn't the idea of a daybed wonderful?" After all, can't you picture yourself luxuriously lounging on one in the middle of the day, reading your favorite book, with a glass of bubbly only an arm's reach away? Ok, ok, I digress. Let's delve a little into the history of daybeds. Were they just made for daytime naps?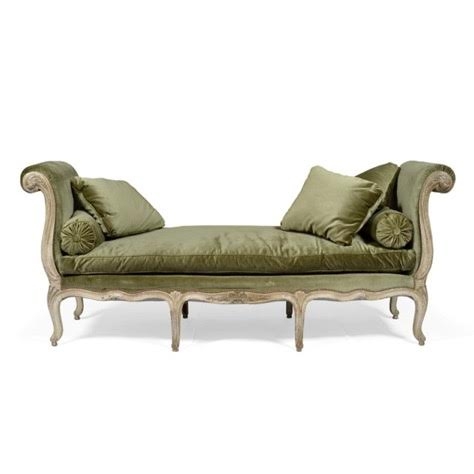 First things first, let's define what constitutes an actual daybed. I like to put it this way: The daybed is the predecessor to the sofa. It is sturdy and long enough to lie down on—much different from a love seat or a settee which are smaller in frame and meant for sitting. Of course, one can sit on a daybed, but the option of lying down—outside of the bedroom even—is what differentiates the daybed from other seating. The very first daybeds we know of were in Ancient Egypt and Ancient Rome, where in both societies it was fashionable to lounge while eating and socializing. Perhaps it was the hot climates that encouraged rest and relaxation rather than perfect posture at all times, but either way, daybeds were a popular fixture of these sophisticated ancient societies. In Roman culture, daybeds were often piled with pillows and used for many daily activities such as reading, writing, eating, and entertaining guests—much as we use sofas today.
Fast forward to the 15th century Europe, and we see that French furniture makers began responding to more relaxed manners of the upper class who valued rest and relaxation. After all, if one was forbidden doing certain things out side the house (which would have been seen as beneath them), then one must make the inside of the house as comfortable as possible! The demand for elongated chairs, comfortable sofas, and—you guessed it— daybeds were a result of the desire to lounge, recline, and rest.
As the centuries progressed, one could see the styles reflected in daybed construction and decoration. From the William & Mary period in England to the popular Rococo style in France, daybeds were adapted to suit the style of each locale and time period. They continued to play an important role in well-outfitted homes and even palaces throughout Europe. Who couldn't imagine Marie Antoinette sipping champagne while lounging on a heavily carved and gilded daybed at Versailles?
As the Regency and Empire periods were ushered in, they brought with them a new interest in all things ancient, thus shining the spotlight back on daybed styles from ancient Greece and Rome. Of course these "revival" daybeds were sometimes reinterpreted, thus adding another style to the long line of daybeds in history. Versions of the daybed such as chaise longues and recamiers became fashionable at this time as well.
By the 19th century, women were beginning to grow more liberated, and were viewed as heads of all things domestic. Great ladies throughout Europe and America often hosted important gatherings, both social and political, at their homes. The daybed, then, played an important roll, as it acted as a place to host formal guests, while inviting them to lounge and feel "at home" in one's own house.
Today, we still view daybeds as luxurious and stylish. Placed in the center of a large room, they act as functional seating, often uniting two distinct furniture groupings. Place a backless one in front of a fireplace for the ideal spot to perch, without obstructing the view of the hearth. In a bedroom, a daybed is beautiful as the foot of the bed. No matter how they are used, daybeds can remind us of the importance of relaxations, inviting us to pause, lounge, catch our breath, and carry on with style and panache. Very Diva-worthy, if you ask me!
Cheers,
The Antiques Diva®