Dear Diva Readers,
top: 5px; float: left; color: white; background: #781300; border: 1px solid darkkhaki; font-size: 50px; line-height: 40px; padding-top: 1px; padding-right: 5px; font-family: times;">Extra Extra Read All About It…. The Antiques Diva & Co has been in the press all over the place! From Atlanta to London, Amsterdam, Houston to Dallas, Parma, Italy and everywhere in between…..   First off we showed up in the press at the Homes & Antiques blog while touring the Bath Decorative Fair with Judith Miller.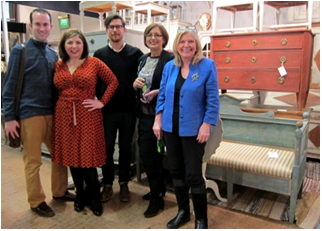 It was a double whammy with Homes & Antiques magazine as my article "Vintiquing in New Orleans" appeared in their February issue!  If you're not already familiar with this British publication Homes & Antiques magazine mixes the best of the old with the best of the new – this much loved homes magazine is for people who adore great design and beautiful objects from every era.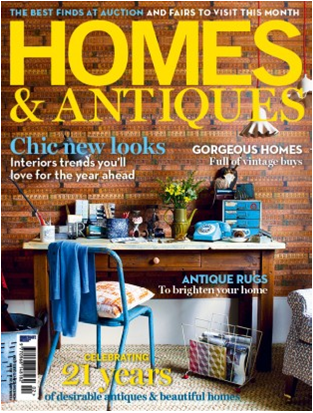 I guess I should make this a grand slam home run…  Imagine my surprise when my copy of the 2014 – 2015 Collectables Handbook and Price Guide by Judith Miller and Mark Hill showed up in the mail with a quote on the back cover by YOURS TRULY!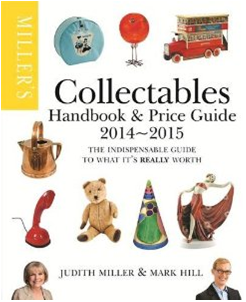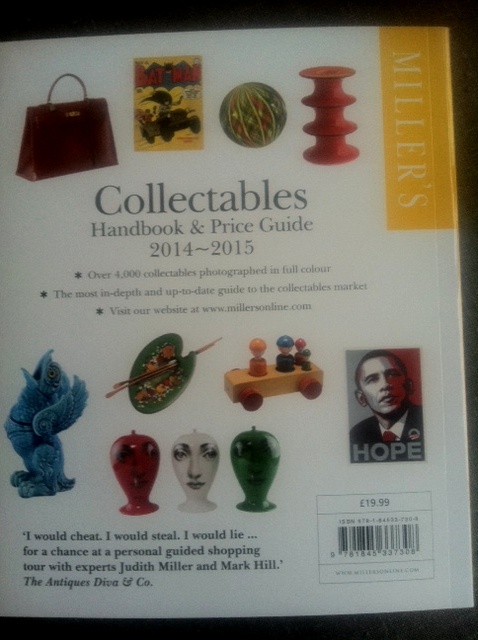 This book is an indispensable guide to antiques, providing the most in-depth and up-to-date information to the collectables market.
Speaking of great publications – if you haven't seen the recent issue Antique Shops & Designers magazine – I had 2 articles inside – one about my favorite Tuscan villa agriturism estate Montestigliano and another sharing secrets to antiquing in Sweden.
Antique Shops & Designers is a magazine of home interiors, home decorating, and Interior Design. The magazine combines antique objects of art with contemporary home decorating. A designer's reference book loaded with imported antique accent pieces, modern designer kitchen appliances, antiques and the latest in today's lighting and accessories design.  I really appreciated the shout out Joni of Cote de Texas gave The Antiques Diva & Co as well in her post about this fabulous magazine.
Meanwhile we were delighted to make the Mothers Day Gift Supplement in  to/news/" target="_blank">The Times (that would be London's Times not New York's) and then imagine my delight when California Homes magazine hit the newsstands yesterday and yours truly was pictured on the "Party" page for the Americans in Paris Party! You'll recall I wrote about this sensational fete in January.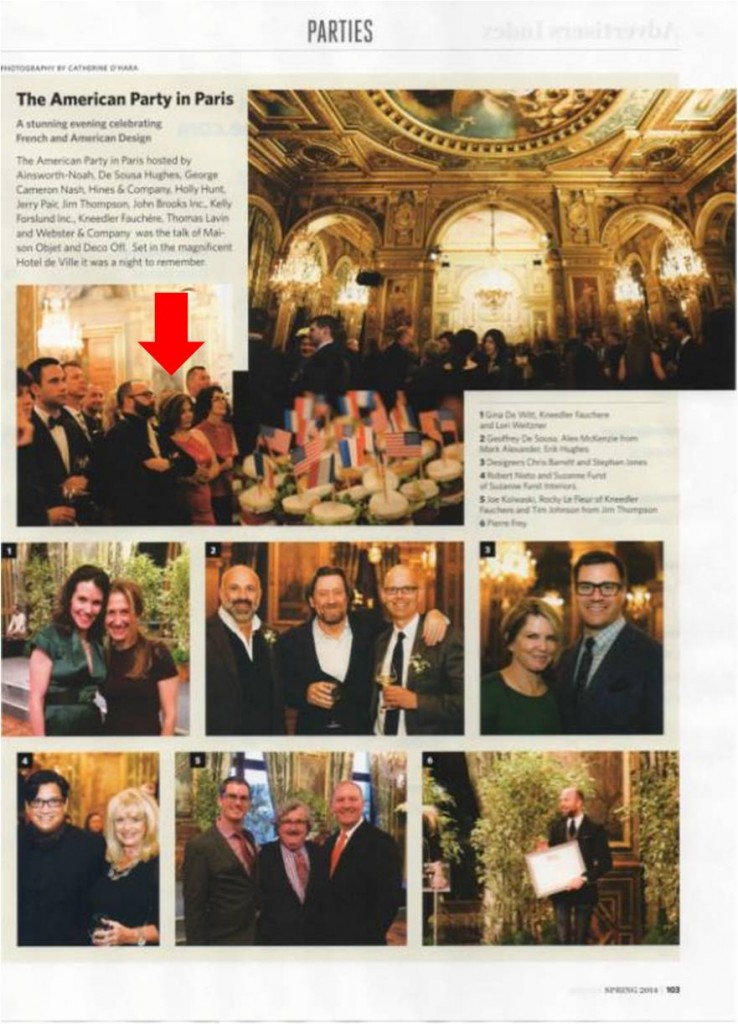 Sometimes our media coverage is a bit more incognito… we appeared lurking "behind the scenes" in an article about one of our favorite Dutch dealers – Benko – in a Dutch newspaper.  We're incognito in this article as we were shopping for a top secret VIP client! Oh the intrigue!  Sorry… I'll never tell who we were shopping for… one of our services at AD&CO is complete confidentiality for our clients.   My new in house creative consultant Andrew Skipper is also seen here noting the plethora of purchases our client was making.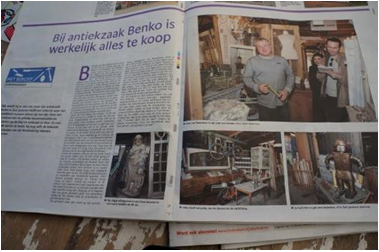 Meanwhile The Antiques Diva & Co was mentioned in a slew of blogs after I spoke at the Design Bloggers Conference!

The Design Bloggers Conference is the only conference specifically focused on the interests of bloggers on interior design teaching attendees how to build a stellar personal brand for their design career.  Special thanks to Pamela Copeman for mentioning The Antiques Diva & Co in her Posh Palette Blog on 30 Quick Takeaways from DBC 2014.   Pamela Copeman is an award winning interior designer noted for her posh panache and timeless designs that unite classic style with a modern, often colorful twist.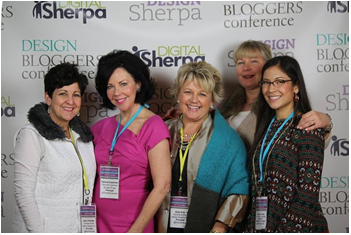 Photo of Pamela Copeman with Kandrac & Kole
Kelly Kole and Joann Kandrac of Kandrac & Kole blog also gave The Antiques Diva & Co top-10-takeaways-2014-design-bloggers-conference/" target="_blank">a shout out! in their colorful blog.  Kandrac Kole is a nationally recognized interior design firm well known for their approachable, dynamic personalities, signature use of color, and one of a kind, custom designs.  Voted one of Atlanta's Top 20 Residential Interior Designers in 2013 by the Atlanta Business Chronicle, their work has been featured on HGTV as well as The New York Times, House Beautiful, Southern Lady Magazine.
Inspirational lifestyle design writer Mitzi Beach was also so kind to include a mention of my speech in her blog as well.  Mitzi is an award winning interior designer who not only is an author but is an esteemed speaker as well!  On top of this she's a Baby Boomer Marketing & Lifestyle Specialist  armed with 30+ years' experience and a masters degree in interior design. Mitzi firmly believes the Boomers can and must be the generation that changes the way we age in this country and her unique combination of education, expertise and experience—even the Aging in Place principles evidenced throughout her own "Living Lab" home, called Cypress—make her the ideal candidate to lead that charge.
(I'm seen here with Mitzi Beach and Lisa Mende Designs)
I was also particularly honored that Steve McKenzie's blog mentioned me in their DBC2014 highlights.  Steve and Jill McKenzie own Steve McKenzie's Interiors and Lifestyle store.  The brand offers a design sensibility that converges two fundamental influences – the southern hospitality and graciousness mixed with their love for the mid-century modern aesthetic. Steve's fabric designs are beyond divine.
Jill McKenzie & Toma Clark Haines at DBC2014
Last but not least with respect to the Design Bloggers Conference, to-four-inspirational-bloggers/" target="_blank">I want to thank Cromatti for not only including me as one of their 4 Inspirational Bloggers but also for sharing their $5000 1st dibs prize with me, giving me a $1000 Gift Certificate.  I met Alan Rauta, their Chief Operating Officer, at the conference on the first day and for the next several days we traded banter.  When Michael Bruno announced that the 1st dibs competition winner of the $5000 Gift Certificate was Alan Rauta of Cromatti I was smiling from ear to ear – it couldn't have happened to a nicer guy!  But I had no idea how nice he was – imagine my surprise when I received an email from Alan saying "The thing I learned at the Design Bloggers Conference was that blogging is all about sharing and I want to share my prize with you."  His generosity left me speechless.  This unexpected act perhaps sums up Cromatti as a brand – they offer the unexpected in their collection of ultramodern and colorful metal furniture.  Perhaps what intrigued me most after learning about their company is that they've found a new meaning in modern furniture that begs the question: Does minimal have to be understated?  If you're a designer or collector add Cromatti to your "Brands To Watch" as they're changing the future of design.
I was beyond honored my home state of Oklahoma included an interview with me in the design ezine Sooner Spaces.  Sooner Spaces is a new media site devoted to sharing compelling stories about Oklahoma spaces and the people behind them.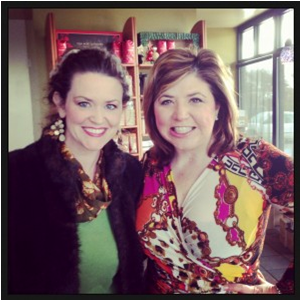 (Journalist Malena Lott and me in OKC last November)
Just south of my home state of Oklahoma you'll find Texas – and honey, everything is big in Texas including the heart on Dallas blogger and top interior designer Denise McGaha.  I simply adore Denise and am delighted to have met her!  Denise McGaha delivers fashionable, diverse, and adventurous designs for clients who live on the fast track; specializing in turn-key, concierge-level service delivered in 90 days or less. With a roster of clients from professional sports figures to busy executives, Denise offers her discriminating clientele a true luxury experience with a timeline.  By offering Deadline Driven Design solutions, her clients receive exhilarating interior design coupled with prompt and nimble completion of their project.  It has been said that Denise McGaha Interiors, is consistently ahead of the curve not just influencing interior fashion, but often dictating it.  With a seamless blending of multiple interests Denise is able to offer her affluent clients access to Dallas' best-kept secret: her black book of high-end concierge services.   And speaking of that little black book I'm delighted Denise counts The Antiques Diva & Co among those resources!  She's written about her recent Italian antiques buying tour to-italy-and-mercanteinfiera/" target="_blank">in a series on her blog.
Denise is seen here on our Antiques Diva VIP TOUR with Mark Cutler (far left), Denise McGaha, Tobi Fairley, me, and Andrew Skipper
Fans of the popular company toparis.com/" target="_blank">Girl's Guide to Paris will be delighted to note the company has expanded and is now producing an online magazine – The Girls' Guide To Europe.   toparis.com/girls-guide-paris-et-plus/#" target="_blank">The Antiques Diva Guide to Berlin is featured in their premier issue!
to Europe" alt="Antiques Diva, Berlin" src="https://antiquesdiva.com/wp-content/uploads/2014/03/Antiques-Diva-12.png" width="259″ height="371″ />
All these press or blog mentions and I've forgotten to mention two exciting new developments at  The Antiques Diva & Co – one geared towards our tourist clients another specifically geared towards our trade clients.    We're delighted American Express has chosen us yet again for their Personal Shopper program for Paris and London…. #WatchThisSpace for more details on this exciting new program.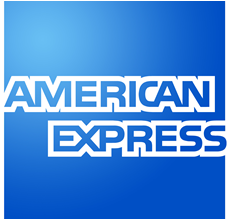 Meanwhile…  a sexy new interior design site named PORTE-COCHÈRE has included The Antiques Diva & Co as one of their preferred business resources.
PORTE-COCHÈRE is a new sales channel and national membership network exclusively for full-service interior design firms and their suppliers in the high end residential market.  Their mission is to increase efficiency and profits for all members through direct designer-supplier relationships, and to promote the stature of professional full-service interior design.
Until next time,
The Antiques Diva®