Dear Diva Readers,
top: 5px; float: left; color: white; background: #781300; border: 1px solid darkkhaki; font-size: 60px; line-height: 50px; padding-top: 1px; padding-right: 5px; font-family: times;">I've got good news for you if you'll be in Amsterdam today through 20th of December! European silver specialist Jacob J Roosjen is having a pop-up shop at the Galerie Prinsengracht, a gallery close to the Spiegelstraat and headquarters of antiques dealing in Amsterdam, which happens to be nearby the Rijksmuseum.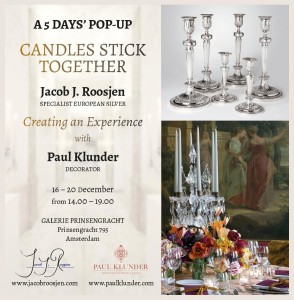 Jacob will be hosting this pop-up shop together with Paul Klunder, a renowned decorator from Belgium. The successful theme of "Dining and Shining" during the most recent PAN Amsterdam http://www.pan.nl inspired Jacob to continue his celebration of light into the holiday season. The motto for the pop-up of "Candles Stick Together" will carry on the idea of candlelight during winter and add to the festive mood in Amsterdam as well as help usher in the New Year ahead.
If you would like to join in the experience, be sure to stop in to Galerie Prinsengracht at Prinsengracht 795 in Amsterdam from 16-20 December from 14:00-19:00 and tell Paul Klunder or Jacob Roosjen that The Antiques Diva sent you!
Happy holidays,
The Antiques Diva®