Dear Diva Readers,
top: 5px; float: left; color: white; background: #781300; border: 1px solid darkkhaki; font-size: 60px; line-height: 50px; padding-top: 1px; padding-right: 5px; font-family: times;">For hundreds of years the best terracotta in the world has come out of Tuscany. From floor tiles and roof tiles to sculptures and decorative pieces, the Italians have used their natural resources along with an artistic perspective to craft exceptional products which are known worldwide. Perhaps the most popular terracotta items associated with Tuscany are the pots and jars which often grace Italian gardens. Originally, these were created from the rich clay of the surrounding hills for agricultural use. They were used for storing water and olive oil, and after being left exposed to the elements, these pots developed a rich patina which makes them perfect decorative items today whether you own a Tuscan villa or a ranch home in suburban USA.
Italian terracotta pieces from Impruneta and Siena are arguably the best, as the land in these areas is naturally rich in iron, copper, calcium, and aluminum. Clay from Impruneta is a rich red color blue to the concentration of iron in the earth, while the crete Sienese is a softer yellow color due to the gray clay in that area.
Terracotta has been made from the earth in these Tuscan hills since Etruscan times—before Christ—and the tradition continues today. The hard gray earth is mined, then ground into a powder which is mixed with water to make the coarse bodied clay. After it's put through the firing process which helps it withstand extreme temperatures, the clay develops a pale terracotta color. Clay from Impruneta is higher in iron than clay from Siena, and the resulting terracotta from Siena is more refined which gives it a smoother texture. Although terracotta from both regions can withstand cold temperatures, it is wise to shelter them in extreme winter climates where temperatures drop below 10 degrees fahrenheit.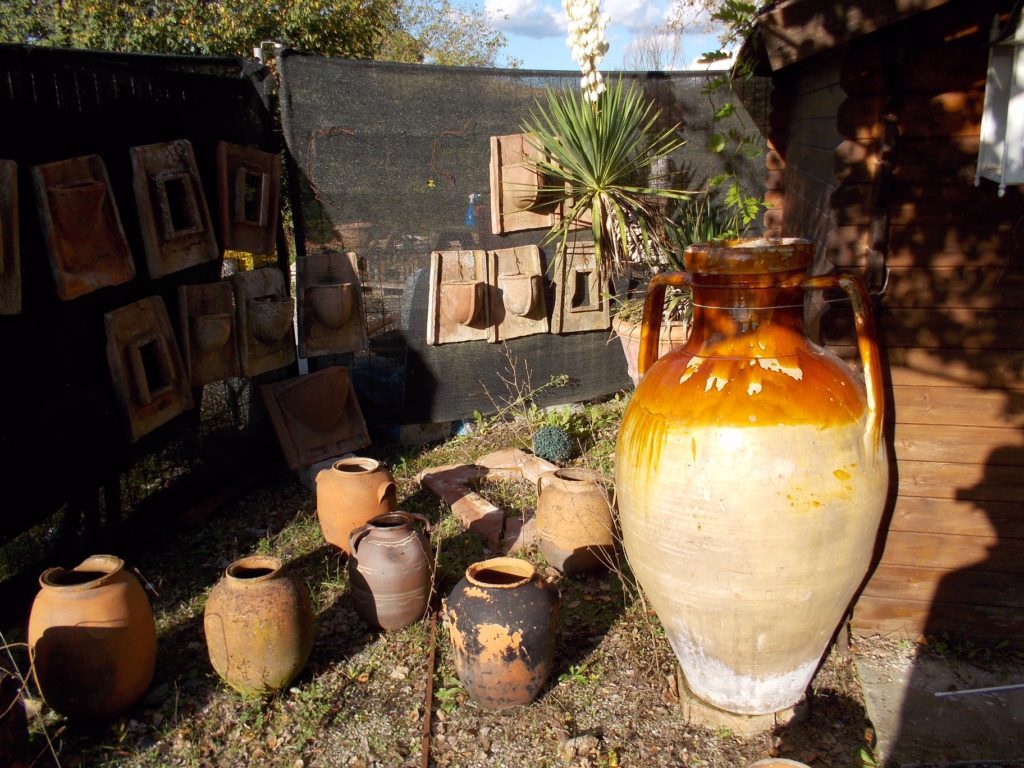 Traditionally, olive jars are glazed on the inside and have a very distinctive shape. The large oval bodies taper at the base, which allowed the jars to be stored upright in clay or metal rings and also in wood braces aboard ships when they were being transported. Many of these olive jars also have handles at the top. Olive oil must be stored in a cool dark place in order to preserve it, therefore the jars made perfect sense. Since they are fashioned from fired-earth, they make ideal planters today and that is what many people use them for. Due to their shapely bodies and lovely patina, they can also stand alone in a garden, grouped in threes or flanking a pathway.
When searching for antique terracotta pots it's important to note any details or markings. Antique pots usually have the name of the kiln and the estate for which they were made, often with the family crest!
Decoration on large pots are rare as these were created as functional pieces, but the agrumi pots are often adorned with swags. These pots were traditionally placed on pedestals in formal gardens during the summer, then rolled into the "limonia" during the winter.
When clients come on an Antiques Diva Tour in Tuscany, they often find terracotta pots to use indoors as well. Large or small, simple or ornately sculpted, these pots make perfect decorative accents. Our Diva Guide can also take you to small potteries which dot the Tuscan countryside between Florence and Siena. These artisans often have original molds which they can make replicas from, giving you the option to purchase matching sets of pots which can be harder to find if you're looking for antique pots. However, several of our antique sources have antique pots from Italian estates just waiting for a new home. Their crusty exterior, aged by years of use and exposure to the elements make these vintage and antique pots all the more desirable!
When a Tuscan estate goes up for sale, there is often a house-clearing sale. This is the best time to find antique terracotta jars and pots! They are often tucked away in corners of the villas or stored in out buildings and haven't seen the light of day in years. These forgotten treasures can be plucked from obscurity and given new life by the discerning customer with a keen eye. But how can you find these house-clearing sales and what do you do if you are only in Tuscany for a few days? And most importantly, how do you get these pieces home? That's where we come in. Through our Buying Service, we can help you source these pieces and liaise you with a shipper to get them home sweet home. Our Diva Guides are constantly on the go, shopping in stores, warehouses, private estate sales, and flea markets, covering urban and rural areas, and can take your shopping list with them, being your eyes and ears on the ground. Whether you're searching for a few pieces or want to fill an entire container, we've got you covered.
Ciao for now,
The Antiques Diva®