Dear Diva Readers,
top: 5px; float: left; color: white; background: #781300; border: 1px solid darkkhaki; font-size: 80px; line-height: 70px; padding-top: 1px; padding-right: 5px; font-family: times;">While I'm in ton-december-9/" target="_blank">Houston speaking on Antique Shopping in Europe – we've got a SPECIAL GUEST BLOGGER at The Antiques Diva® & Co.  The absolutely affable antiques dealer Mr George Johnson of Lady Kentmores is a jolly good chap from Scotland who's objective is to make antiques and collectibles the "new rock and roll."  A man after my own heart, this well-known Scottish retro dealer and I were recently chatting via Twitter about our favorite Christmas presents and he mentioned that he always gives antiques as presents whether for the holidays or a birthday, wedding, etc.  Needless to say I needed to know more about his gift-giving trends, thinking his idea of antiques as presents was just my style!  The next thing George knew he was writing a guest blog for The Antiques Diva® & Co.  You never know what might happen when you engage me on Twitter or Facebook!
Happy Shopping Readers, so Ta Ta from Me – The Antiques Diva – and
Hello from George Johnson of Lady Kentmore Antiques
~~~~~~~~~~~~~~~~~~~~~~~~~~~~~~~~~~~~~~~~~~~~~~~~~~~~~~~~~~~~ 
Guest Blog – A Vintage Christmas
I am just back from a trip to the local city with my wife and I'm always amazed about how many people go crazy this time of year buying bags full of gifts for friends and relatives. How many of these items do we even remember the next year?As a family we have always tried to avoid this ourselves, as we give each other vintage gifts for Christmas and indeed for other occasions, when we have family wedding we always give an antique item or even a small gold coin as these are gifts that have a history and also can be a investment for the future for the couple getting hitched.
Christmas is a time for families and a lot of people are gifting family heirlooms – this might be in part due to the current financial climate but also it might be because people are realising that massed produced store bought goods don't really stand the test of time. Most of my own treasured possessions are items that once belonged to my great grandparents and grandparents that have been passed down to me, not only do these items look fabulous in my home they also give the house a sense of history and belonging.
I have been having a look around the web to see what vintage gifts I could find for a traditional family and the range of antique and vintage good available is astounding and can suit every taste and budget. For each family member I will choose a budget and a luxury item.
For a fabulous sixty-something mother I have found these wonderful items.
How about this fabulous Victorian Blue Opal & 1.40ct Diamond Pendant, it is a stunning example of high quality Victorian jewellery and would make any mother very happy on Christmas morning. It is for sale on the www.laurelleantiquejewellery.co.uk website for £3,275.00.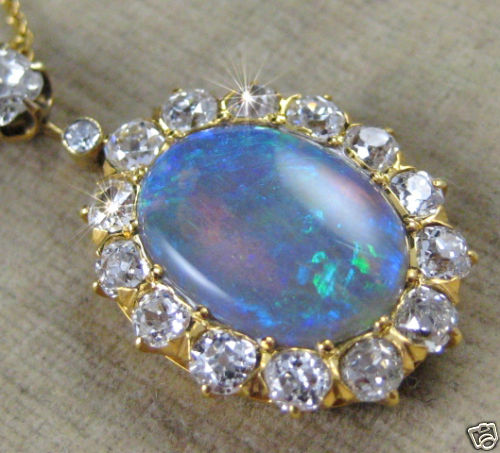 If your budget doesn't stretch that far there are still lots of more pocket friendly items out there like this vintage Enid Collins jewelled owl 'Wise Guy Box Bag' from 1962, it is in unused condition and would be a fabulous and unusual present, these bags are becoming very collectable but you could pick up this very fine example from www.lovelysvintageemporium.com for £285 which is a great price for this desirable item.
For the 30-something daughter Vintage items are a brilliant buy and can have much more style and glamour than their  high street bought equivalents.  If budget is not an issue this William Comyns Silver & Tortoiseshell Box would look great on any dressing table and would be very useful to keep her best jewellery in. The Tortoiseshell Jewellery Box, with applied Stirling silver swags and beautiful roped edged borders, stands on four tortoiseshell bun feet. It is hallmarked for 1904 and is for sale on the tonantiques.co.uk/">www.hamptonantiques.co.uk website for £ 3,750.00.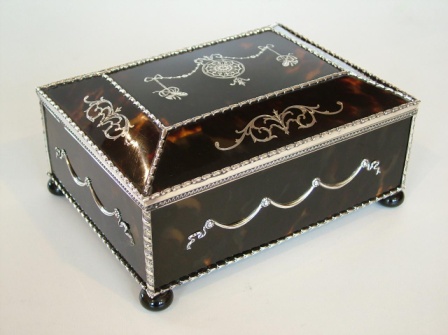 A girl can never have enough handbags and vintage bags can be wonderful presents as they are very functional and can also be great investments, this fabulous vintage orange Chanel handbag dates from the 1980's and has never been used it oozes style and glamour and would bring a smile to any girl's face when she unwraps it on Christmas morning, it is for sale on www.lovelysvintageemporium.com for only £799.
Buying for a sixty-something Father is always a hard one as they seem to have everything they need but I have managed to find two items that would make any dad happy on Christmas morning.
If that is a bit too rich for you this Elegant Coromandel Tantalus that was made by retailers Benetfink Cheapside has a silver-plated carrying handle and silver-plated decoration on the sides and front. It's a wonderful gift that would get years of use it dates from circa 1880 and contains three superb full cut Hobnail decanters with faceted stoppers & star-cut bases – all contained in a satinwood surround within the coromandel frame. It is for sale on tonantiques.co.uk/">www.hamptonantiques.co.uk for £995 and I am sure it would get a lot of use over the holidays.
So what vintage Gifts could you find for the thirty-something Son, I have decided to go down the quirky route as these kinds of collectables can be the most fun and are great for the person who has everything. The luxury item I would choose would be Buzz Aldrin's Apollo 11 training suit, signed by the man himself, Edwin 'Buzz' Aldrin was the Lunar Module pilot on Apollo 11, the first manned moon landing in history. In July 1969 he became the second person to ever step on the moon's surface and how fabulous would it be to have one of the his signed training suits framed in your office. Well if you fancy making someone's Christmas you can buy this from www.paulfrasercollectibles.com for the grand price of £75,000.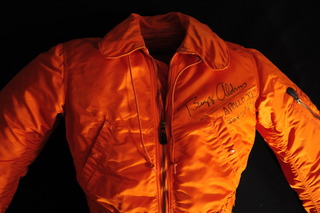 This might not be in most people's budget but this is and it is one of the most fun items I've seen, who wouldn't laugh when they unwrap a Piano Playing taxidermy Frog. Standing at 17cms high this little bullfrog is sure to create a fun atmosphere on Christmas morning and he is for sale at www.skinnerandhyde.co.uk for £85.
So as you can see there is plenty of choice if you fancy giving vintage gifts and in a lot of cases the presents that you find can be a lot more personal and fun.
Happy Holidays from the Divo of the Day,
George Johnson of Lady Kentmores Antiques
~~~~~~~~~~~~~~~~~~~~~~~~~~~~~~~~~~~~~~~~~~~~~~~~~~~~~~~~~~~~~~~~~~
George Johnson writes about antiques and quirky collectibles for national magazines and publications including Antique Info Magazine and Antiques News.
George owns Lady Kentmores antique & collectable shop in Callander, Scotland. It is very different from the majority antique shops that you might come across. But what else could you expect from someone who has a mission to make antiques and collectables "The New Rock'n'Roll"?
His life goal is to inject the antiques trade with a shot of fun and quirkiness. He started trading in antiques from an early age and has knowledge in the traditional aspects of the market.  But it's the quirky side that he finds really interesting. From 1970s platform shoes to 15th Century Pirate chests, he loves anything different.
George is from a travelling showman background and this is a heritage he is very proud of, he can trace his families' funfair & circus roots back through both sides of his parents. This lets him bring a bit of the Victorian fairground showmanship & entertainment into the antique industry.
If you would like to find out more about George visit www.ladykentmores.com or on twitter at www.twitter.com/LadyKentmores