Dear Diva Readers,
top: 5px; float: left; color: white; background: #781300; border: 1px solid darkkhaki; font-size: 60px; line-height: 50px; padding-top: 1px; padding-right: 5px; font-family: times;">My personal fashion style is all about accessories. Fab fur stoles, big earrings, big rings, big necklaces… Hmm… I see a pattern here! I once shook hands with a man who commented on my ring… "You must have a really big personality to go along with that rock!" I absolutely adore jewelry – especially unique jewelry and I'm not alone when it comes to wanting one-of-a-kind statement pieces. In addition to helping clients buy antique costume and paste jewelry we also get frequent requests on tours/france-antiques-tours/paris-antiques-tours">Antiques Diva Paris Tours from jewelry designers asking for our help sourcing bits and bobs to make jewelry. A recent query got me thinking about all the things that could be used to make special jewelry pieces! Besides, whenever you combine three of my favorite things—antiques, jewelry, and Paris— you've got a winning recipe in my book!
How to Source the Paris Flea Market for Pieces to Make Jewelry
One thing I love about the Paris Flea Market is that you can find anything and everything there. As the official Tour Guides of Paul Bert Serpette, our Diva Guides know the market like the back of their hands. When clients come on tour and are searching for bits and baubles to make jewelry with, we take them to several of our favorite stalls to hunt for just the right pieces.
When you're meandering among furniture, chandeliers, taxidermy, and linens, you have to have a keen eye to spot the little boxes filled with jewelry pieces. And it's important to understand what price point and style you are after. There really is a range available. Some vendors carry turquoise, coral, and sterling which can run a bit higher in price. Other dealers specialize in religious icons, medals, and rosary beads. If you're looking for really special things, there are places to find them. Why not make a necklace from an antique vinaigrette? These pieces once held vinegar-soaked sponges to block odor if you felt faint, but their intricacy make them ideal pieces for a modern day necklace! Scraps of vintage fabric, buttons, lace trim, and ribbon all make for great crafting projects and can be incorporated into eclectic jewelry items. There are some great stores that sell mini vintage bags and wrapping that make a great finish to wrap your products for sale or as gifts.
We often encourage clients to look for the junk drawers in stalls that don't specialize in jewelry at all—and these are the stalls where you can really find bargains! In general, if something is locked behind a closed case, it will be more expensive. Rummaging through junk drawers or boxes may require you to wash your hands afterwards, but you'll come away with some wonderful items at excellent prices! Some clients find the most broken and tarnished items possible, which helps keep the prices low. These people really have a vision for the potential of these disparate pieces and know that once they get them home, they can create beautiful jewelry. If you can think outside the box, you can pick up small sterling purses that tailors once used for keeping pins in and transform them into unique necklaces! It's all about seeing the possibility behind objects! Perhaps one of the most unique objects we've seen turned into jewelry are antique baby items such as teething rings! One client made them into beautiful pendants!
We also love to take clients to a place in touen.com/5.aspx?ProdID=c559d93b-6a1d-4341-8576-b046a65fe936&CatID=75f8e8e8-d3a6-49bd-8bf1-82f11beb6549&sr=0&page=2″ target="_blank" rel="noopener">Marché Malassis which is very famous and has beautiful and great quality passementerie, accessoires de mode, perles, and broderies. If time permits, we'll also visit Porte de Vanves where you can find everything from old coins to medals, charms, silver luggage tags, chatelaine perfume bottle pendants, folding eye glasses, cameos, brooches, and rings. It's literally like a treasure hunt!
If you're not heading to Paris and want to buy one of these repurposed necklaces, one of the dealers in the USA who is doing a brilliant job creating inventory from French Finds is French At Heart. Take a look at some of her beautiful creations below and on her Pinterest page!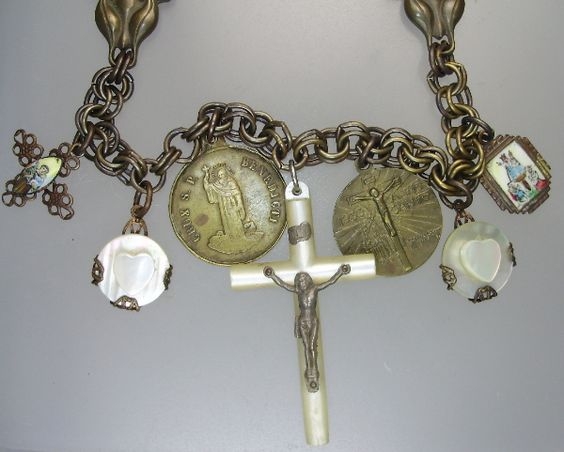 If this sounds like your idea of a heavenly day, then the Antiques Diva Paris Tour is for you! Email us at info@antiquesdiva.com for more information and we'd be happy to put together a custom tour just for you!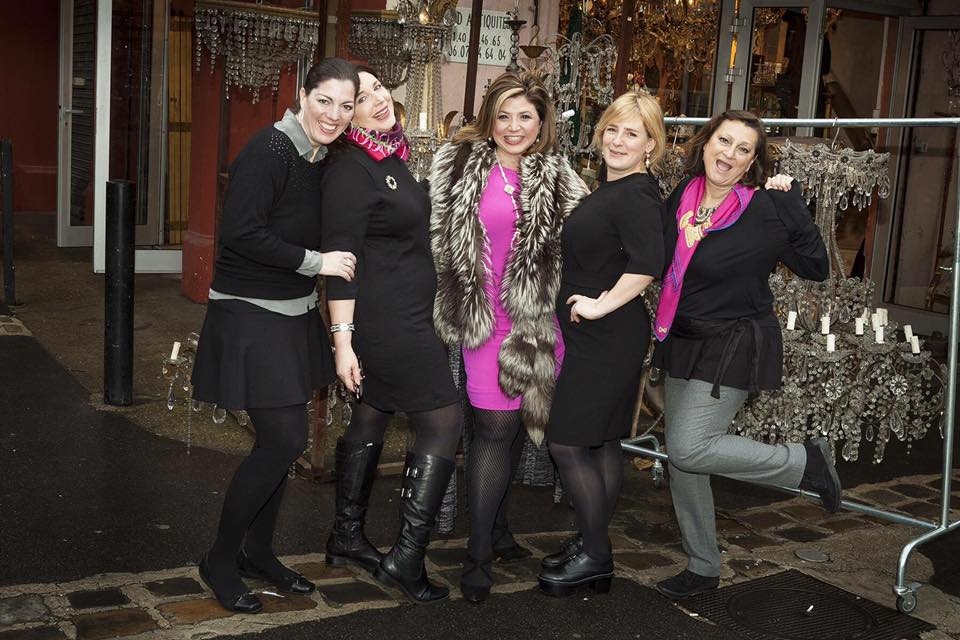 Bonne Shopping!
The Antiques Diva®