Dear Diva Readers,
top: 5px; float: left; color: white; background: #781300; border: 1px solid darkkhaki; font-size: 100px; line-height: 90px; padding-top: 1px; padding-right: 5px; font-family: times;">Today I want to introduce you to a very special friend of mine.  Her name is Lucretia and she is The Antiques Diva® guide for Holland and Belgium.  Years ago, when I first conceived this concept and decided to start a company offering European Antique Shopping Tours, Lucretia and I were in Paris for a get-away with our friend Annelize.  I sprung the idea upon her as we sat in a posh apartment on the Ile St Louis and asked her to join the team as my first Diva Guide.  Over the years, she's been more than just an antique shopping tour guide – she's been a friend and encourager, an advisor and a mentor.  I once heard it said that a true leader surrounds themselves with people who are better than they are – people who have strengths where they are weak – people who know more than they do.  In starting The Antiques Diva® & Co I knew I would need help and Lucretia was heaven-sent.   They say that you should have as friends and colleagues people who build you up – people who help you to be better, to strive for more, who encourage you simply through their association.  Special thanks to Lucretia for years of dedication and hard work! She's the only one I know who can out shop me!
With that type of a recommendation I figured you might want to know who this European Goddess is – so I asked Lucretia to write a bio that I could share with you on my website and this is what she wrote…
——————————————————————————————
Hello,
My name is Lucretia. I am honored to be your Antiques Diva guide for Holland and Belgium.
I was born in Flanders, studied Art History at the University of Ghent, with a Master's degree in 1979. During one of my many summer travels through Italy, I met a cute American guy in Milan, in the summer of 1977. We started to write to each other and after 2 years of correspondence we were together at last! We married and moved from my home country Belgium to The Netherlands so my husband could work in Amsterdam.   There, two beautiful sons were born to us; they are at this moment already students at the university themselves. But when they were still toddlers, we thought it better to leave the big city and let our children grow up in a village, so we moved again, to the picturesque town of Breukelen, just 30 km southeast of Amsterdam, where we still live today.
As a young mum I became good friends with another mother, the wife of an expert at Sotheby's Amsterdam. She introduced me to the glamorous world of high-end antiques, with its receptions and private viewings, lavish exhibits of silver objects and sparkling diamonds, elegantly dressed collectors sipping a glass of champagne while looking at what might be their next purchase. It was a fun new world that opened up for me. Already as a student I had had an interest in antiques, but I got serious about antiques when I started going to the viewings of these auctions of Decorative Arts, and became myself a client at these auctions, in cases where the things I liked were also affordable for us.
I developed a taste for the early 19th-century period, called "empire" and later "biedermeier". I started collecting and filling the house with my finds.  Whenever I was in a town, I went browsing in small "antique" shops, brocante markets, junk stores. Thanks to the many Sotheby's catalogues, I had a vast reference source at home to find out more about my newly acquired treasures.
tours.jpg">
tours" src="https://antiquesdiva.com/wp-content/uploads/2011/06/diva-tours.jpg" alt="" width="450″ height="600″ />
Recently, I have been drawn towards the revival of the fifties, sixties, and seventies: a great period in fashion and interior decoration, which I happily witnessed myself, having been a teenager in the seventies. I like to mix biedermeier mahogany with the bright colors and funky shapes of those glorious, much more recent times.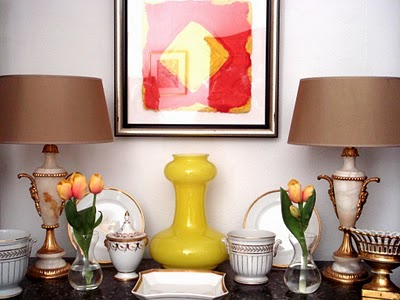 It was a stroke of good luck that I made acquaintance with The Antiques Diva, who moved into my village south of Amsterdam.   We turned out to be soul mates, sharing our passions for interior decorating, antiques and the finer things in life, such as fashion, traveling and good food.
Together we strive to give our tour clients a satisfying experience, with good bargains and good company. When our guests are happy with their purchases, then we've had a good day as well!
Your Diva Guide,
Lucretia