Dear Diva Readers,
top: 5px; float: left; color: white; background: #781300; border: 1px solid darkkhaki; font-size: 40px; line-height: 30px; padding-top: 1px; padding-right: 5px; font-family: times;">This might be the best news you've read all year! Did you know we are now offering tours/france/">Antique Buying Tours in Provence to compliment our tours in Paris, doubling your Diva Fun in France?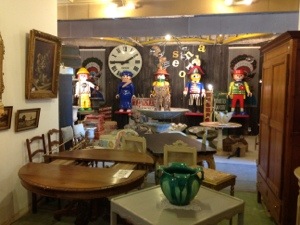 There is no better place to antique shop abroad than Paris or Provence! It is as if one of the Louis' cast a spell on French finery so future generations would be drawn to the treasures of the Republique. Get ready to sing La Marseilllaiseand to celebrate Bastille Day all year long!
Provence Tours include:
– L'Isle-sur-la-Sorgue
– Aix en Provence
– Avignon
– Marseille and Aubagne
– Cannes and Nice
Inquire about our special "Trade Only Tours" for dealer/designer extra exclusives not available to the public.
I'm also proud to introduce the newest member of our Diva Team -Melanie!
Melanie is fab friendly and French and fluent in English! The daughter of antique dealers/designers she's spent her life surrounded by and appreciating beautiful things! Before opening her quirky fresh and eclectic antique shop she studied law, worked as an art auctioneer and made her fame as the bloggess behind Le Petit Cabinet de Curiosities! I've followed her galivants online for years and am delighted she's now part of my Diva Team!
Planning a trip to Provence? You won't want to do it without this local by your side!
Email info@antiquesdiva.com
Bonnie Shopping!
The Antiques Diva®
tons/follow-me-on-pinterest-button.png" alt="Follow Me on Pinterest" width="210″ height="28″ />
tons.sociableblog.com/images/FB5.png" alt="" width="210″ height="40″ border="0″ />
tons.sociableblog.com/images/FMT6.png" alt="" width="210″ height="40″ border="0″ />