Dear Diva Readers,
Over the summer on our company blog I'm featuring each of The Antiques Diva Guides.  Today we're presenting Susan our Personal Shopping and Sourcing Consultant in Italy.  Meet Susan!
Which Tours do you lead?
Italy… in the main the middle of which includes Tuscany, Umbria and Le Marche, but we do occasionally venture north or south of the border.
What do you like about your job?
Being able to indulge and share my passion not only for antiques, vintage… and salvage but to share Italy too.  It's often the clients that push boundaries, challenge me and introduce me to new things… quite apart from the fact that they constantly remind me why I'm still living here in Tuscany after more than 20 years (when I first moved here it was supposed to be only for 4 months)!
What do you consider your specialty in helping clients? What do you enjoy about helping clients.
An intimate knowledge not only about where to shop (and how to get there, no mean feat on the roads here), but a deep rooted understanding of the culture, traditions… and ways of doing things.    I love the enthusiasm and joy found in everyday things by clients, many of which has been lost in their everyday lives, but we here often take for granted, it puts everything back into prospective.
Where did you grow up?
British by birth, Welsh by choice, Mid-Atlantic by nature, Italian by adoption.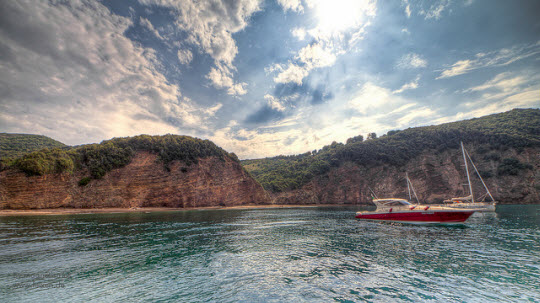 What do you do when you're not working? Hobbies? Interests?
Oh dear so much seems to revolve around food, but after all I am in Italy so… cooking and wine… which means eating, drinking but best of all entertaining
I love creative projects, mainly related to decorating, but I'm fascinated too by the nitty gritty of the actual building work, restoring and restoration.
Books, books, books, far too many!  I love day trips to special places and  in the summer  escaping to the archipelago islands just off the Tuscan coast on our tiny boat.   It's only a hour away but it's a total break, fishing, reading, swimming… and relaxing.
Favorite spot to vacation?
I visit the States at least once a year, usually to get together with friends and family, but also for inspiration and a good dose of 'we can do'.    I love America – and Americans!  But I also like going to far flung places too,  China, South Africa and Egypt  have been some of the most memorable trips.  I recently took a long awaited trip to Morocco and was well rewarded (not to mention did lots of shopping too!)
Do you have a favorite museum or work of art that inspires you?
I can't pin point any one as there really are so many, I am a museum and exhibition addict.  As a child I was exposed to the English country homes and gardens which I still adore of course, but I am also excited by contemporary painting and modern furniture too.
In the area where you lead your tours is there a special place you like to go? Perhaps it's an area of town or a favorite cafe to drink your coffee?
In Italy food and wine plays a lead role in any relationship, whether you be with friends, business colleagues or clients, so time must be taken to explore and enjoy this adventure too.  An important part in any tour is the right place to refuel, and it's as much about the characters in the cast as the food on the menu.
What do you think is the hardest thing for clients on tour? What do you recommend to help the client with this problem?
Preconceived ideas of what they are looking for coupled with a fear that they won't find anything,  then a feeling of being totally overwhelmed and not being able to make a decision… or the other extreme getting totally carried away.   Our role is not just to be a guide, a confidant or a translator but also to be a friend, to be rational, thoughtful… and a psychiatrist at times too.