Dear Diva Readers,
top: 5px; float: left; color: white; background: #781300; border: 1px solid darkkhaki; font-size: 60px; line-height: 50px; padding-top: 1px; padding-right: 5px; font-family: times;">Twice a year I cross the pond and head to High Point Furniture Market where each season Spring & Fall I offer a slew of events Stateside (No Passport Required) at the Antique & Design Center of High Point.  This year – in addition to speaking on a panel on The Secret Life of Antiques – I was delighted to lead a special tour of the market, pointing out new dealers, old favorites and highlighting some of my Favorite Finds at the fair!  With a crew of 40+ shoppers in tow we had an enthusiastic  group eager to learn how to shop – Antiques Diva Style!
Without further ado, here are my top finds at this Spring 2015 High Point Market … Alas there were so many goodies to be found this blog post can only fit Part 1…stay tuned for Part 2 on Friday!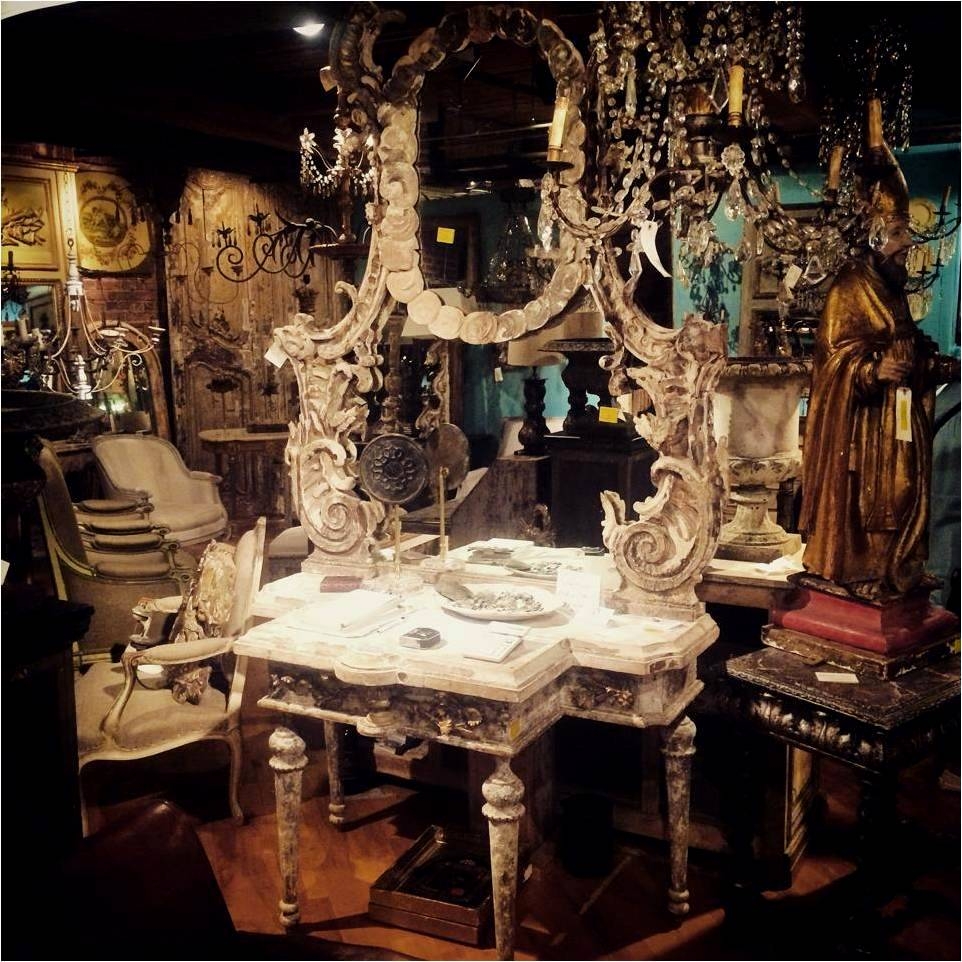 Perhaps my favorite piece in the whole of the fair was this repurposed 18th C Italian Alter from B. Kelley Antiques – who displayed for the first time ever at this fair.  Sharing a booth space with Old & The Proud (who has some great ironstone) this piece is originally from a church in Italy. In excellent condition – the piece is married from 2 pieces – the top entirely original patina while the bottom had been made from old wood with additional 18th C Italian fragments added to complete the piece.  I can picture this in an entry way, a living room, even a dining room – regardless of which room of the house it ends up in it would be an ideal statement piece in any home.
Next up we're doing a total flip flop on style – flashing forward a couple of hundred years!  This Walter Von Nessen swing-arm lamp from the 1930's – available at Metropolitan Interiors – caught my eye because it was the very first prototype of this type of lamp.  While today swing arm lamps are incredibly well known it was innovation at its finest back in the day!
A step into Anne's booth Antiques on Holiday was just that… a vacation for the eye, filled with gorgeous one-of-a-kind pieces.  I was downright smitten with this French globe from the late 1800's. I loved the scale – oversized with a gorgeous color scheme – I felt like the whole world, er, make that Le Monde (all the writing was in French) was at my finger tips!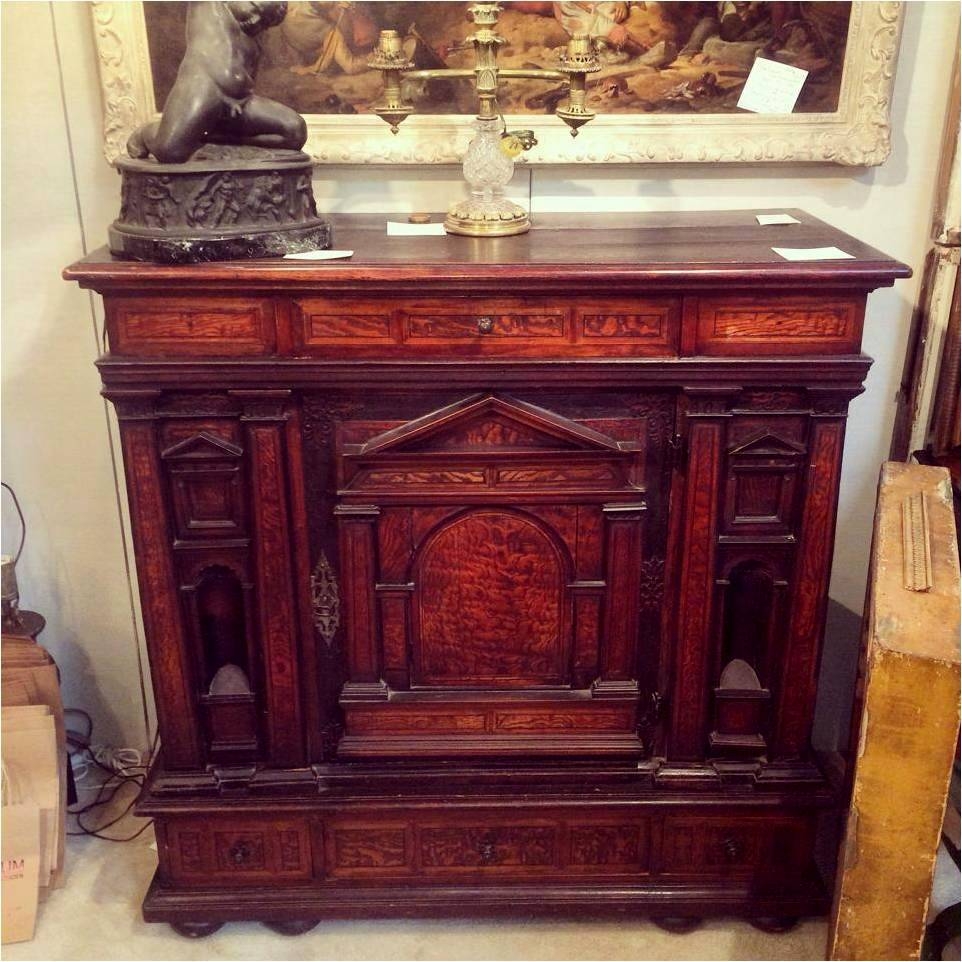 There was definitely a trend towards religious pieces at The Antiques & Design Center of High Point – most of which have a Catholic origin. Perhaps one of the most unusual finds at #ADCHP was a 17th century cabinet from Arcanum Antiques & Interiors.  Of Jewish origin, probably from Eastern Europe, it is believed to be a Torah Cabinet— used for transporting the Torah and all of its accoutrement. It's got handles and comes apart in various pieces for easy transport.
Another of my long-term favorite vendors at the fair is Tuesday on the Boulevard.  This vendor sells exclusively at High Point – so if you want to shop their quirky finds – which almost ALWAYS SELL OUT – you need to buy from them the Antique & Design Center of High Point.  One of my favorite items in their stall this year is a fun and happy mid-century painting in the style of Miro.  The vendor found this painting while cleaning out the contents of a chi-chi Manhattan apartment.  Now… this painting is a great example of mixing modern with antique. It would be the perfect foil for a serious antique chest of drawers in a dark wood!  I'm imagining it against an Empire commode.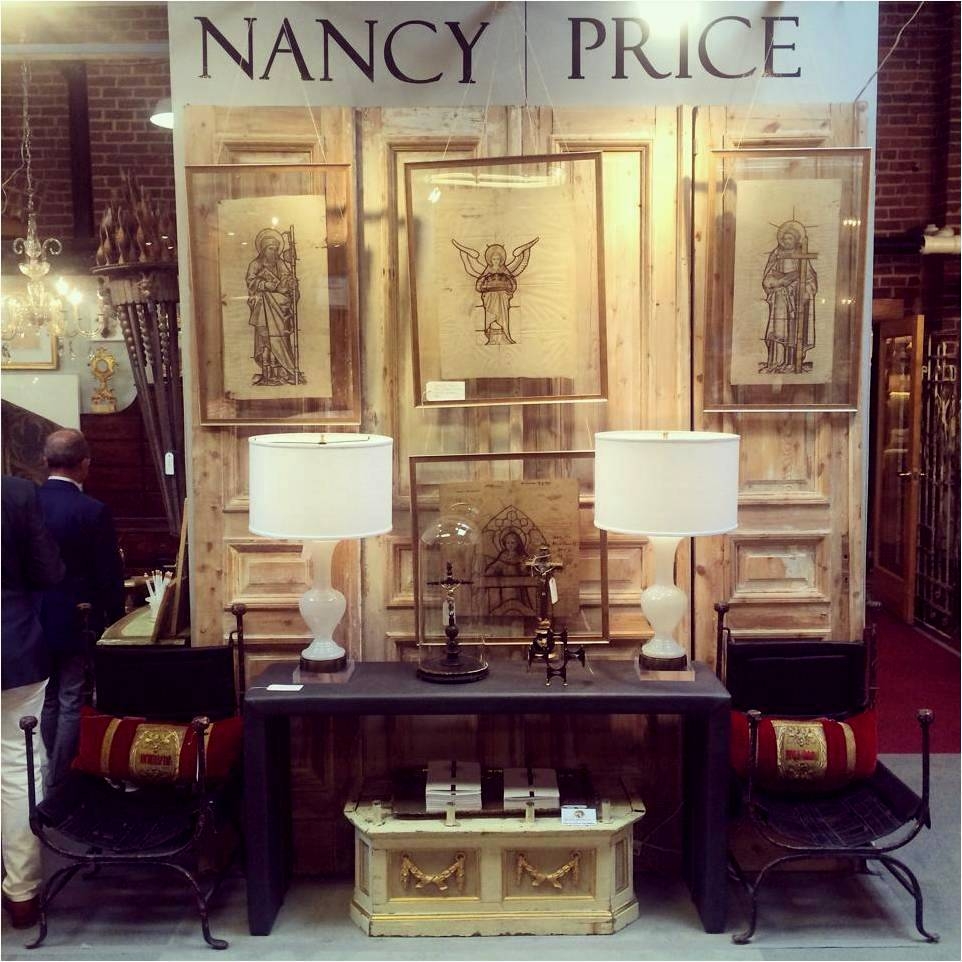 I can not mention my favorite vendors at the Antique and Design Center of  High Point Market with out giving a great big Shout Out to Nancy Price.  I love her and her entire team…. they are as beautiful as their inventory!   Choosing only 1 piece to highlight in her stall was next to impossible… but I finally settled on this Italian Altar Piece with candle holders dated circa 1750 (shown at the bottom of this photo).   Now… this piece is particularly special… most of our trade clients have us sign a confidentiality agreement when we do sourcing for them but Nancy was happy to tell her clients that she'd sourced this piece (as well as several others) with us in Europe though our Buying Services!  It's so fun to see pieces from one of our favorite vendors across the pond make their way to America with one of our favorite vendors stateside!
Speaking of fun… the guys at BoxRoad.net are so much fun—and so is their inventory. The team comprised of Michel, Stacey and Donny has a great eye with an electric mix of inventory.  These aren't the people who follow the trends… they set them.  While numerous pieces in their stall caught my attention from paper mache molds, to the "instant collections" of mirrors to Lucite barstools and industrial tables perhaps the most quirky of the inventory in their stall was this horn chair from Texas.
Now last but not least, before I bid you adieu in PART 1 OF MY HIGH POINT ROUND UP,  let's talk about one more stunning piece…this vintage 1920's Italian backdrop.  Vendor Antoinette of A. Vincent Antiques and Interiors bought this from a dealer's personal collection and she was only allowed to buy the piece if she promised to make sure it ended up in a good home.  Hmmm…..  I give my antiques the best attention, love and care… I would have bought this one myself but alas….  I was too late! It sold to one of the other vendors at High Point Market within seconds of market opening!
Stay tuned for Part 2 of our High Point Favorite Finds!
The Antiques Diva®