Dear Diva Readers,
top: 5px; float: left; color: white; background: #781300; border: 1px solid darkkhaki; font-size: 50px; line-height: 40px; padding-top: 1px; padding-right: 5px; font-family: times;">W hile many of our clients are trade professionals—antiques dealers who come abroad wishing to stock their stores with European antiques— we also get tourist clients, mere shopping mortals, who are looking to purchase special pieces for themselves. One such couple was Kirk and Cookie who contacted us, as they were renovating and redecorating their home in the USA and wished to buy several specific pieces to use. Of course we were happy to help and scheduled them for a multi-country tour which included stops in Paris, Belgium, and Bordeaux.
We first met face-to-face in Antwerp—they'd just arrived from Paris where they'd shopped the Paris Flea Market with our Diva Guide Debbie. Since they were staying at our favorite hotel in Antwerp, JVR108, we sat down there and went over their list of desired items. What impressed me about them was their organization! They had a folder containing photos of each room in their home along with dimensions. This meant that while we shopped with measuring tape in hand, we would know whether certain pieces of furniture would fit in their rooms at home. They were also looking to source antique European fireplaces and other architectural salvage to incorporate in the renovation.
I knew exactly who to take them to! We have a few wonderful sources for antique fireplaces and upon arriving at one of these locations, the charming vendor had prepared a gorgeous luncheon which he's laid in the garden behind his store. We sat in the warm sun, sipping wine and enjoying delicious sandwiches while Kirk & Cookie told the vendor what they were looking for—using visual tools like the photos and layouts they'd brought.
After lunch, we walked through the vendor's warehouse which is full of fireplaces and architectural salvage. The dealer explained that in his workshop he could altar any of the fireplaces, thus making it possible for them to select one which had the color, type of stone, and motifs they desired. After gathering information on several candidates, the couple selected a spectacular fireplace that the vendor agreed to measure and send 3D plans via email before altering the existing piece.
Afterward we headed upstairs to the loft, where Kirk found the perfect pair of leather club chairs for his home study. We went to several other places and they were able to purchase several decorative items as well as a priority on the list—a desk for Kirk! Upon departing us in Antwerp, Kirk & Cookie met up with Paris Guide Debbie in Cognac, France, where she and her husband invited them to join their table at a prestigious charity event where they happened to be sitting at the table next to Fergie—that's right, the Duchess! At the end of their buying trip, they shopped in Bordeaux with our Diva Guide Tara where they found even more lovely pieces for their home.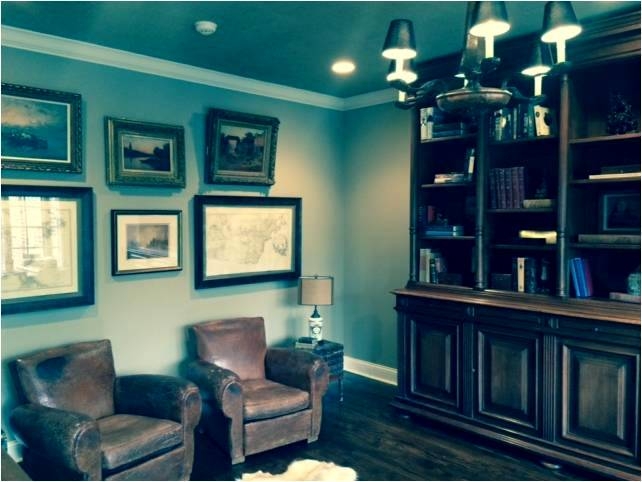 Once the shipment was received back in the USA, Kirk sent photos of the pieces after installation. I love seeing the end result of a buying tour! Everything in the photos he sent was sourced with The Antiques Diva & Co with the exception of the chair behind the desk. Kirk writes, "We Can't thank you enough. Cookie and I had the time of our lives and would go back tomorrow to work with you and do it again! Thank you for all of your help and for the experience and knowledge of your team. We had a great time and met some amazing people in each of you.  The cognac experience was fantastic and one of those "once in a lifetime" events that only happen when you have completely flexible plans and are willing to take a chance."
Well Kirk & Cookie, we enjoyed having you on tour and hope that each time you sit down at your desk or ease into the club chairs that you think of us with fondness! Your home is absolutely beautiful and we're glad that we could play a part in making your dream a reality. After all, helping people source their dream pieces is what we do – At The Antiques Diva & Co we make dreams come true!  And we love to see people living modern lives alongside antiques!
If you would like information on taking an Antiques Diva Buying Tour or utilizing our Buying Services, email us at to:info@antiquesdiva.com">info@antiquesdiva.com. We'd love to help make European antiques accessible to you!
The Antiques Diva® 
to" src="https://antiquesdiva.com/wp-content/uploads/2015/05/Picture231.jpg" alt="Antiques Diva Buying Tour, Sourcing antiques in Europe" width="482″ height="482″ />
P.S. I'm closing with quite possibly the worst photo ever taken of me. It was the  end of a very long day shopping. I must confess I look exhausted… but I'm smiling from ear to ear as I simply adored these clients!