Dear Diva Readers,
top: 5px; float: left; color: white; background: #781300; border: 1px solid darkkhaki; font-size: 60px; line-height: 50px; padding-top: 1px; padding-right: 5px; font-family: times;">W ho doesn't dream of antiquing in Tuscany? Between the landscape, the food, and quite simply the Italian style it's no wonder why Italy is one of our top tour countries! From hidden specialty shops to warehouses in the countryside, our Diva Guide can map out a custom shopping route to suite your needs. One of the surprises clients experience on a Tuscan Antiques Diva Buying Tour is when stop off for a quick visit to an Italian consignment stores to hunt for vintage and antique treasures. The "Mercantini," as they are known in Italian, are often ideal places to find unique antiques at unbeatable prices. Yep – we're talking about SECOND HAND STORES! This is the equivalent of Charity Shops in the UK or Goodwill stores in the USA!
tore" src="https://antiquesdiva.com/wp-content/uploads/2016/02/Hay-fork-225×300.jpg" alt="Hay fork" width="225″ height="300″ />
When we take clients to Mercantini, we never know what they're going to find, as the inventory changes almost daily. You can either breeze through in a couple of minutes or you can find yourself sifting through treasures for hours. In the USA of course, there are certain second hand stores that are better than others—theres one a friend goes to in DC that is INCREDIBLE – and same holds true in Italy. The quality of inventory can depend on the location, the patrons, and the set up of each individual store, so one has to know which ones to go to and the way in which they work. That's where our Diva Guide comes in.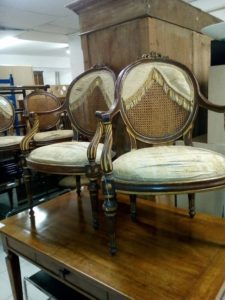 Most of the pieces at mercantini are on consignment. However the owners of these shops also do house clearings, which means they have first access to estate sales. Like everything in Italy, these stores are local, and that's why who and where you (or don't as the case maybe) place your trust, relationships and reputations are all important.
It's also necessary to understand how the pricing structure works in these stores. Because they're always getting new inventory in, it's crucial that they keep items moving, which means they are motivated sellers! On each piece you will see a label with the date when it first hit the sales floor. After two months the price is discounted by 10%. If you have the patience or courage to wait three months then the discount can be up to 50%. But of course waiting means risking losing the piece. However our Buying Service allows you to think about items and purchase them at a later date…but as any antique lover knows, if you love it, buy it now!
When it comes to the type of items you can find at the mercantini, the sky really is the limit. Shelves filled with wonderful old linens, old fashioned cotton woven towels with knotted fringes, heavy bed linens that probably were prepared for the wedding trousseau and were never used can be purchased for a steal! We've had clients purchase antique books from the 17th century and have also sourced antique china sets. Antique furniture, Italian ceramics, wonderful lighting (including mid-century) are constant finds. In fact, mid century pieces including furniture are undervalued in rural areas, so they can be purchased for a song.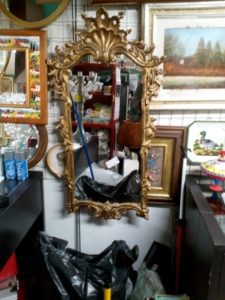 No matter what your taste or style, stopping off at an Italian consignment store can prove to be an exciting and fun adventure – the last time I went to I spent 15E and came home with 3 Venetian trays. a gorgeous vase, some early 19th C leather bond books in Italian! What loot! We often take clients to these stores in between appointments with antique warehouses in the surrounding areas. After all, sometimes the dealers from the more metropolitan areas in Italy shop these rural consignment shops to find their own inventory. Why not get to it first?
If you're planning trip to Italy and would like to book an Antiques Diva Buying Tour, email us atinfo@antiquesdiva.com. We'd love to custom plan a shopping route that's perfect for you!
Ciao,
The Antiques Diva®