Antiques Meet Modern
When asked what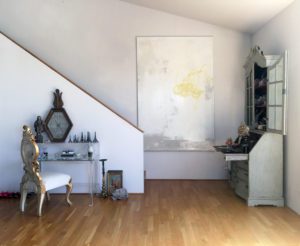 I personally collect – my answer is always first and foremost "People." In my line of work, I am constantly meeting fascinating people from all over the world. While in Venice last year at Saloniste's , I fell in love with both the artwork and personality of Michaela Zimmer! She is a remarkable artist who lives and works in Berlin, Germany, and whose work is exhibited around the world. People are often shocked to discover that as The Antiques Diva I'm obsessed with contemporary art. But as in love as well as decorating…  opposites attract. My personal decorating style is a juxtaposition of antiques meet modern.
I  am over the moon to have contemporary paintings by artist Michaela Zimmer in our Antiques Diva headquarters (which happens to be in my personal home).
A friend of mine refers to me as "his whirlwind." Anyone who knows me, knows I am always on the move. And perhaps that's what attracted me to Michaela's work. It moves. It flows. It dances with light and motion. Michaela Zimmer rethinks the idea of the abstract painting. She filters the fundaments of abstraction through the syntax of performance. With a background in dance and photography, it's no wonder movement is such an important part of her process— incorporating the idea of physical movement (dance) and the concept of a still moment frozen in time (photography). When she paints, she surrounds herself with canvases and literally dances as she creates her art. Looking at a series of her work, you can see the movement as it dances from canvas to canvas.
Relationship Between Antiques and Contemporary Art
When discussing the relationship between antiques and contemporary art, Michaela sees it as revolving around time and space. One look at her canvases shows that she places a focus on movement. She explains, "What is specific about these canvases, characterized by a virtually incorporeal, floating chromatic space, is the fourth dimension inscribed within them; time manifested as traces of the performative between the multi-stratified, fragmented layers." It's this movement that enters into a dialogue with antiques.
Interior Photography: Susanne Ollmann http://www.ollmannfoto.com
all artwork courtesy of the artist and FOLD, London http://www.foldgallery.com/
Relative to movement, Michaela says, "It is interesting that the word 'speed' always evokes the notion of 'fast speed' first. Focusing on both, fast and slow motion, and situations where they blend into each other, has always been an aspect of my work. Mind you, even when a line appears to be 'fast', this might have resulted from a slow movement which accelerated from a certain intensity that wasn't fast at all."
Antiques often reveal traces of the human hand which played a part in creating them, and the sculptural element of Michaela Zimmer's paintings reflect that as well. Details get blurred and stay hidden behind semi-transparent PE film. The dichotomy of abstraction and corporeality disappears in the merging of image and object – illusionary space and material. Combining contemporary paintings with an antique environment is combining both visual experiences.
Combining Contemporary Paintings with an Antique Environment
There are different approaches in Michaela Zimmer's paintings. The lines that originate from a concentrated single movement are mostly applied to white canvas that is only primed. They take a long time in their (mainly physical) preparation, but are then executed quickly. Even with the best preparation, a lot of them end up unresolved and get destroyed, since they can't be corrected." The process of creating a work can take quite some time. The paintings are based on numerous layers of paint, which are applied and then often taken away, again and again. This process is time-consuming and very difficult to control since the aim is not a spectacular composition, but a rather quiet one that unfolds only slowly. As Michaela explains, "A similar 'gradualness in the investigation process' is also required from the viewer, if he or she is to be rewarded."
In my own home, it's time that forms the interaction with other objects around the paintings in the room. The present meets the past in my home in Berlin – the historic building is a brewery dating from the early 1800's – that has been converted into modern loft space for working and living. Michaela's contemporary art visually bring the space to the 21st century but the 19th C building is grounded with 18th Century antiques.
While I was delighted to share with you a glimpse into my own home office so you could see how art interacts in private spaces – I want also to tell you about an opportunity to visit a gallery in England for a special Exhibition of Michaela's work.
Perpetual Movement 
exhibition 29 October 2016 till 26 February 2017
Curated by The Lowry in collaboration with Rambert, the exhibition will feature work by four international artists and explore the synergies between contemporary visual art and dance. Artists featuring in Perpetual Movement include Turner Prize nominee, Goshka Macuga, Leila Johnston and Michaela Zimmer, and the exhibition will feature specially commissioned works alongside key pieces from Rambert's archive that inspired them.
Twitter @The_Lowry | www.thelowry.com
The Lowry | Pier 8 | Salford Quays | Salford | M50 3AZ
Toma Clark Haines, The Antiques Diva®
#MixAntiquesAndModern