Dear Diva Readers,
top: 5px; float: left; color: white; background: #781300; border: 1px solid darkkhaki; font-size: 60px; line-height: 50px; padding-top: 1px; padding-right: 5px; font-family: times;">With less than a month until Christmas, the count down has officially begun! While I tend to buy presents all year long on my travels, the big gifts tend to be those I save until November and December.  After recently speaking on a panel in New York about The Future of Antiques with The HighBoy's Olga Granda Scott, I asked our friends at The HighBoy to share some of their favorite items for sale on their site right now. Consider this your Holiday Gift Guide and get shopping for unique gifts for your loved ones…or even yourself!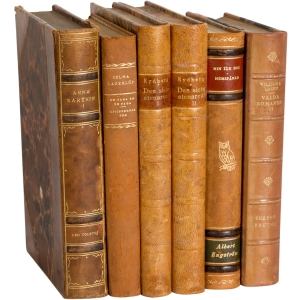 1.  Set of six Swedish leather-bound antique books.  Who wouldn't want to receive this lovely set of antique books with marbled papers? Both useful and decorative, antique books always make a lovely gift.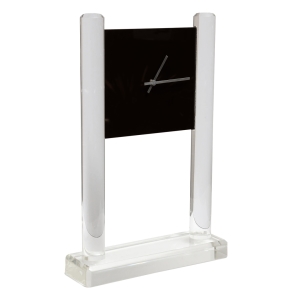 2.  American mid-century solid lucite clock in style of Charles Hollis Jones.  For the sleek and sexy design lover, this extraordinary Mid-Century lucite clock  is magnificent in quality and design. And since the clock mechanism has recently been replaced and it works perfectly, the recipient of this piece will not miss a beat.
3.  Set of 3 apothecary jars.  A lovely set of three turn of the century, porcelain labeled apothecary jars would be a beautiful decorative gift. While this style of jar has been reproduced and is widely popular now, owning an original set would be quite special.
4.  Rene Lalique "Rampillion" vase with blue patina.  This lovely "Rampillion" Vase with a blue patina would be an ideal present for a collector or anyone with discerning taste. Divided by thickly cast glass diamonds and a floral pattern, the effect is one of visual texture. This vase still retains it's beautiful blue patina that stains the floral pattern. Fill it with flowers all year long for the gift that keeps on giving.
5.  Hollywood Regency glossy black and gold ice bucket by Drulane.  This lovely Hollywood Regency glossy black and gold ice bucket is by Drulane – c. 1960-70 – and, a must-have for the upcoming holiday party season. It is a class act with a gold handle accented by black insert and a very regency ribbing design! It offers a glossy black exterior, gold trimming around rim and handle and a clear lucite lid topped off with gold ball- the ideal piece for the elegant hostess!
6.  French gilt bronze mounted turquoise blue earthenware jardiniere.  This elegant jardiniere in style of Theodore Dek would make a very special gift. With it's classic style, it certainly will become an heirloom to whoever receives it.
7.  Pair of leather and brass horse head bookends signed "Asprey".  For the man who appreciates quality (or the equestrian lady), this pair of stately bookends would be the perfect gift. In the study, den or at the office, this pair will add instant class.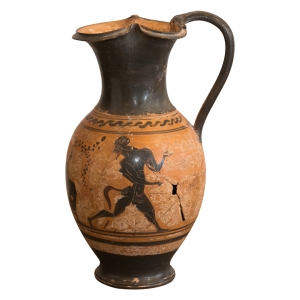 8.  Grand Tour tour-antiquity-greek-oinochoe-form-vessel-with-black-painted-figures" target="_blank">"Antiquity" Greek oinochoe form vessel with black painted figures.  This beautiful and highly decorative European Grand Tour pottery wine vessel with black hand painted figures from Greek mythology is certainly a unique piece. The vase has been intentionally damaged and pieced back together using rather overt restoration techniques in order to give it a more "authentic ancient" feel. Interestingly, it was probably originally sold to an unsuspecting American tourist in the late 19th c. as a genuine antiquity. However it would make a great gift to someone who appreciates history.
9.  1950's Sandor bracelet.  Give the gift of elegance with this 1950's Unsigned Sandor Bracelet in Bronze/Gold tones. Woven metal chain makes up the base of the Bracelet, with the center holding a Topaz colored stone surrounded by Clear Rhinestones. The sides of the Bracelet have a raised band of Clear Rhinestones as well.
10. Fine Art Nouveau figural bronze of a "Scantilly Dressed Woman" by P. Tereszczuk.  For the person who appreciates beauty, this Art Nouveau bronze with outstretched arm holding a pair of game birds would make a nice addition to a collection.
I hope this Gift Guide from The HighBoy inspires you to start your Christmas shopping! This year, make gifts personal and buy antiques!
Happy shopping,
The Antiques Diva®