Get A Dose of Paris Design Inspiration! 
July 14 the French celebrate la Fête Nationale or Quatorze Juillet, what we call Bastille Day, with military parades, fireworks, concerts, and balls. Nothing will help you get in the French spirit more than a movie filmed in Paris – except, of course, a trip to Paris with The Antiques Diva®! 
While lunching with Antiques Diva client Bruce Bailey at Chez Paul in Place Dauphine, Paris, Bruce told me that this restaurant was the setting for a recent movie (Me Before You), which led us to discuss films that will give you a dose of Paris design inspiration before a trip to Paris. Bruce recently spent 6 weeks in Paris with AD&CO Diva Guide Danielle Pelletier filming our TF1 Documentary (France's most popular tv channel) that depicts how we work as Paris Flea Market Guides (The Antiques Diva is the Paris Flea Market Paul Bert Serpette's only official tour guide).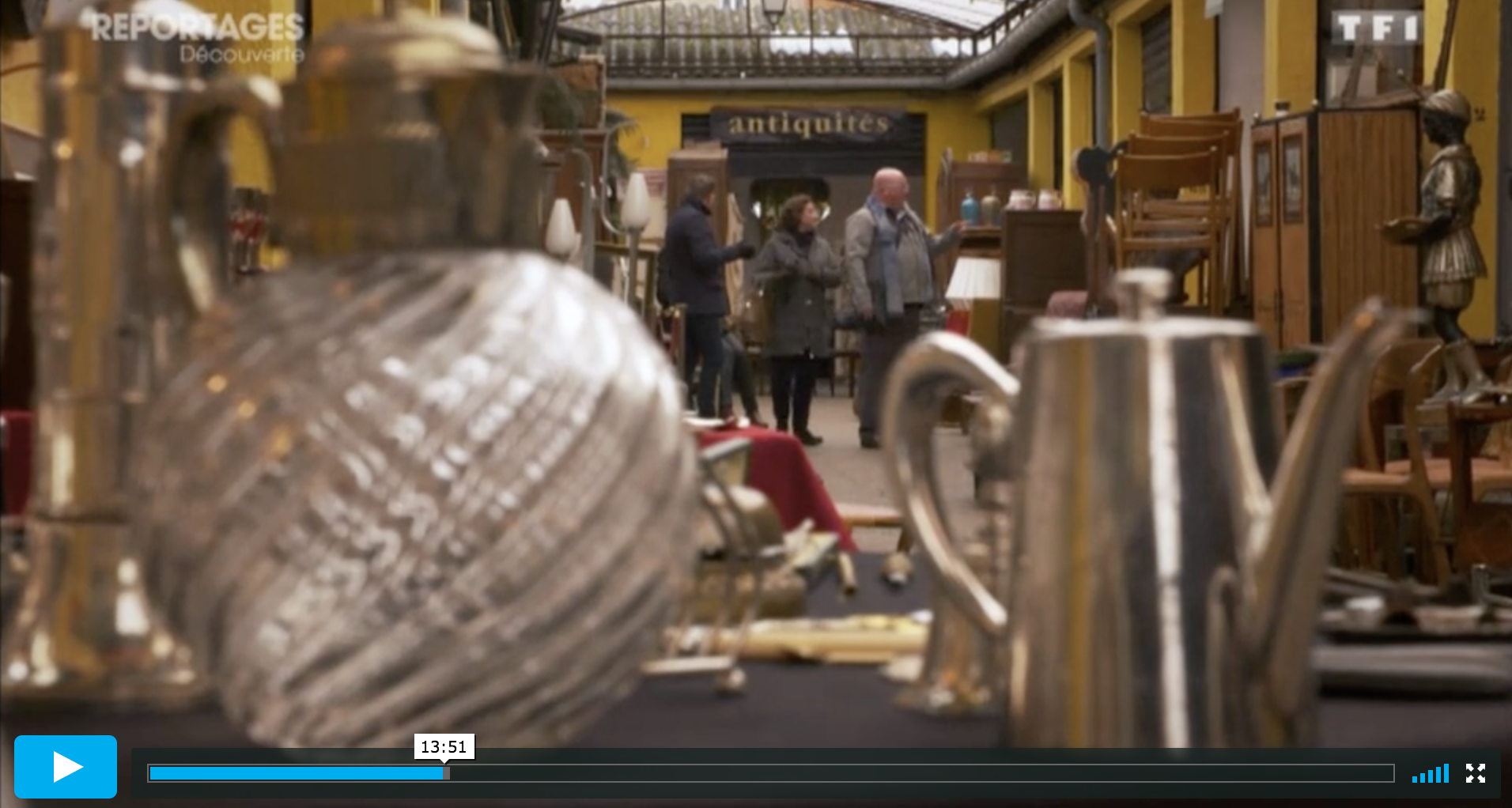 Movies Bruce Recommends Before a Trip to Paris with AD&CO: 
1. Me Before You
A romantic comedy it seems, but maybe not. 
2. Rape of Europa
Documentary showing how Hitler planned the plundering of Europe.  
3. Woman in Gold
Based on a 1907 portrait of Adele Bloch-Bauer by Gustav Klimt. 
4. Francofonia
A history of the Louvre during the occupation. 
5. The Collection
A series set in a post-war Paris fashion house. 
6. Versailles
A series about palace life under Louis XIV. 
Feeling Design Inspired?
Book a Paris Design Inspiration Trip with The Antiques Diva 

Other movies and TV shows that evoke Paris: 
French Design Inspiration Films: 
Gabrielle with Isobelle Huppert 
Paris with Juliet Binoche  
Summer Hours with Juliet Binoche 
Diving Bell and the Butterfly 

Bel Ami 

I Have Loved You for so Long 

Farewell, My Queen  
Molière (2007) 

A Little Chaos 

Gigi 
Amelie 

Prêt-À-Porter 

Marie Antoinette (Sofia Coppola) 

The Affair of the Necklace 

The Dressmaker with Kate Winslet – not French in aspects, but Dior inspired 
Laurent 

Dior and I 

The Eye Has to Travel 

Iris 
"Paris is always a good idea!"
~ Audrey Hepburn
Toma Clark Haines, The Antiques Diva®