Dear Diva Readers,
top: 5px; float: left; color: white; background: #781300; border: 1px solid darkkhaki; font-size: 50px; line-height: 40px; padding-top: 1px; padding-right: 5px; font-family: times;">While the English city Bath might have thousands of hotels, for the discerning traveler with a penchant for the past there is really only one hotel option to consider – The Royal Crescent.  In a recent issue of Belle Inspiration magazine I dished about how I spent my weekend in this world-heritage city … and confess that I barely left my hotel.  Read on below!
The honey-colored city of Bath, with its plethora of perfectly proportioned Georgian buildings, gorgeous Roman baths, many museums and art galleries has been on my travel radar since I first visited during my university days.  In the years since college – more years than I care to count –  I've been to Bath oodles of times on Girls Getaways and Antique Buying Tours though somehow I had managed to never visit one of my favorite cities on earth on the arm of my one true love.  This past March I decided to remedy this situation and gave my husband a formal invitation to join me on a Mr.  & Mrs. Smith Weekend in one of Britain's most famous hotels.
We arrived our hotel, pulling up in front of the most famous crescent in the world, wondering if we'd arrived at the wrong address. Searching for the name of the hotel on the edifice, we found a tiny gold sign announcing the hotel was tucked under a light post on one of the grandest examples of European architecture.  A valet stood discretely guard by the front door of the five-star Relais & Chateaux hotel, wearing a top hat that looked so perfectly fitted that it didn't occur to us that in the 21st century his attire was a tad out of the norm.  Before I could say bippity boppety boo, the top-hatted valet magically appeared, opening my door and extending a hand to help me from my carriage, I mean, car.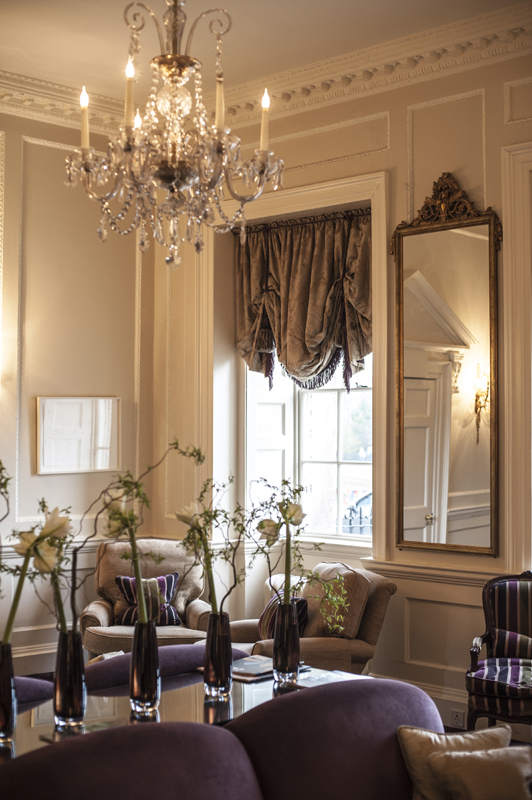 The story might be perfect for a fairy tale if I told that as I stepped down onto the curb my leopard print ballet flat dropped from my toes.  The valet stopped to pick it up but I quickly grabbed the shoe and put it back firmly on my foot.  There is only room in this story for one prince.  I clutched my husband's hands and together, fingers entwined, we left our luggage and car behind for the valet to deal with and clicked our heels, finding ourselves standing in the midst of a Jane Austen novel, surely the center of the civilized world.
Stepping inside we were greeted by a grand entrance hall that would have left Scarlett O'Hare swooning with its checkered black and white floor and ceremonial halberds and grand staircase.  Antique furniture and paintings faded softly in the background as overstuffed chairs beckoned, having cuddled everyone from Kylie Minogue's to Judy Dench's bottom in their comfortable surroundings.  Decisively undertone and discrete, the overall ambiance of the hotel felt more like a posh private residence than a populated hotel.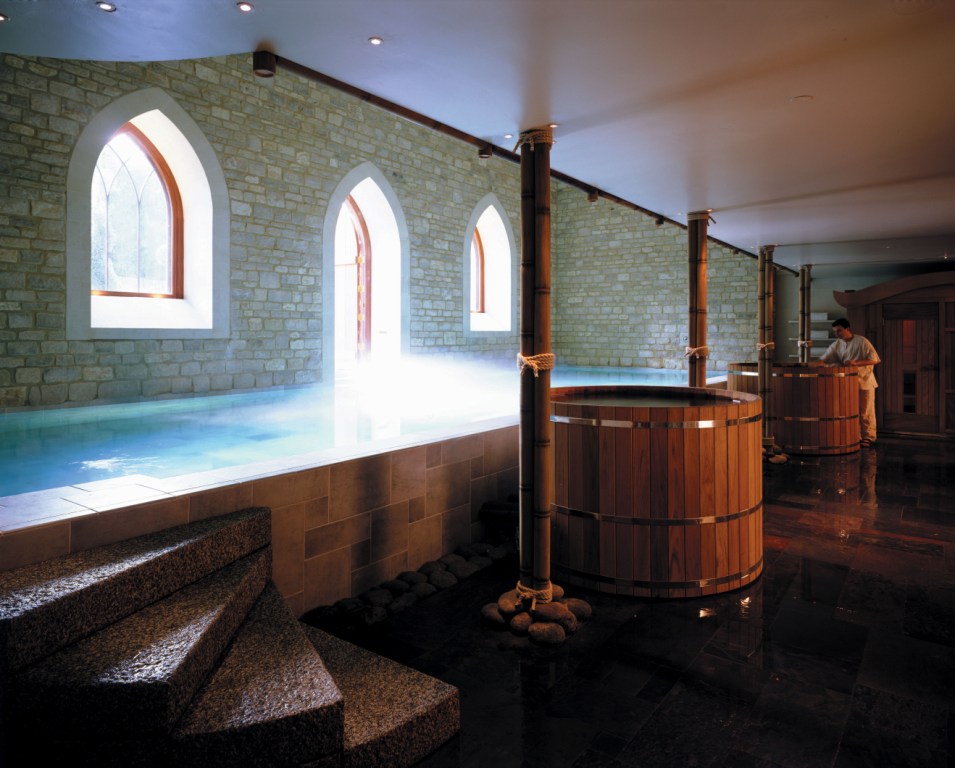 Out the back door of the hotel an acre of private gardens were tucked behind the Royal Crescent in space ideal for either pitching up a game of croquet or taking afternoon tea.  Opting for the latter we swished and swirled our tea as if sommeliers from the Far East while discussing in earnest the 10 page treatment menu at The Bath House Spa located behind the main building in the former coach house and stables.  One couldn't visit Bath without experiencing the Roman Baths. Taking a hands-on approach to experiencing history first hand, we  booked ourselves a place on the massage table before taking to the waters, soaking in the 12 meter long heated relaxation pool and alternating between the cool and tepid plunge pools.   By the time we emerged hours later, the lanterns in the garden had been lit leading the way to the award-winning Dower House restaurant and bar.
When in Rome, do as the Romans…. If the Royal Crescent is known for its gourmet cuisine far be it for me to buck tradition.  So dinner in true diva fashion was done in the award-winning restaurant.  While there was still a little too much brrr in the air to enjoy al fresco dining, the leafy secluded gardens had me hankering for returning in the height of summer. While this might have only been my first trip to Bath with my one true love, it certainly won't be my last.
Antiquing in Bath England:
Should you find the discipline to leave the luxury confines of the Royal Crescent Hotel on your next blissful trip to Bath then here are a few must stop and shop antique shops & fairs from locally-based English Diva Guide Gail McLeod with The Antiques Diva® & Co.  For more information email to:info@antiquesdiva.com">info@antiquesdiva.com for details.
Old Bank Antiques
17 Walcot Buildings
Bath
Antique Textiles and Lighting
34 Belvedere
Bath
Piccadilly Antiques
280 High Street, Batheaston,
Bath
Bath Decorative Antiques Fair
7-10 March, 2013
The Pavilion,
Bath
Until next time,
The Antiques Diva®
tons/follow-me-on-pinterest-button.png" alt="Follow Me on Pinterest" width="210″ height="28″ />
tons.sociableblog.com/images/FB5.png" alt="" width="210″ height="40″ border="0″ />
tons.sociableblog.com/images/FMT6.png" alt="" width="210″ height="40″ border="0″ />